Our Brands
HAVAHART® WILD ANIMAL PRODUCTS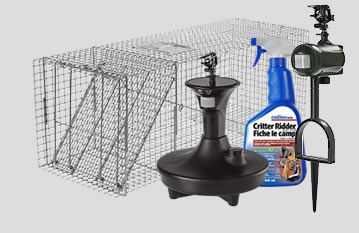 OUR MISSION
At Havahart®, our goal is to provide wildlife control solutions that are efficient for consumers and humane for animals.
ABOUT HAVAHART®
Since we introduced our first live animal trap over 70 years ago, consumers have come to recognize Havahart® as a trusted name in wildlife control solutions. Today, Havahart® is a leading manufacturer of wildlife control products. As the most innovative brand in wild animal control, we are constantly striving to provide you with the newest and most effective technology to solve your nuisance animal woes.
At Havahart®, we pride ourselves on delivering caring control methods for wildlife by offering live animal traps, conscientious animal repellents, and safe electronic solutions. We design every product with the consumer and wildlife in mind. From beginners to experts, Havahart® has the solutions you need.
Havahart® is one of many exceptional brand names offered by Woodstream Corp., which has had a presence in Canada for over 150 years. We got our start selling game traps to the Hudson Bay Company. In that time, we have come to form strong relationships with many Canadian distributors and retailers such as Canadian Tire, Lowe's, Home Depot and more.
At Havahart®, we are sensitive to the growing need for a cleaner, healthier environment. That's why we are committed to developing new and innovative products to meet the changing needs of consumers. Many of our animal repellents are OMRI listed® or USDA® compliant for use in organic gardening. In addition, our unique electronic repellents are energy-efficient and safe for animals and the environment.
TOP PRODUCTS
FAQS
Animal Repellents
Q: How do Havahart® Spray Away® Motion-Activated Repellents work?
A: Havahart® Spray Away® Motion-Activated Repellents are an effective way to provide your yard with 24/7 protection against destructive animals. This electronic system uses infrared sensors to detect animal movement. When it senses an animal, Spray Away® delivers a startling burst of water to send the animal running. This persistent pattern conditions nuisance animals to stay away from protected areas.
Q: How do Critter Ridder® liquid and granular repellents deter nuisance animals?
A: Critter Ridder® animal repellents are effective at repelling a variety of common pest animals, including raccoons and squirrels. The unique formula uses all-natural active ingredients such as hot peppers to target an animal's sense of smell and taste. When an animal comes in contact with the product, they have an unpleasant experience, which drives them away unharmed. Eventually, this conditions the animal to stay out of the protected area. Critter Ridder® offers long-lasting protection for up to 30 days, but should be reapplied after a heavy rainfall.
Q: What kind of repellent can I use to protect my vegetable garden?
A: To protect vegetables, use an electronic repellent such as Spray Away®. These motion-activated systems repel using startling bursts of water to drive away nuisance animals. Since it's just water, it is perfectly safe to use around edible plants. You may also sprinkle Critter Ridder® granular repellents or spray liquid repellents around the perimeter of your vegetable garden to create a scent barrier, keeping them out of the area.
Live Animal Traps
Q: What are the advantages of using a 2-door trap versus a 1-door trap?
A: If used as directed, 1-door traps and 2-door traps are equally effective. Therefore, your purchase of 1-door or 2-door is a matter of preference. Some trappers prefer to use 2-door traps as an animal can enter through either side. In addition, animals may be more confident entering a 2-door trap because they can see through the other side. Other trappers prefer to use 1-door traps because they are easier to bait. Since the back end of the trap is closed, you can place the bait beyond the trigger plate, ensuring the animal walks further into the trap before reaching it.
Q: How do I set my Havahart® Live Animal Trap?
A: Setting your trap is easy! Each trap sets differently, so we include detailed written instructions with every trap. After setting your trap, test it to make sure it works properly. To test your trap, use a pen or another object to touch the trip plate carefully, applying a bit of light pressure. If properly set, the door(s) should quickly snap closed.
Q: How do I care for my Havahart® Live Animal Trap after using it?
A: After catching an animal, disinfect traps with a bleach solution (1 part bleach to 9 parts water). Let the solution remain on the trap for 20 minutes then thoroughly rinse it. Do this after each capture to prevent the spread of any potential disease. Animals frequently defecate and urinate when captured, so it is unsanitary to put down new bait unless the trap is clean.