Special Price
CA$104.39
Regular Price
CA$115.98
Earn 2080 rewards points on your purchase! Learn More
For use against deer
Dual-action formula repels nuisance animals by both scent and taste but dries odorless to humans
Critter Ridder® Repellent uses oil of black pepper, piperine, & capsaicin to keep critters away
The Motion-Activated Animal Repellent & Sprinkler releases a startling surge of water to deter animals
Includes Safer's® Critter Ridder® Liquid Animal Repellent and the Critter Ridder® Motion-Activated Animal Repellent & Sprinkler
Deer Repellent Kit
The Havahart® Deer Repellent Kit incorporates the Critter Ridder® Repellent RTU Spray as well as Critter Ridder® Motion-Activated Animal Repellent & Sprinkler to alleviate problems with deer around your property. The RTU Spray repels by scent and taste and protects target area for 30 days. The Motion-Activated Animal Repellent uses an infrared sensor that detects animals heat and movement within a range up to 100 feet. Combine both repellents for season-long deer protection!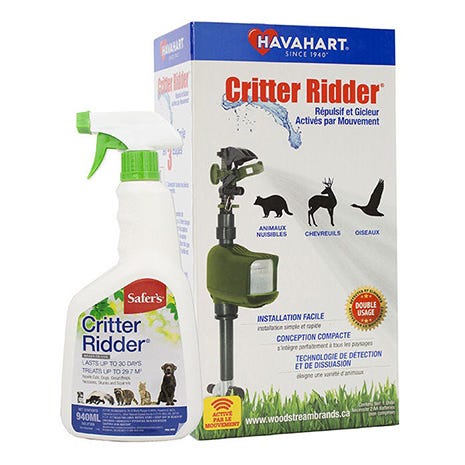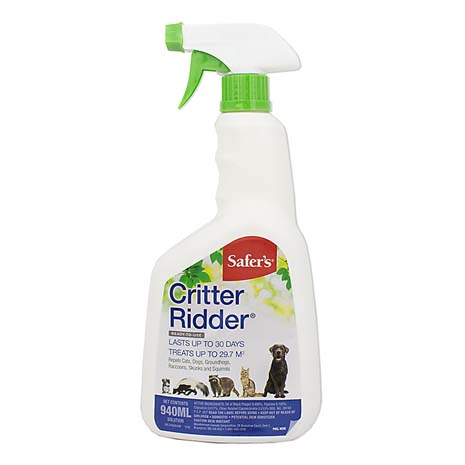 Safer's® Critter Ridder® Liquid Animal Repellent
Safer's® Critter Ridder® Liquid Animal Repellent is proven to keep pests from invading your yard. The dual-action formula repels by releasing an intense odor and taste that is safe for the animal, but overwhelms their senses, quickly teaching them to avoid the area. Critter Ridder® is effective against dogs, cats, groundhogs, and other animals. The 940 mL spray protects target areas for up to 30 days, leaving time for you to enjoy your outdoor space!
Simple and Natural Ingredients
Critter Ridder® contains three intense ingredients that trigger the animal's senses and teach them to avoid the area. The granules inside the canister combine piperine, oil of black pepper and capsaicin to create a strong repellent that causes an unpleasant taste and smell for nuisance animals.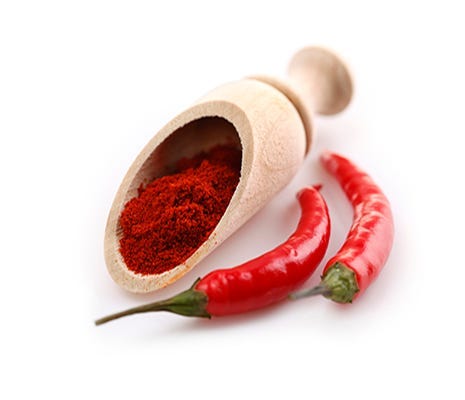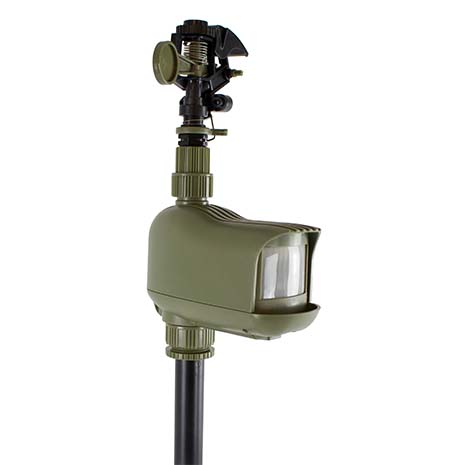 Critter Ridder® Motion-Activated Animal Repellent & Sprinkler
Defend your property from animal damage with the Critter Ridder® Motion-Activated Animal Repellent & Sprinkler. This unique electronic repelling device uses a built-in sensor to detect motion and effectively frighten away nuisance critters with startling bursts of water. The compact design and subtle green coloring allow this device to blend seamlessly into any landscape. In addition to providing humane repelling power, it can also be used as a sprinkler for watering your lawn or garden.
Provides 24/7 Monitoring
The Motion-Activated Repellent's infrared sensor seeks animal heat and movement day and night. Every time that it detects a passing animal, the device releases a startling surge of water for approximately 5 seconds to scare the invader away. This conditions potentially destructive critters to avoid your property, keeping your gardens, ponds and home safe.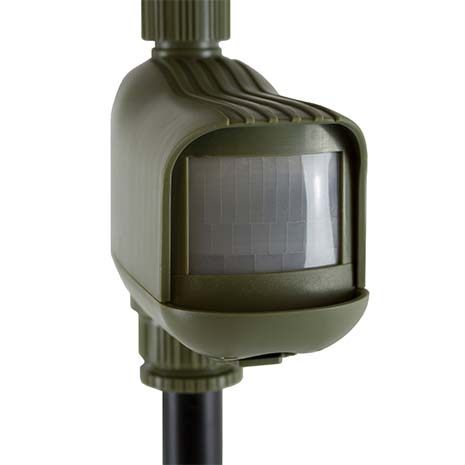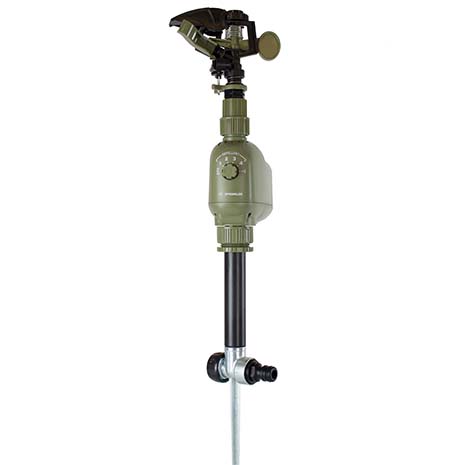 Multiple Settings Offer Flexibility
To ensure you get exactly the protection you want, the Critter Ridder® Motion-Activated Repellent has 4 available setting on the sensitivity dial, ranging from least to most sensitive. In addition, the sprinkler head features a distance limiter wheel so you can adjust the range of the spray – up to 35 feet depending on water pressure conditions. Use these dials to determine how far and what size critters you want your device to see.
Deer Repellent Kit Product Specifications
Do you want to know more helpful details about the Deer Repellent Kit? Take a closer look at the in-depth specifications for this product.
Complete Product Details »
Deer Repellent Kit
Model #
REPELKITCAN
Includes

Safer's® Critter Ridder® Liquid Animal Repellent - 940 mL
Critter Ridder® Motion-Activated Animal Repellent

Effective Against

Safer's® Critter Ridder® Liquid Animal Repellent - 940 mL

Cats, Dogs, Groundhogs, Raccoons, Skunks, and Squirrels

Critter Ridder® Motion-Activated Animal Repellent & Sprinkler

Birds, Cats, Chipmunks, Deer, Dogs, Groundhogs, Opossums, Rabbits, Raccoons, Skunks, Squirrels
Deer Repellent Kit
Model #
REPELKITCAN
Includes

Safer's® Critter Ridder® Liquid Animal Repellent - 940 mL
Critter Ridder® Motion-Activated Animal Repellent

Effective Against

Safer's® Critter Ridder® Liquid Animal Repellent - 940 mL

Cats, Dogs, Groundhogs, Raccoons, Skunks, and Squirrels

Critter Ridder® Motion-Activated Animal Repellent & Sprinkler

Birds, Cats, Chipmunks, Deer, Dogs, Groundhogs, Opossums, Rabbits, Raccoons, Skunks, Squirrels

Animal Repellent Granules (3242CAN) Specifications

Repels raccoons, skunks, dogs, cats, squirrels, and groundhogs
Uses oil of black pepper, piperine, & capsaicin to keep critters away
Dual-action formula repels animals by scent and taste
Lasts up to 30 days
Multi-surface protection: Spray on plants and outdoor surfaces
For indoor and outdoor use

Animal Repellent Granules (3242CAN) Specifications

Repel animals such as dogs, raccoons, opossums and more
Releases a startling surge of water to scare animals away
Infrared sensor detects animal heat and movement within a range of up to 100 feet
Metal spike for easy placement anywhere on your lawn or garden
Continuous spray setting allows for use as a sprinkler unit
Eco-friendly design – Uses only 2-3 cups of water per spray