Perky-Pet® Copper Panorama Wild Bird Feeder
Perky-Pet® Copper Panorama Wild Bird Feeder
1
5
5
1
Earn 660 rewards points on your purchase! Learn More
Sure-Lock™ cap locks lid in place to keep squirrels out
Large seed tray and circular perch lets birds feed from all angles
Powder-coated finish offers rust resistance for durability
Includes a built-in hanging cable for versatile placement
Attracts cardinals, titmice, nuthatches, and a variety of other wild birds
For use with sunflower seed, mixed seed, and any other type of bird seed
Large opening allows for easy cleaning
Best Used For


Perky-Pet® Copper Finish Panorama Bird Feeder
Create a peaceful outdoor sanctuary that invites the comforting company of backyard birds with the Perky-Pet® Copper Finish Panorama Bird Feeder. Your feathered friends can gather around the 360-degree seed tray and claim a cozy spot on the circular perch. The seed is dispensed slowly, so your VIP guests dine on the freshest fare while you save money on the catering costs. This feeder is equipped with a Sure-Lock™ cap to keep the lid securely locked in place.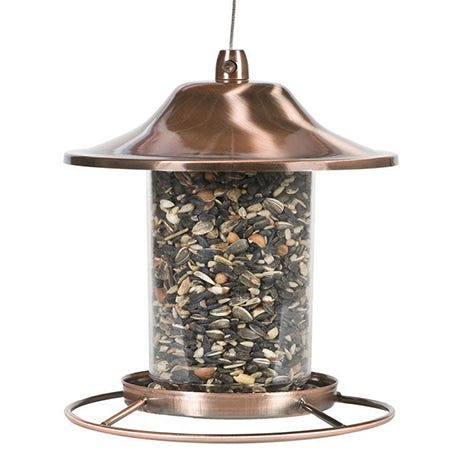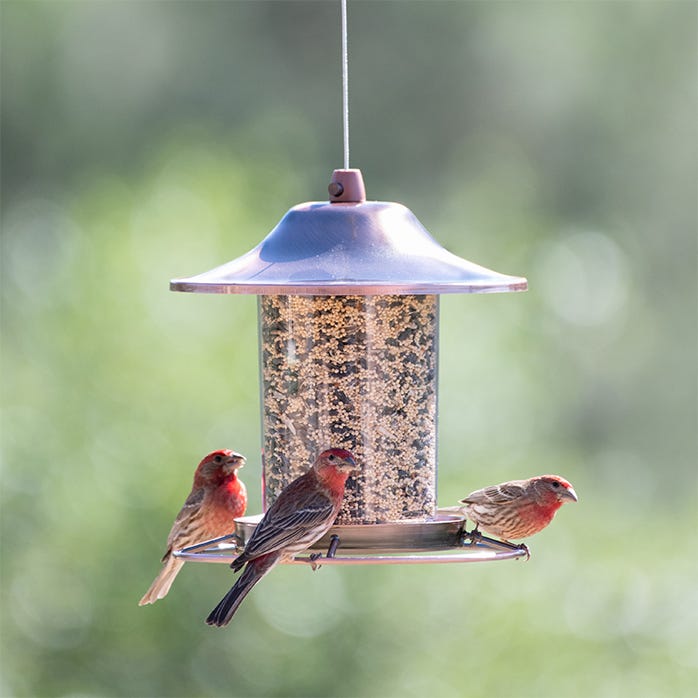 Dining From All Angles
There's no waiting in line for your turn at the seed tray with the Perky-Pet® Copper Finish Panorama Bird Feeder. The sturdy circular perch allows for 360-degree feeding, making it possible for multiple birds to feast at once and gives you an excellent view from all angles. Plus, the 2 lb seed capacity ensures there's plenty of food to go around.
Attractive Copper Finish
Not only is this feeder convenient and economical, it's also eye-catching. The handsome copper finish enhances the natural beauty of your home's exterior while extending a warm welcome to resident birds. It's a bird feeder and piece of stunning décor all in one!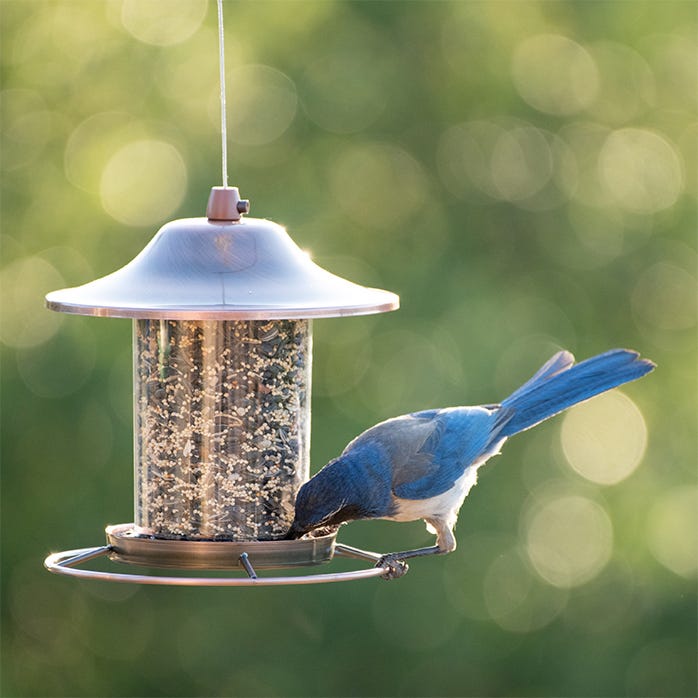 Durable Construction
The clear plastic reservoir is made from shatter-resistant plastic to stand up to Mother Nature's whims. Meanwhile, a powder-coated finish helps your stylish antique copper bird feeder resist rust. Fill the sturdy plastic reservoir with up to 2 lb of your favorite bird seed and easily monitor seed levels from a distance thanks to the clear sides.
Easy to Fill and Clean
Birds prefer to visit fresh, clean feeders. Luckily, cleaning and filling the Copper Panorama Bird Feeder with fresh seed is easy! Lift off the lid and wash the feeder in a mild solution of warm soapy water. Once dry, the feeder's wide-mouth opening makes filling a breeze. Clean and change seed at least every two weeks to prevent mold and insects.
Perky-Pet® Copper Finish Panorama Bird Feeder Product Details
Do you want to know more helpful details about the Copper Finish Panorama Bird Feeder? Take a closer look at the in-depth specifications for this product.
Perky-Pet® Copper Finish Panorama Bird Feeder
Model #
312C
Height
9 inches
Diameter
8.25 inches
Capacity
2 lb
Seed Type
Black-oil sunflower seed, mixed seed, safflower seed, and more
Materials
Metal, plastic
Perky-Pet® Panorama Bird Feeder
Model #
312-C
Colors Available
Bronze, copper, red, or blue
Height
9 inches
Diameter
8.25 inches
Capacity
2 lb
Seed Type
Black-oil sunflower seed, mixed seed, safflower seed, and more
Materials
Metal, plastic