Perky-Pet® Flexport® Finch Feeder Kit
Special Price
CA$23.19
Regular Price
CA$28.77
Earn 460 rewards points on your purchase! Learn More
Offers more feeding angles than standard finch ports
Dual perch positions allow right-side-up and upside-down feeding
6 Feeding stations with Flexports® prevent seed from clogging
Feeder holds up to 1.5 lb of Nyjer® / thistle
Scoop N' Fill™ seed scoop holds up to 4 cups of seed & doubles as a bag clip
12" hanging hook allows for versatile feeder placement
Includes a Perky-Pet® Finch Feeder with Flexports®, a 12" metal hanging hook, and a Scoop N' Fill™ seed scoop
Best Used For



Perky-Pet® Finch Feeder With Flexports® Kit
Feeding the birds involves a lot of tools and accessories. Attracting goldfinches, purple finches, redpolls, and siskins to your yard with the Perky-Pet® Finch Feeder with Flexports® Kit. This feeder includes our patented Flexports®, which offer benefits for birds and you. The flexible rubber port cover is uniquely designed to prevent seed clogging and is the perfect size for small finch seed. The design also allows birds to feed in a more natural position. With 1.5 lb of Nyjer® on offer, your backyard birds will be in good supply. This feeder also come with a 12" metal hanging hook and a Scoop N' Fill™ seed scoop to simplify your bird-feeding routine.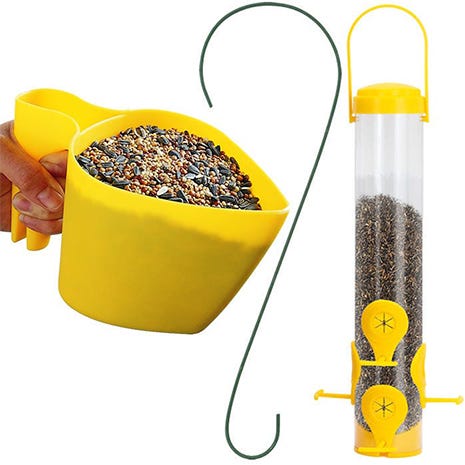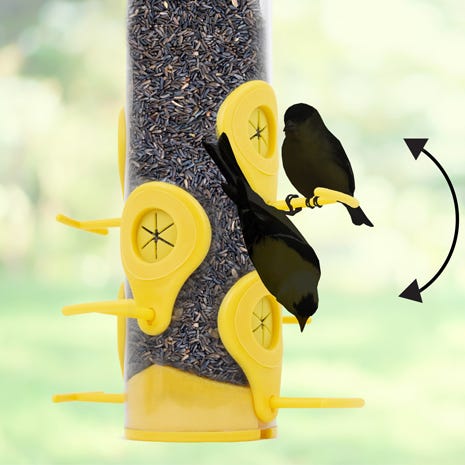 Double Feeding Positions
Acrobatic goldfinches have no problem feeding while perched upside-down. This feeder caters to that unique ability by offer dual feeding positions. They can feed both right-side-up and upside-down from the comfortable T-shaped perches. And with six feeding stations, this feeder is easily able to accommodate multiple birds simultaneously.
More Comfortable For Birds
Standard finch ports are incredibly small and can be difficult for birds to grab seed from. This feeder's unique Flexports™ offer more feeding angles than standard finch ports because they're flexible. The design allows birds to feed at an optimal position outside of the port, creating a more natural feeding position and offering better visibility so they feel safer and stick around longer. Birds won't be able to resist visiting over and over!
Additionally, the gaps in the flexible port cover are the perfect size for small finch feed. Not only does this design make it easier for birds to grab seed, but it also prevents clogging, which is a common problem with standard finch ports.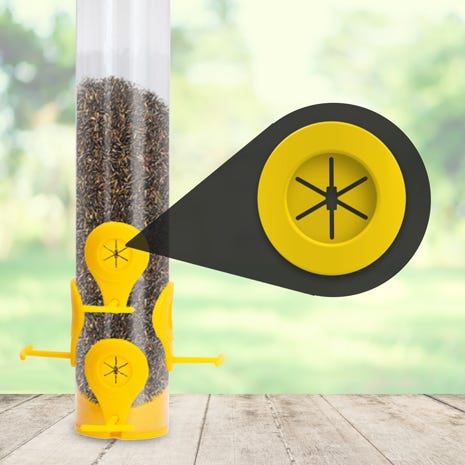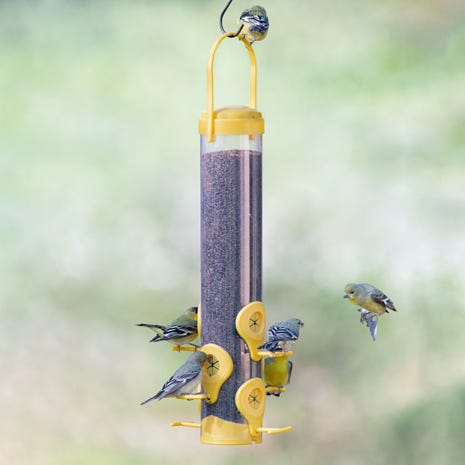 Hang it Anywhere
This feeder also comes with a Perky-Pet® 12" Metal Hanging Hook so you can hang your new favorite feeder anywhere around your yard or patio. It has a rust-resistant powder-coated finish to ensure durability even in the harshest weather. Plus, the extra-wide top hook won't damage tree branches! This sturdy hook is able to hold up to 35 lb, so it's more than up to the job of holding this feeder or you can hang planters and hanging baskets!
Easy Filling
Filling feeders can be a messy business. The Perky-Pet® Scoop N' Fill® Seed Scoop has an ergonomic design that makes filling all your bird seed feeders an easy task. The scoop boasts a four-cup capacity so you can fill your feeders quickly. The scoop's handle also doubles as a bag clip. Lock it onto seed bags to seal in freshness!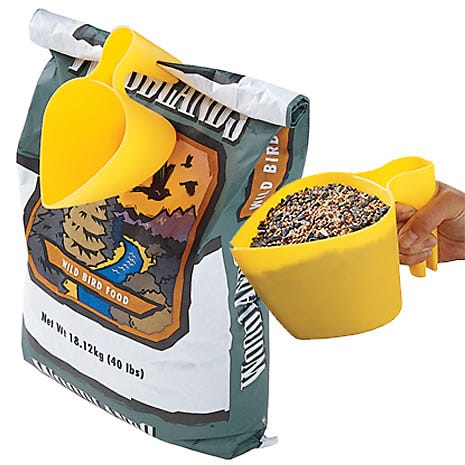 Perky-Pet® Finch Feeder With Flexports® Kit Product Details
Do you want to know more helpful details about the Perky-Pet® Finch Feeder with Flexports® Kit? Take a closer look at the in-depth specifications for this product.
Perky-Pet® Finch Feeder With Flexports® Kit
Model #
B481FKIT
Includes

Perky-Pet® Finch Feeder with Flexports®
12" metal hanging hook
Scoop N' Fill™ seed scoop

Feeder Capacity
1.5 lb
Number of Ports
6
Food Type
Nyjer® / thistle
Perky-Pet® Finch Feeder with Flexports® Kit
Model #
B481FKIT
Includes

Perky-Pet® Finch Feeder with Flexports®
12" metal hanging hook
Scoop N' Fill™ seed scoop

Height
15 inches
Diameter
3 inches
Feeder Capacity
1.5 lb
Ports
6
Food Type
Nyjer® / thistle