Perky-Pet® Grand Chalet Wild Bird Feeder
As low as
CA$30.69
Regular Price
CA$40.89
Earn 600 rewards points on your purchase! Learn More
Charming feeder design looks great in any outdoor space
360-degree seed tray offers plenty of feeding space
Sure-Lock™ cap locks lid in place to keep squirrels out
Roof overhang keeps seed dry and protects birds from weather while they dine
Holds up to 4 lb of seed
Available sizes: 1 pack and 3 pack
Best Used For





Perky-Pet® Grand Chalet Bird Feeder
Transform your yard into a bird-feeding paradise with the Perky-Pet® Grand Chalet Bird Feeder. This versatile feeder can dispense a variety of seed types so it's sure to attract many of your favorite species of backyard birds. The feeder's simple, charming design is the perfect complement to all your existing outdoor décor. Simply use the built-in hanging cable to place these feeders anywhere around your yard where you can easily view it.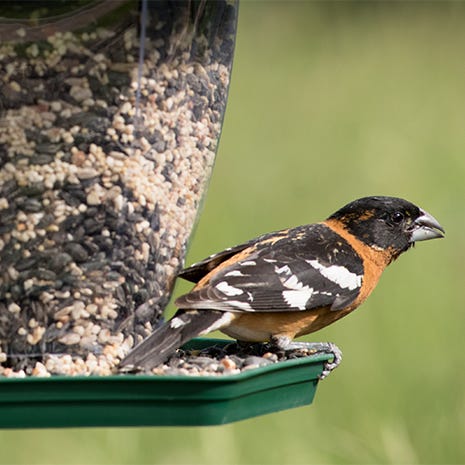 Accommodates Multiple Birds
Multiple feeding ports dispense into a spacious wraparound seed tray, which allows multiple birds to feed from a variety of angles at the same time. The convenient seed tray also reduces messes under the feeder by catching many of the seeds birds drop. The ample 4 lb seed capacity will keep you in good supply so you never run out during peak feeding times.
Seed Stays Protected
Thanks to a convenient roof overhang, birds and the seed supply will stay dry, even in inclement weather. Plus, the unique Sure-Lock™ cap locks the lid securely in place so that squirrels can't easily raid the seed inside the reservoir. Sturdy plastic components provide added protection from elements to ensure years of bird-watching enjoyment.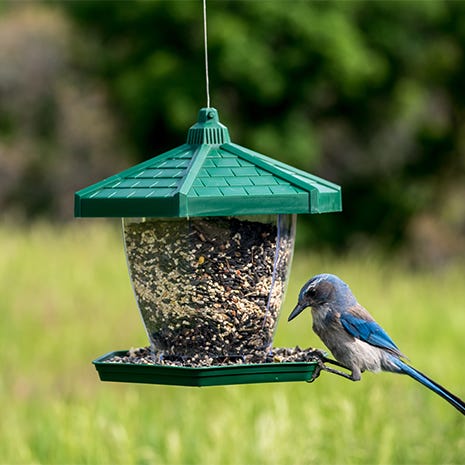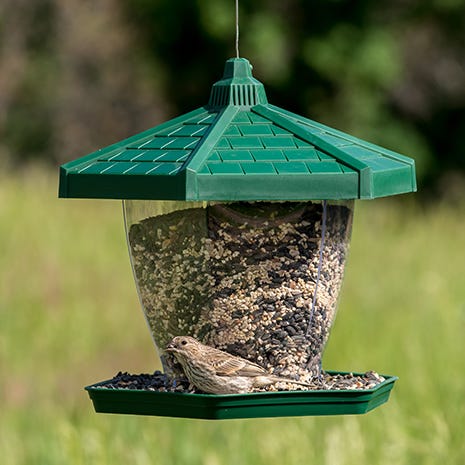 Easy to Fill and Clean
Birds prefer to visit fresh, clean feeders. Luckily, cleaning and filling the Grand Chalet Bird Feeder with fresh seed is easy! Lift off the lid and separate from the base, then wash the feeder in a mild solution of warm soapy water. Once dry, the feeder's wide-mouth opening makes filling a breeze. Clean and change seed at least every two weeks to prevent mold and insects.
Perky-Pet® Grand Chalet Bird Feeder Product Details
Do you want to know more helpful details about the Grand Chalet Bird Feeder? Take a closer look at the in-depth specifications for this product.
Perky-Pet® Grand Chalet Bird Feeder
Model #
HF940
Capacity
4 lb of seed
Seed Type
Black-oil sunflower seed, safflower seed, and mixed seed
Materials
Plastic
Perky-Pet® Grand Chalet Bird Feeder
Model Number
CHF940
Available Sizes
1 pack and 3 pack
Capacity
4 lb of seed
Seed Type
Black-oil sunflower seed, safflower seed, and mixed seed
Materials
Plastic