Perky-Pet® Green 2-in-1 Wild Bird Feeder
As low as
CA$14.59
Regular Price
CA$17.19
Earn 340 rewards points on your purchase! Learn More
Ports adjust to serve all seed types including mixed seed or Nyjer
Easily monitor seed levels through the clear plastic seed tube
Six ports with perches allow multiple birds to dine at once
Complements any backyard setting
Available in red, green or blue
Holds up to 1.8 lb of seed
Best Used For


Perky-Pet® Wild Bird and Finch Feeder
Spend time admiring all the beautiful feather colors and patterns of finches and other wild birds when they come to visit this Perky-Pet® Wild Bird and Finch Feeder. Its slim design makes it a great choice for anywhere that you have a little extra room, and it's designed to blend in to the natural foliage so birds feel safe and hidden. Thanks to the feeder's convertible ports, you can easily switch from Nyjer® to mixed seed, or any other seed type with a simple adjustment. With more seed options to choose from, you'll be able to attract more species of birds to your yard.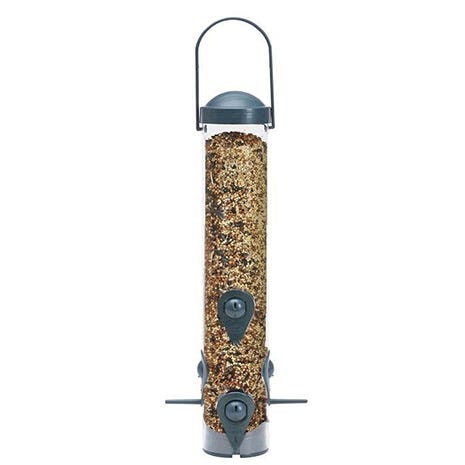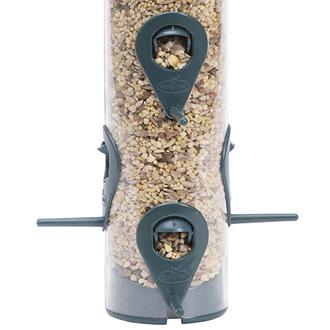 2-in-1 Ports Attract More Birds
With this unique feeder, you can easily go from serving mixed seed to Nyjer® with a minor adjustment to the ports. You'll be able to please the palates of your resident birds throughout the year without collecting multiple types of feeders. Simply flip ports one way to accommodate Nyjer® or flip the other way to serve mixed seed.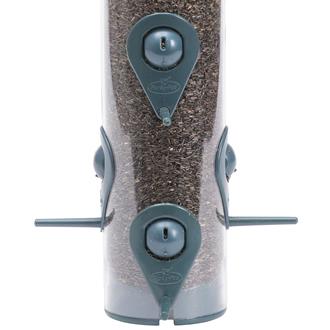 Six Feeding Stations
Birds won't be able to resist flocking to the Perky-Pet® Wild Bird and Finch Feeder! It features six feeding ports evenly spaced around the tube, so you'll be able to feed a large flock of birds at once. Plus, each seed port is paired with a comfortable U-shaped perch. With all those birds, you're in for a spectacular view!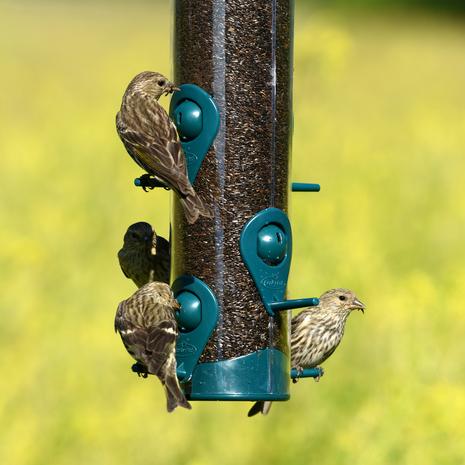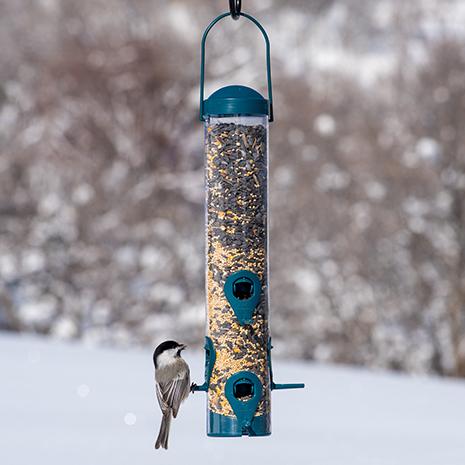 Natural Color
Birds need to feel safe and comfortable before they are willing to perch on your feeder and eat, and that's why this bird feeder has a garden green finish that matches the natural color of bushes, trees, and other foliage.
Shatter-Resistant Plastic Reservoir
This Perky-Pet® Wild Bird and Finch Feeder comes with a shatter-resistant plastic reservoir so you can see when it's time to refill at a glance, and the 1.8 lb seed capacity means you can spend more time watching the birds and less time adding more feed. Clean this feeder at least once every two weeks to keep it looking its best.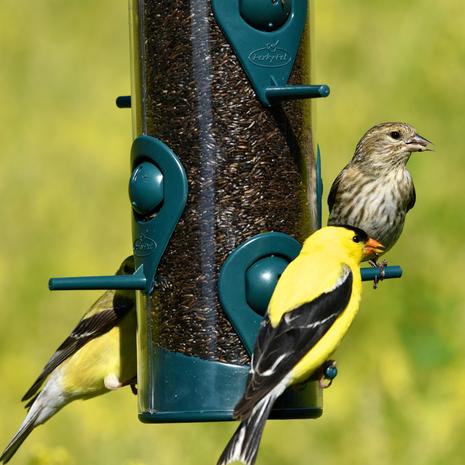 Perky-Pet® Wild Bird and Finch Feeder Product Details
Do you want to know more helpful details about the Wild Bird and Finch Feeder? Take a closer look at the in-depth specifications for this product.
Perky-Pet® Wild Bird and Finch Feeder
Model #
3261
Height
14.9 inches
Diameter
5.75 inches
Ports
6
Capacity
1.8 lb
Seed Type
Mixed seed or Nyjer® / thistle
Materials
Plastic
Perky-Pet® 2-in-1 Wild Bird Feeder
Model Number
326-C
Weight
.430 lb
Dimensions
17.9 in H × 5.9 in W × 5.9 in D
Capacity
1.8 lb of seed
Colors Available
Red, blue or green
Ports
6 with perches