Perky-Pet® Green Metal Tube Wild Bird Feeder
As low as
CA$23.69
Regular Price
CA$23.69
Earn 460 rewards points on your purchase! Learn More
Powder-coated finish ensures rust resistance
Removable perches and base for easy cleaning
Six ports with perches accommodate multiple birds
Holds up to 1 lb of mixed or black-oil sunflower seed
Available in blue and green





Perky-Pet® Green Metal Tube Feeder
Bring charm and simplicity to your outdoor spaces with the Perky-Pet® Metal Tube Bird Feeder. This sturdy metal feeder features a green color that is sure to look at home in any backyard. Birds won't be able to resist the look or the six ports. With this feeder, there's plenty of room for all of your feathered friends to dine. Plus, it holds up to 1 lb of black-oil sunflower seed or mixed seed so your birds will always be in good supply.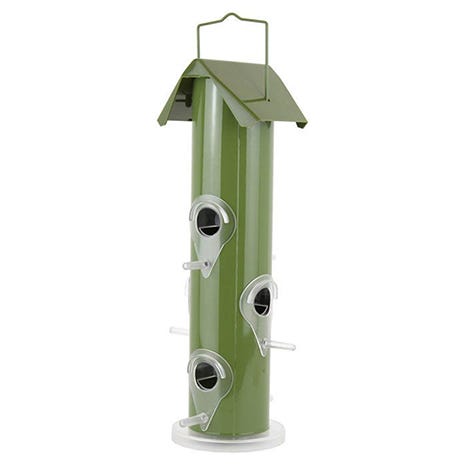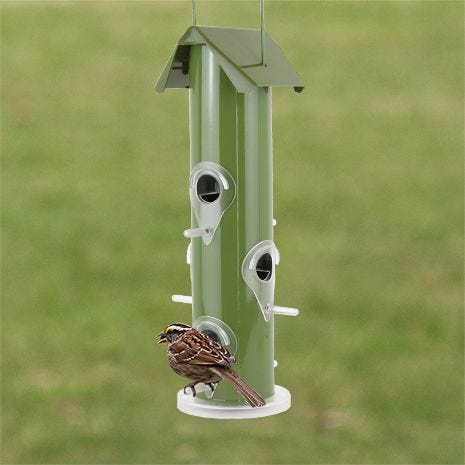 Accommodates Multiple Birds
Featuring six feeding stations, this 1 lb capacity seed feeder enables multiple birds to dine at the same time. In addition, the accompanying perches provide birds plenty of space to rest while they dine for an enjoyable feeding experience. Birds won't be able to resist a visit to this feeder!
Simple and Durable
The Perky-Pet® Green Metal Tube Feeder brings superior durability to your bird-feeding routine! With a metal reservoir, lid, and perches, this feeder will easily stand up to the rigors of outdoor use. The metal components feature a powder-coated finish to withstand rust so this feeder maintains its appeal for many seasons to come!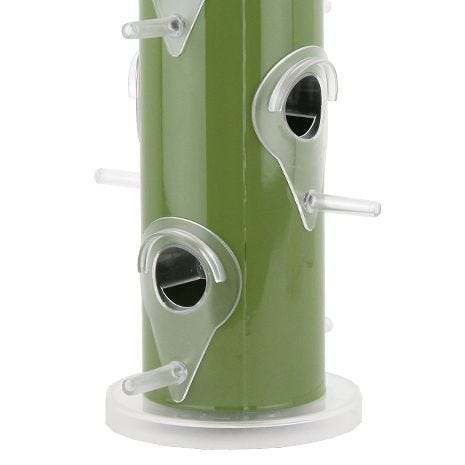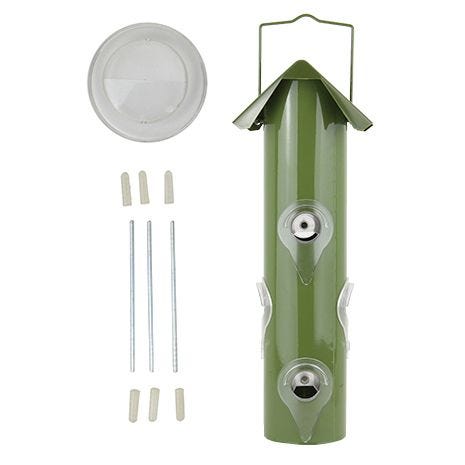 Easy to Clean
Cleaning and filling is an effortless process thanks to the removable perches and base. Simply pull off the perch caps and metal perches, followed by the plastic base to get easy access to the feeder's interior. You'll have no problem reaching all of the nooks and crannies, and can clean the pieces your backyard birds use most.
Perky-Pet® Green Metal Tube Feeder Product Details
Do you want to know more helpful details about the Green Metal Tube Feeder? Take a closer look at the in-depth specifications for this product.
Perky-Pet® Green Metal Tube Feeder
Model #
391A
Height
13.25 Inches
Diameter
5.5 Inches
Capacity
1 lb
Seed Type
Black-oil sunflower seed or mixed seed
Ports
6
Materials
Metal, plastic
Perky-Pet® Metal Tube Bird Feeder - 1 lb Seed Capacity
Model Number
C391
Colors Available
Blue and Green
Height
13.25 inches
Diameter
5.5 inches
Capacity
1 lb
Seed Type
Black-oil sunflower seed or mixed seed
Ports
6
Materials
Metal, plastic