Perky-Pet® Looking Glass Hummingbird Feeder
Earn 1020 rewards points on your purchase! Learn More
Globe-shaped bottle & copper elements stand out
4 flower-shaped feeding ports for multiple birds
Tinted glass bottle for easy nectar monitoring
Feeder comes apart for thorough cleaning
Holds up to 32 oz of nectar
Best Used For






Perky-Pet® Looking Glass Hummingbird Feeder
Boasting an artistic and functional design, the Perky-Pet® Looking Glass Hummingbird Feeder offers not only visually stunning aesthetics, but also makes it easy to attract beautiful hummingbirds. Your fast-flying feathered friends won't be able to resist the bright flower-shaped feeding ports and large 32 oz nectar capacity. With this elegant hanging feeder, you can enjoy iridescent colors, purring wings and delightful dances as your visitors flit about while seated in your favorite bird-watching spot.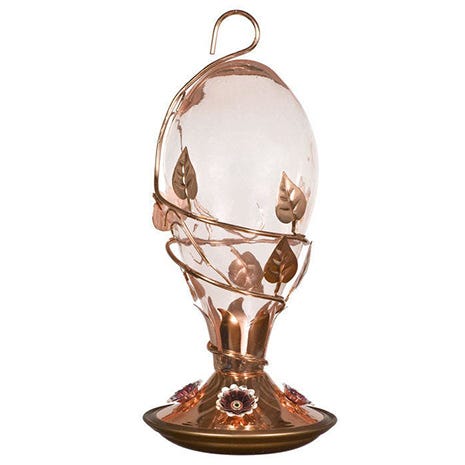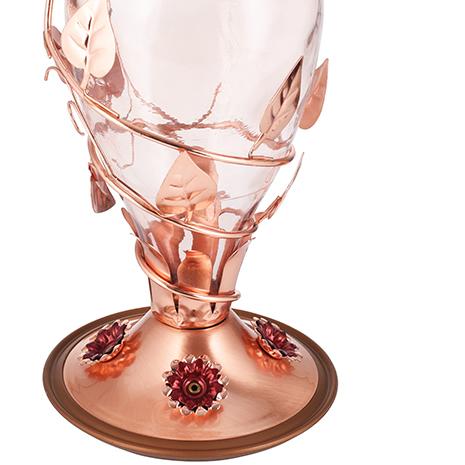 Elegant Details Add Style
With its many charming features, this feeder will soon become a favorite in your yard. First, there's an elongated globe-shaped bottle made of faintly tinted glass, which adds a handcrafted feel. Next is the shiny copper base, complete with bright red flower-shaped ports that will quickly capture that attention of hummingbirds. Lastly is the gorgeous copper vine detail that extends upward from the base and wraps delicately around the glass bottle. No matter where you place it, this enchanting feeder is sure to make a statement in any outdoor setting.
Accommodates Multiple Birds
The Perky-Pet® Looking Glass Hummingbird Feeder features six feeding ports with comfortable perches. The vibrant red color and flower-shaped ports are perfect for attracting hummers. With its multi-port design and large nectar capacity, this feeder will easily accommodate plenty of hummingbird guests.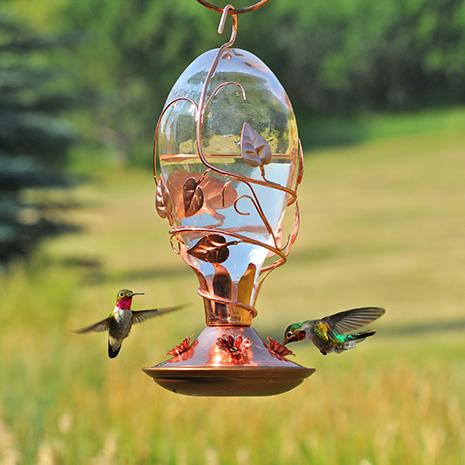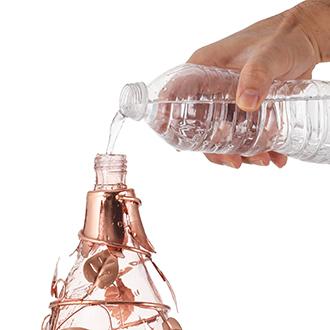 Large 32 Ounce Nectar Capacity
When you have lots of hungry hummers visiting your yard, you need a nectar capacity to match. The Looking Glass Hummingbird Feeder boasts a 32 oz nectar capacity to keep your feathered visitors well fed. In addition, the translucent glass bottle makes it easy to monitor nectar levels at a glance so you always know when it's time to refill.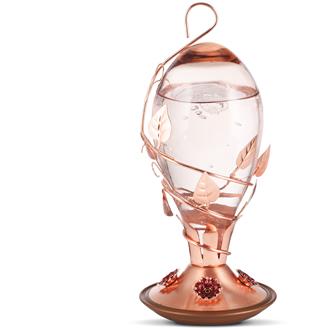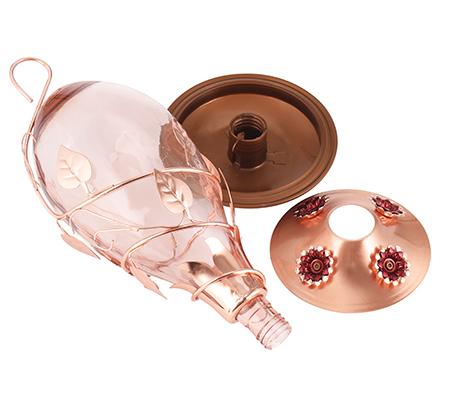 Comes Apart for Thorough Cleaning
Hummingbirds prefer to visit fresh, clean feeding stations. To make that easier, this feeder disassembles for cleaning. Remove the bottle with ease – even the base comes apart so you can get into those hard-to-reach spaces! Clean your feeder at least once per week with a mild soap and water solution to prevent mildew buildup.
Built-In Hanging Hook
For your convenience, this feeder features a sturdy, integrated hanging hook to allow for versatile placement anywhere around your yard, garden, or patio. When hanging your feeder, look for a location that not only provides a great view, but is also hummingbird-friendly, such as an open space near plenty of flowers.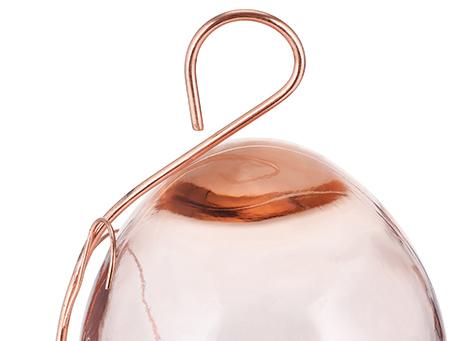 "Absolutely love this feeder! It is so beautiful and unique. I have 6 feeders out and this seems to the hummingbird favorite. I usually have 2-3 birds on each feeder at a time because I have a large flower garden so the little guys are always hanging out […] it is such a joy to look at, just glistening in the sun with its decorative copper touches." (Review from Anonymous)
Perky-Pet® Looking Glass Hummingbird Feeder Product Details
Do you want to know more helpful details about the Perky-Pet® Looking Glass Hummingbird Feeder? Take a closer look at the in-depth specifications for this product.
Perky-Pet® Looking Glass Hummingbird Feeder
Model #
8110H-1
Height
13.20 inches
Diameter
5.97 inches
Capacity
32 oz
Ports
4
Materials
Glass, metal
Perky-Pet® Looking Glass Hummingbird Feeder - Specifications
Model Number
8110H-1
Feeding Ports
4
Feeder Comes Apart
For easy cleaning
Nectar Capacity
32 oz