Perky-Pet® Our Best Glass Hummingbird Feeder
As low as
CA$77.49
Regular Price
CA$33.69
Perky-Pet® Our Best Glass Hummingbird Feeder
2
3
5
1
Earn 660 rewards points on your purchase! Learn More
Wraparound perch and 6 flower-shaped feeding ports attract hummingbirds
Wide-mouth bottle ensures easy filling and cleaning
Built-in bee guards keep bees out of nectar
Built-in ant moat creates a barrier against ants
Holds up to 30 oz of nectar
Available Sizes: 1 Feeder or 4 Feeders
Best Used For





Perky-Pet® Our Best Glass Hummingbird Feeder
The Perky-Pet® Our Best Glass Hummingbird Feeder promises hours of hummingbird-watching pleasure and is perfect for any bird lover. It's designed with a wide mouth bottle to enable easy filling and cleaning. To attract birds and provide visual appeal, the feeder features bright red and yellow accents. The feeder includes six feeding stations with a wraparound perch. Plus, the flower-shaped feeding ports offer built-in bee guards to protect the nectar. Along with the built-in ant moat, this feeder is sure to be safe from unwanted invaders.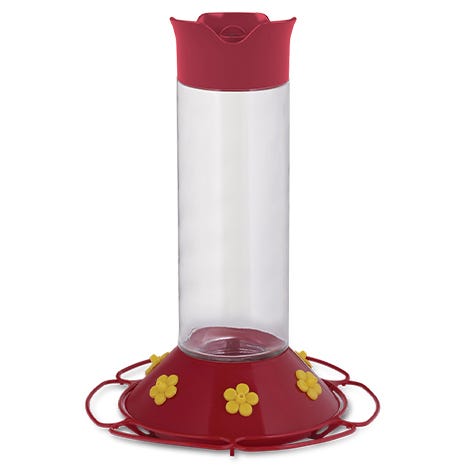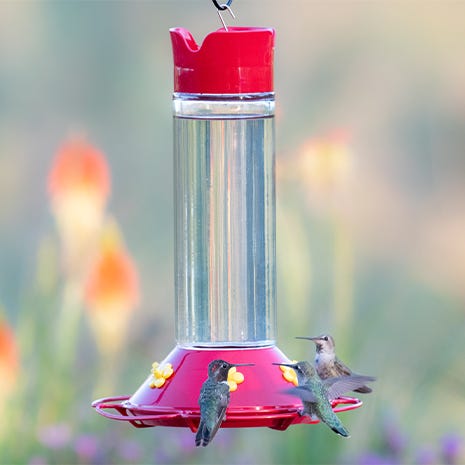 Accommodates Multiple Birds
Designed to attract more hummingbirds, this feeder offers six convenient feeding ports with a circular, wraparound perch that allows multiple hummers to sit and dine together. The bright yellow ports are also shaped like flowers to catch the eye of hummingbirds as they fly by.
Wide-Mouth Bottle for Easy Filling
Attempting to pour nectar can often be messy and time consuming – but not this feeder. For your convenience, the Perky-Pet® Our Best Glass Hummingbird Feeder is designed with a wide mouth bottle to make filling easier, resulting in less messes and spills as you pour the nectar. In addition, the bottle is made of clear hardened glass so you can effortlessly keep track of nectar levels.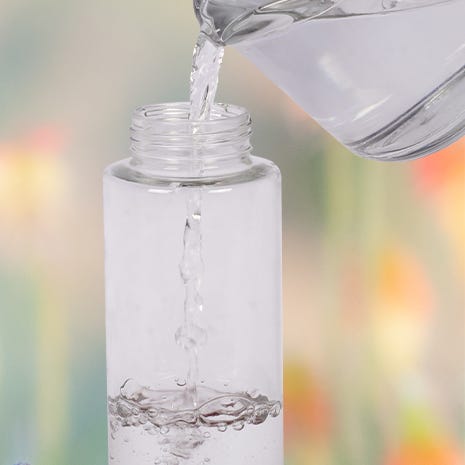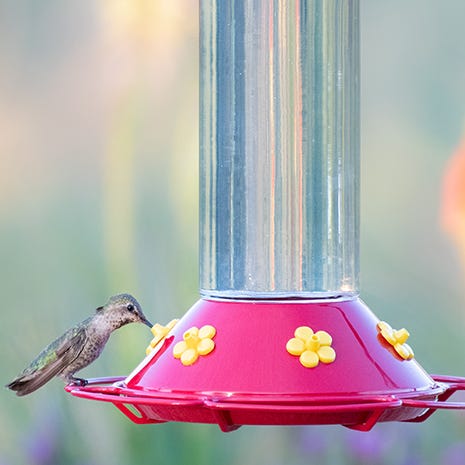 Keep Insects Out
Providing an effective line of defense against insects is an important part of feeding hummingbirds. That's why this feeder features built-in bee guards at each port and a built-in ant moat to ensure that the nectar supply is reserved for the birds. To use the ant moat, fill the top of the lid with water.
Easy to Clean
Keeping a feeder clean and fresh is a sure way to keep your hummingbirds coming back for more. To make that easier, our feeders have been designed to allow for effortless cleaning. The wide mouth design allows you to sanitize all of the hard-to-reach spots in the bottle, while the base comes apart for better access. Remember to clean your feeder at least twice per week with a mild soap and water solution to prevent mildew buildup.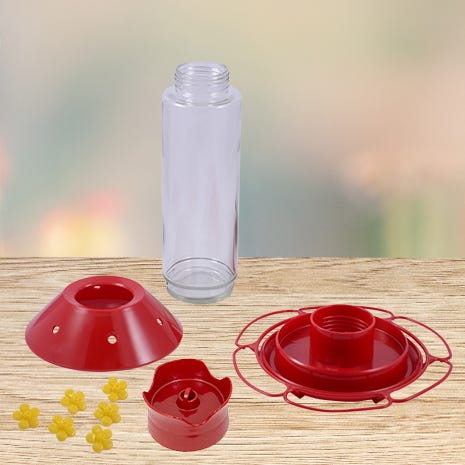 See it in Action
Watch this video to see for yourself just how much the hummingbirds love the Perky-Pet® Our Best Glass Hummingbird Feeder.
"This feeder has some excellent features – bee guards on the "flowers" and the base contains the nectar so the yellow jackets can't reach anything. Good reservoir size, too. Very pleased with my purchase." (Review from DebNoCo)
Perky-Pet® Glass Hummingbird Feeder Product Details
Do you want to know more helpful details about the Perky-Pet® Glass Hummingbird Feeder? Take a closer look at the in-depth specifications for this product.
Perky-Pet® Our Best Glass Hummingbird Feeder
Model #
209B
Height
11.5 inches
Diameter
8.3 inches
Capacity
30 oz
Ports
6
Materials
Plastic, glass
Customer Reviews
50%
of customers
recommend this product
This is a horrible product.
Jul 1, 2022
This is a horrible product. The first one I bought leaked from the base, the next 2, the flowers. All it does is attract yellow jackets and raccoons to the sugar water that's now covering my deck. DO NOT waste your money as you will be nothing but frustrated.