Perky-Pet® Trio Bamboo Feeder
Special Price
CA$44.79
Regular Price
CA$63.99
Earn 880 rewards points on your purchase! Learn More
Bamboo construction is strong and durable
3 chambers to supply mealworms, peanuts, sunflower & mixed seeds, 1 lb per chamber, 3 lb total
Eco-friendly bamboo resists mold & bacteria
Sure-Lock™ cap secures lid to keep squirrels out
Built-in drain holes keep seed fresh & dry
Best Used For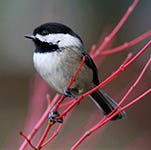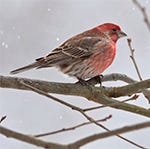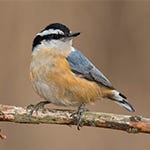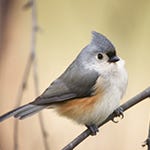 Perky-Pet® Trio Bamboo Feeder
With the Perky-Pet® Trio Bamboo Feeder, you get an option that's great for you, for your backyard birds, and for the environment! This simple feeder is constructed of durable bamboo, ensuring its place in your yard for many years to come. Plus, it allows you to serve three different food types simultaneously thanks to independent compartment. This feeder also boasts built-in drain holes to prevent water from pooling so food stays fresh for longer.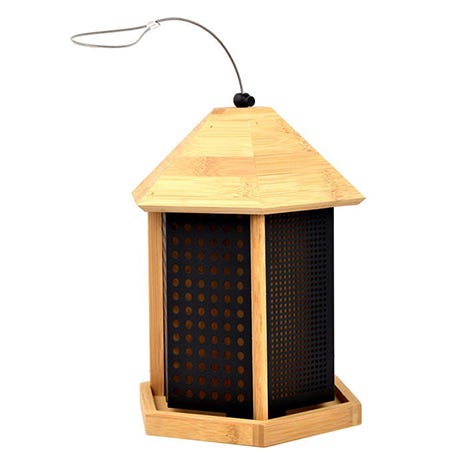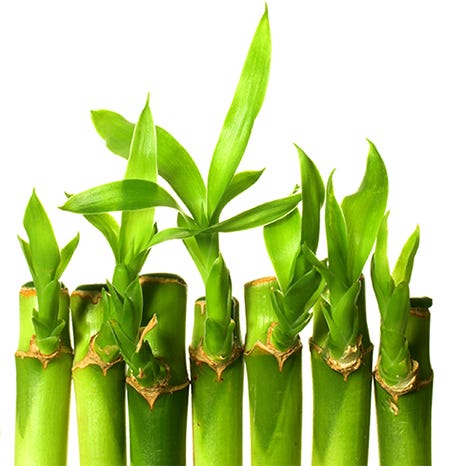 Why Bamboo?
Bamboo is one of the world's fastest growing, most sustainable plants, making it a very eco-friendly choice for bird feeders! It's 100% natural and biodegradable. Bamboo is stronger and more durable than most woods, making it less likely to warp, crack, shrink, or swell. Plus, it's naturally resistant to mold, insects, and bacteria!
Three Food Compartments
The Perky-Pet® Trio Bamboo Feeder features three independent food compartments, allowing you to serve multiple food types at once. Use one compartment for mealworms, another for peanuts, and the last compartment for sunflower or mixed seed. It's like having three feeders in one! With so many foods on the menu, you're sure to attract a variety of backyard birds, including finches, blue jays, nuthatches, and chickadees.
Clear compartment: any seed type
Large mesh compartment: shelled peanuts, sunflower seed and safflower seed
Small mesh compartment: mixed seed or nyjer (thistle)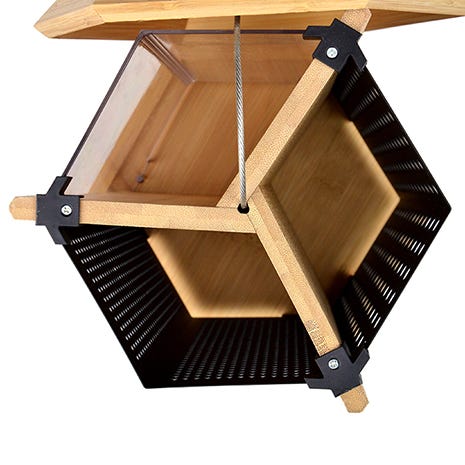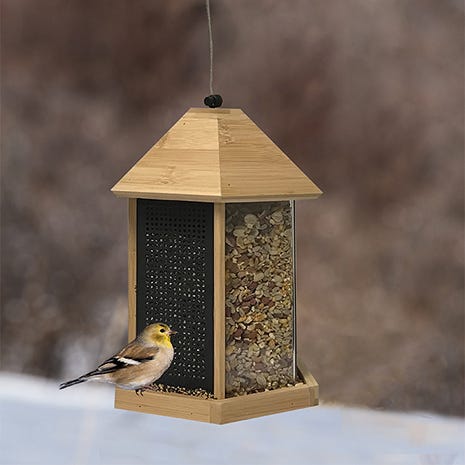 Easy to Use
For your convenience, this low-maintenance bamboo feeder is incredibly easy to use. Simply engage the Sure-Lock™ cap and slide off the lid. Next, fill each compartment with the designated food and replace the lid. Hang your feeder in a location where you can easily enjoy your many visitors.
Keep Squirrels Out
To ensure that your offerings are reserved for the birds, this feeder features a Sure-Lock™ cap. This unique device secures the lid in place, making it more difficult for squirrels to remove it and gain access to the abundance of food inside.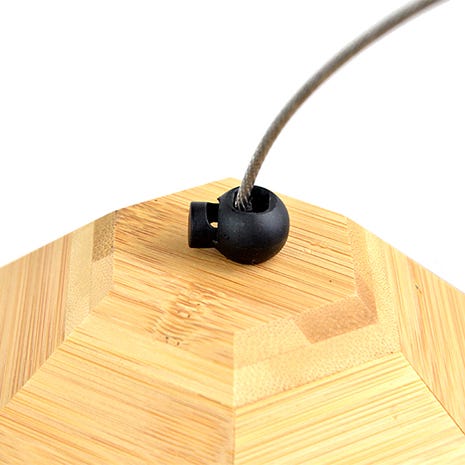 Perky-Pet® Trio Bamboo Feeder Product Details
Do you want to know more helpful details about the Trio Bamboo Feeder? Take a closer look at the in-depth specifications for this product.
Perky-Pet® Trio Bamboo Feeder
Model #
BAMTRIO
Height (including hanger)
12 inches
Length
8.25 inches
Width
9.25 inches
Capacity
3 lb
Food type
Mealworms, peanuts,sunflower seeds, mixed seed
Materials
Bamboo, metal, plastic
Perky-Pet® Trio Bamboo Feeder
Model Number
BAMTRIO
Weight
3.3 lb
Dimensions
12 in H × 9.25 in W × 8.25 in L
Food Type
1 lb seed per chamber - 3 lb total