Perky-Pet® Wilderness Lantern Wild Bird Feeder
Earn 700 rewards points on your purchase! Learn More
Holds 2 lb of seed
Patented sure-lock™ cap system helps keep squirrels out
Features bird preferred u-shaped adjustable perches
Seed saving drain holes
Recommended seed; mixed, black oil sunflower, hulled sunflower, safflower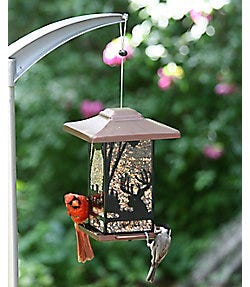 Perky-Pet® Wilderness Lantern Wild Bird Feeder
The Perky-Pet® Wilderness Lantern Wild Bird Feeder combines the natural color palette of the outdoors while displaying a calming landscape of buck and doe crossing your path.
U-shaped perches adjust to allow you to attract different sized birds and the patented Sure-Lock™ cap system keeps the lid secure to prevent squirrels from stealing the seed. Generous 2 lb seed capacity.
Remember to clean this large bird feeder once every two weeks with a mild soap and water solution.

Perky-Pet® Wilderness Lanern Wild Bird Feeder
Model Number
8504-2
Features
U-shaped, adjustable perches
Seed Saving
Drain holes
Capacity
2 lb