When used as directed, rodenticides are an easy to use and effective method of rodent control. With so many variations of rodenticides available, it can seem overwhelming and confusing when trying to choose which type is best for your needs. The next time mice try to invade your home, rest assured that Victor® has the right tools and products to provide you with effective solutions. Read on to learn more about rodenticides and how they can benefit your pest control plan.
What Are Rodenticides?
Rodenticides are a type of pesticide that are specifically designed to eliminate rodents, such as mice and rats. Most rodenticides are formulated as bait blocks to attract rodents and encourage them to eat the poison. Active ingredients in rodenticides fall into two categories, anticoagulants, and non-anticoagulants. Bait blocks formulated with the latter type typically allow you to control more mice with less bait.
Benefits of Using Rodenticides
Quick and easy rodent solutions are always preferable, especially when dealing with rodents that may be carrying harmful diseases. Rodenticides make quick work of mice, making it an efficient solution to add to your repertoire. The benefits don't stop there though. Take a look below for many more reasons why rodenticides could be the best option for your home.
Ease of Use & Placement — Most rodenticide bait stations are easy to use and do not require much or any assembly. Disposable bait stations even come ready to use with the bait already placed inside! To use, simply place the station where you've seen signs of mice and let the rodenticide do the work for you!
Efficient Kills — The unique palatable bait formula keeps rodents coming back for more, so your infestation can be under control sooner. Each bait block encourages mice to keep chewing with appealing ingredients, such as oats.
Choose Your Location — While bait stations should be placed near signs of rodent activity, you can get the upper hand by attracting mice to a specific location. This makes it easier to track their movements and adjust your placement to be as efficient as possible.
Locking Mechanism — The Victor® Fast-Kill® Brand Refillable Mouse Bait Station comes with a unique locking design and key. The lock provides an extra layer of protection between the bait block and anything it may come into contact with.
Victor® Rodenticide Bait Stations Types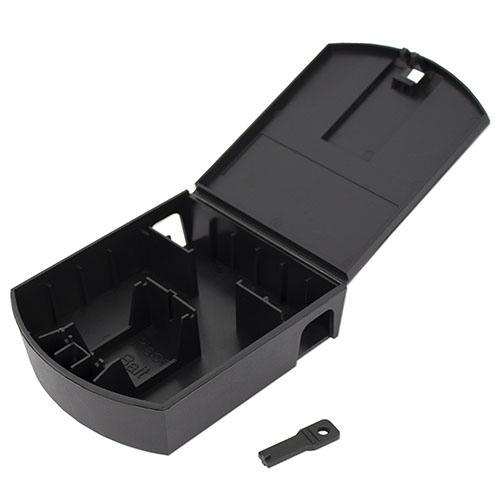 No matter the size of your budget or the level of direct involvement you wish to have with the bait stations, there are plenty of options available to you! Currently, there are two types of bait stations on the market, disposable and refillable. Each type possesses unique features that stand out from the crowd and provides many benefits.
The Victor® Fast-Kill® Brand Disposable Mouse Bait Station comes pre-baited and ready to use for your convenience. Not only does it take the mess out of set up, but it saves you valuable time. Simply place and let it do the hard work of eliminating mice for you
.
Yet another unique feature has found its way into the Victor® bait stations. The refillable bait stations come with a unique locking feature and key that were designed with safety in mind. This feature provides an extra layer of protection between you and the rodenticide.
Curious About Using Rodenticides?
Mice and the problems they cause are nothing but a nuisance for everyone, but with the right tools and rodent control plan, you can eliminate them from your home. Victor® Fast-Kill® Brand Bait Stations provide a simple and effective means to this end, no matter the level of rodent control experience you have.
After reading this, what are your thoughts on rodenticides? Share them with us on our Facebook page! For more in-depth knowledge, tips, and videos about mice and rat control, take a look at our comprehensive learning center, designed to help you with every step of your rodent control journey.
Protect Your Home From Rodents