Perky-Pet® Daisy Vase Vintage Glass Bird Waterer
Earn 580 rewards points on your purchase! Learn More
Traditional vase style glass bottle
Blue with luster finish
Wide mouth opening for easy filling and cleaning
Unique circular perch design
18 oz water capacity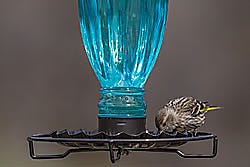 Perky-Pet® Daisy Vase Vintage Bird Waterer
All birds need water, even birds that don't eat bird seed. By adding a water source, you'll attract a larger variety of feathered visitors, including colorful birds like warblers and bluebirds that may not eat from bird feeders. Provide backyard birds with a fresh, clean water source by adding the Perky-Pet® Daisy Vase Vintage Bird Waterer to your bird feeder collection.
The traditional vase style glass bottle has a beautiful, blue luster finish giving it a unique sheen just like a pool of fresh water. The delicate embossed details surrounding the neck and top of the bottle offer added elegance to this antique style waterer.
18 oz Capacity & Circular Perch—The brushed nickel base features a circular wrap-around perch so birds can comfortably sit and drink from anywhere they choose. With a 18 oz water capacity, you will have plenty of room for bird visitors stopping by for a drink! Use the attached metal hanger to place your waterer near your other bird feeders, so birds can easily locate the fresh water source.
Easy to Use Wide Mouth Opening—To fill your waterer, simply unscrew the bottle from the base, fill with water, replace the base and invert the waterer to create a tight vacuum seal. The necessary amount of water will be dispensed to keep the tray consistently full with clean water. Filling and cleaning are super simple with the convenient wide mouth opening. Be sure to change your water every few days, and clean thoroughly every 2 weeks.

Wild birds love:
Fresh, clean water source 
Comfy wrap-around perch 
Consistently full and clean waterer
You'll love:
Ease of filling 
Ease of cleaning 
Stylish, vintage look this waterer will add to your yard 
Attracting a larger variety of birds by adding a water source
Perky-Pet® Daisy Vase Vintage Glass Bird Waterer
Model #
8136-2
Style
Traditional vase style glass bottle
Wide Mouth
Opening for easy filling and cleaning
Perch
Unique circular perch design
Capacity
18 oz water capacity