Perky-Pet® Hanging Tray Bird Feeder
Earn 440 rewards points on your purchase! Learn More
Attract a wide variety of birds with a tray feeder
Can hold bird seed or fruit
Perfect for accommodating large birds
Mesh bottom drains water to keep seed dry & fresh
1.6 lb seed capacity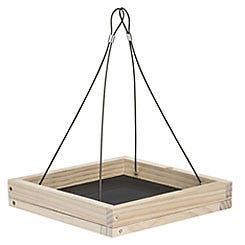 Perky-Pet® Hanging Tray Bird Feeder
Large birds need love too, so make sure they are accommodated in your yard with the Perky-Pet® Hanging Tray Bird Feeder. Its versatile design caters to larger birds that are unable to perch at the seed feeders intended for small birds. It's also perfect for other types of birds that are partial to ground feeding, allowing those birds to dine how they prefer without making a mess all over your lawn. With this buffet for birds, you'll be able to attract a wider variety of birds than ever before.

Featuring a wood frame, the Hanging Tray Feeder is sturdy and built to last. It will remain balanced while your large visiting birds stop to dine. The bottom of the feeder is made of metal mesh to allow easy water drainage so that food remains fresh and dry. This feeder isn't just for seed either! In addition to your preferred seed blends, the Hanging Tray Feeder can alternatively hold mealworms or a variety of fruits for your sweets-loving feathered friends.
The open design of this feeder provides complete seed access to birds, while also making it incredibly easy to fill, empty and clean! To fill, simply add up to 1.6 lb of seed or other food to the tray and you're ready to go. Installation is also a breeze thanks to the built-in hanging hook.
Perky-Pet® Hanging Tray Bird Feeder
Model Number
50178
Weight
1.09 lb
Dimensions
13.5 in H × 10.5 in W × 10.5 in D
Mesh Bottom
Drains water to keep seed fresh & dry
Capacity
1.6 lb of seed