Perky-Pet® Squirrel-Be-Gone® Wild Bird Feeder - All Questions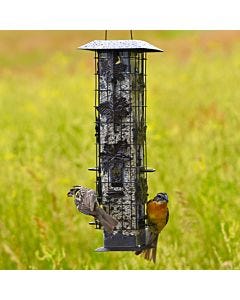 Perky-Pet® Squirrel-Be-Gone® Wild Bird Feeder
What do I do if something has broken/eaten/chewed off a couple of the plastic flex tabs in the Squirrel Be Gone feeder. The seed just pours out of the feeder now. The part clips out but I haven't been able to find that modular part on the website. Help please!
Question by: Rob Willms on Mar 15, 2022, 1:41 PM
Replacement parts are not available, however the feeder is backed by our 1 year replacement policy. Please give us a call.
Answer by: Brandon Deleon on Mar 16, 2022, 8:14 AM