TERRO® Clothes Moth Alert
As low as
CA$15.99
Regular Price
CA$15.99
TERRO® Clothes Moth Alert
1
1
5
1
Earn 300 rewards points on your purchase! Learn More
Lures and traps adult clothes moths
Use to trap active infestations and monitor new moth activity
No unpleasant mothball odor
Non-toxic and pesticide free – safe when used as directed
Replace traps every 12 weeks or as needed
Available in 1 pack, 6 pack, 12 pack, or 24 pack
Best Used For




TERRO® Clothes Moth Alert
Keep pests out of your clothes and fabrics with the TERRO® Clothes Moth Alert. The larvae of webbing clothes moths are a destructive pest that target natural fibers, including wool, fur, and certain fabric blends. These pests can go undetected for a long time, leaving your favorite clothes and fabrics permanently damaged. The trap uses a powerful pheromone attractant to lure adult clothes moths into the glue trap, which stops them before they can continue breeding.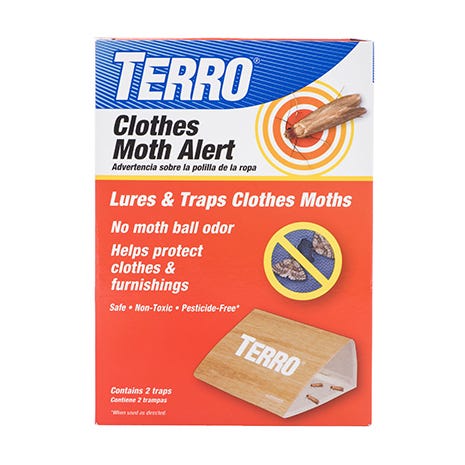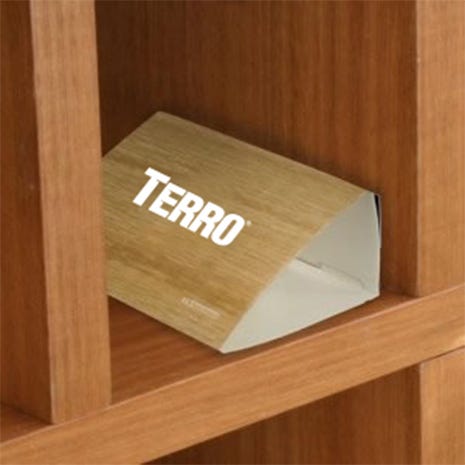 Traps and Alerts
This convenient trap works both as a trap to target active adult moth infestations, while also helping you to monitor new moth activity when an infestation first begins. Use the TERRO® Clothes Moth Alert in and around fabric storage areas where moths are common, including in closets, underneath dressers, inside drawers, or in cabinets where clothes are stored.
Long Lasting
The TERRO® Clothes Moth Alert Trap comes with two lures, lasting up to 3 months each. Each lure is stored in airtight pouches to prevent the attractant from depleting prior to use, so they remain fresh until opened. The lure uses a powerful pheromone to attract adult clothes moths. When ready to deploy the trap, add the lure to ensure moths will be able to find the trap with ease.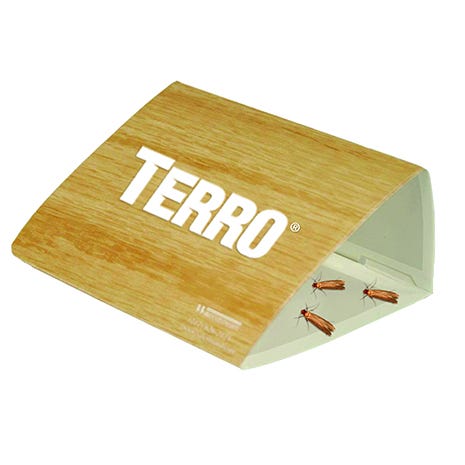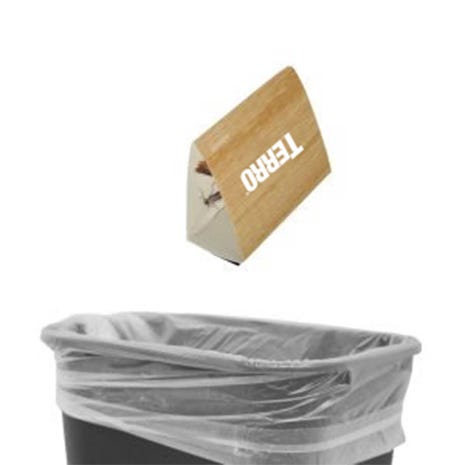 How to Use
TERRO® Clothes Moth Alert is convenient and simple to use. Just follow these quick and easy steps to begin trapping and monitoring your moth infestation.
Remove film backing from the trap to expose the glue surface.
Remove one pheromone lure from the pouch and place on the glue board. The glue will hold the lure in place.
Fold the glue board and insert the tab through the slot, creating a semi-circle. Insert the lured glue board into plastic trap holder.
Press the Timestrip® button. A small red bar will appear to indicate activation.
Lay the trap on a flat surface, mount it with the adhesive strip, or stand the trap housing to begin using.
When the Timestrip® indicator shows 3 months service or when the glue trap is full of moths, replace the Timestrip® indicator, glue board, and lure.
TERRO® Clothes Moth Alert Product Details
Interested in learning more about TERRO® Clothes Moth Alert? Take a closer look at the in-depth specifications for this product.
TERRO® Closet & Pantry Moth Trap Plus Alert - 6 Pack
Model Number
T720
Includes
Effective Against
Clothes Moths (adults)
How it Works

Traps active moths
Alerts of new moth infestations
TERRO® Clothes Moth Alert
Model Number
CT720
Available
1 pack, 6 pack, 12 pack, or 24 pack
Effective Against
Clothes Moths (adults)
How it Works

Traps active moths
Alerts of new moth infestations

Recommended Usage

Closets
Under dressers
Drawers where clothing is stored
Inside cabinets where clothing is stored
Customer Reviews
0%
of customers
recommend this product
I've had these traps in ...
Jul 23, 2023
I've had these traps in my closets for several days and they haven't caught a single moth. Before these i had cheap pantry moth traps up and they were catching the clothes moths. Me and my cat have been killing several a day. Complete waist of money!