TERRO® Multi-Surface Liquid Ant Baits
Earn 220 rewards points on your purchase! Learn More
Attract and kill household ants you see and the ants you don't
Discreet, two-color design blends in with your décor
Adhesive strips attach ant baits to walls or under cabinets
Worker ants deliver a lethal dose to the rest of the colony
Stay-fresh twist tab keeps liquid bait fresh until opened
Best Used For:





Terro® Multi-Surface Ant Baits
Do you have an ant problem, but just can't seem to find the perfect spot to place your ant bait? With TERRO® Multi-Surface Liquid Ant Baits, you can place bait stations almost anywhere! The unique, multi-surface application allows you to lay them flat or adhere them to surfaces around your home. Simply use the included adhesive strips to place the pre-filled, ready-to-use bait stations on walls, under cabinets and a variety of other locations where they won't be in the way. This convenient feature will also help to keep the bait stations out of reach of children and pets.
Where to Place Multi-Surface Ant Baits
Place TERRO® Multi-Surface Liquid Ant Baits near ant trails and other locations where ants are numerous. It's also a good idea to stop ants in their tracks by placing bait stations anywhere insects may try to enter your home. The multi-surface design provides flexibility with your placement options, including on walls, kick plates and counter tops.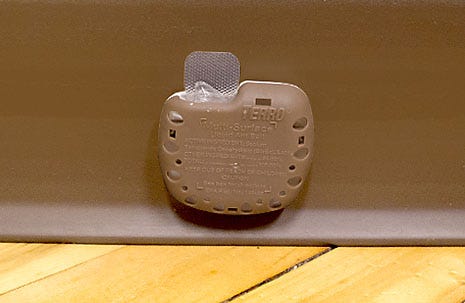 Two-Color Design: Camouflage Your Ant Bait
Multi-Surface Ant Baits feature a discreet, two-color design. This innovation allows the baits to blend in with your existing décor so you won't even notice they are there. Just choose the color that blends in best with the spot you are placing it – either white or brown – then apply the adhesive strip to the opposite side.
How Does Ant Bait Work
Since this is a bait, initially you will see more ants – but don't worry, this is a good thing. Why? As ants forage for food, they are easily attracted to the sweet liquid inside the bait stations. After finding the bait, worker ants consume it and leave behind a pheromone trail leading back to the colony. This trail lets other worker ants know where the newly discovered food supply is. This is why you will see more ants in the beginning.
Meanwhile, the active ingredient is slowly interfering with the ant's digestive system, ultimately killing it, but leaving enough time for the ant to go back and share the dose with the rest of the colony. This slow kill is necessary so that foraging ants can make several trips to the bait, allowing you to get rid of both the ants you see and the ants you don't.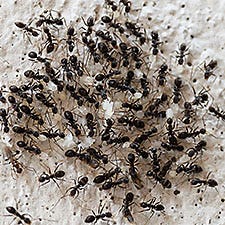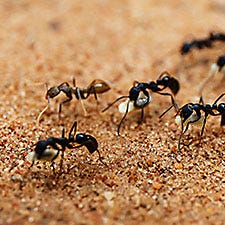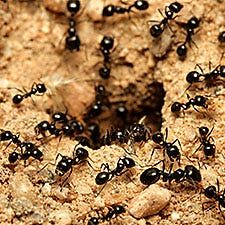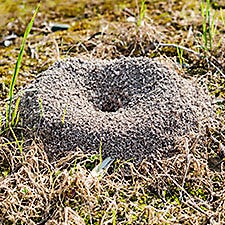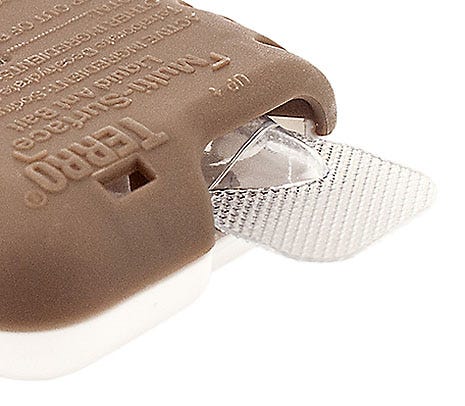 Baits Stay Fresh
Multi-Surface Ant Baits are sealed until you're ready to use them. First, choose the perfect location for your ant bait. Next, twist off the tab to open up the bait. If needed, adhere the bait station with the included sticky tape. Remember: Until the tab is pulled off, the liquid bait inside stays fresh!
TERRO® Multi-Surface Ant Baits Video
Watch this video to see just what makes TERRO® Multi-Surface Ant Baits so great!
Terro® Multi-Surface Liquid Ant Bait Product Details
Interested in learning more about these ant baits? Take a closer look at the in-depth specifications.
TERRO® MULTI-SURFACE LIQUID ANT BAITS
Model #
T334BCAN
Use On
Floors, cabinets, counters, walls, appliances
Eliminates
All household ants, including Argentine ants, ghost ants, cornfield ants, pavement ants, acrobat ants, white footed ants, little black ants, odorous house ants, crazy ants, big headed ants and other sweet ants (except fire ants, pharaoh ants, carpenter ants and harvester ants).
Includes
4 ant bait stations plus adhesive strips
TERRO® Multi-Surface Liquid Ant Baits
Model Number
T334BCAN
Weight
.034 lb
Dimensions
.70 x 2.25 x 2.50 in
Includes
4 ant bait stations plus adhesive strips