Victor® Electronic Mouse Trap
As low as
CA$89.29
Regular Price
CA$55.89
Victor® Electronic Mouse Trap
2
3.5
5
1
Earn 1100 rewards points on your purchase! Learn More
Kills mice with a humane high-voltage shock
Kills up to 100 mice per set of 4 "AA" Batteries (not included)
Improved design: easy to bait, easy to clean, no-touch disposal
Green LED light indicates when a kill has been made
100% kill rate: beveled columns trap mice in place
Indoor use only
Available Pack Sizes: 1 Trap, 2 Traps, or 3 Traps
Victor® Electronic Mouse Trap
Quickly eliminate mice inside your property with the humane, high-voltage killing power of the Victor® Electronic Mouse Trap. Featuring a new and improved industrial design, this trap has a built-in bait cup and removable kill chamber to allow for easy setup and disposal. To use, simply place a high protein bait in the provided bait cup, place in a location with high rodent activity and power on. This powerful device is capable of killing up to 100 mice per set of batteries (not included), making it the perfect addition to your pest control routine.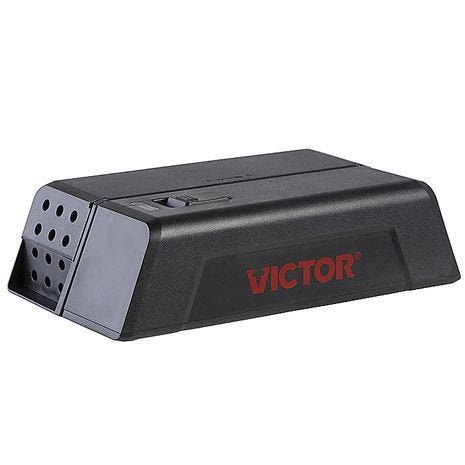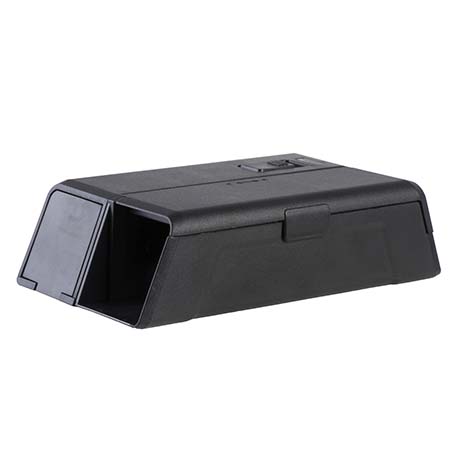 Humanely, High-Voltage Shock
This powerful device uses advanced smart circuit technology to sense when a mouse enters the tunnel. Once inside, the circuit triggers a high-voltage shock, humanely killing the mouse in seconds. The Victor® Electronic Mouse Trap is capable of eliminating up to 100 mice per set of fully charged batteries (not included). Plus, with this trap, there's no need for poisons or chemicals, allowing it to be used anywhere inside your home or business.
No Escapes
To enter the Victor® Electronic Mouse Trap, mice pass through a uniquely designed tunnel with beveled columns. These columns direct the mouse further into the tunnel and make it difficult to back out. The columns also help to keep the mouse in place over the trigger plate to prevent escapes, ensuring a 100% kill rate.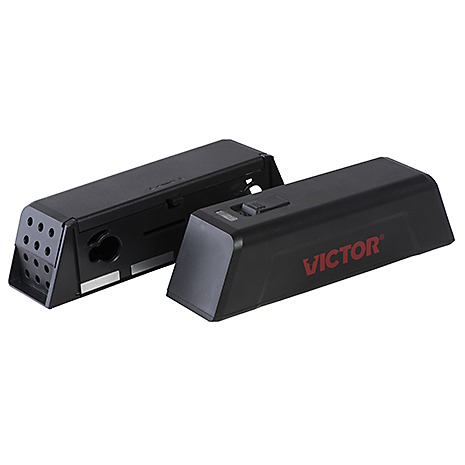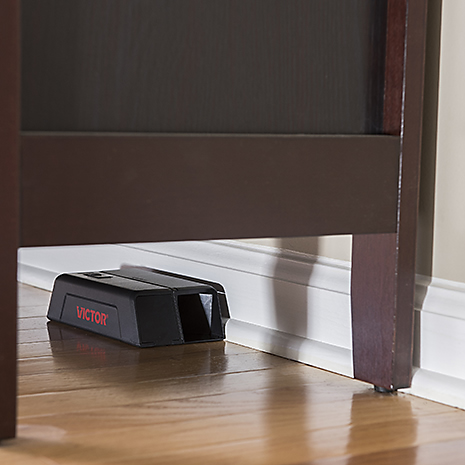 LED Light Alerts
With the Victor® Electronic Mouse Trap, simplifying your pest control routine is a breeze. When a catch is made, the trap's built in LED light will blink green. You'll know when it's time to empty your trap without having to check manually. Plus, the convenient LED light function will not only notify you of a catch, but it will also alert you when the trap's battery is running low by flashing red.
Removable Kill Chamber
The sleek industrial design boasts a removable kill chamber with lid, providing access to the trigger plates so you can easily clean it in between uses. Once a catch is made, power off the trap, remove the kill chamber and open the lid. The trap's built-in safety switch automatically deactivates the trap when opened. Then simply dispose of the dead rodent in the trash without ever having to touch it.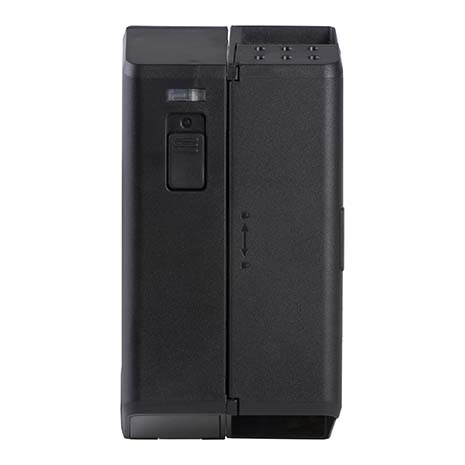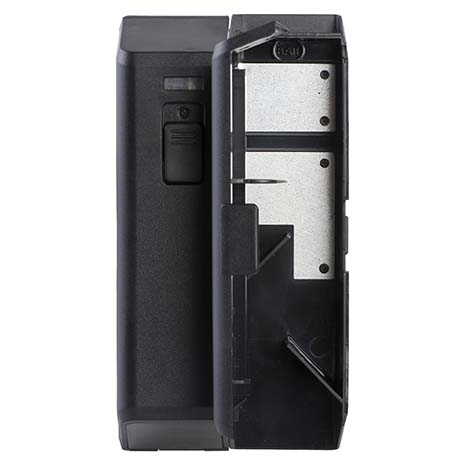 Convenient Bait Cup
With a built-in bait cup, you know your trap is properly baited. Access the cup by opening the kill chamber lid. The cup is marked on the floor of the trap furthest from the rodent entrance. To get started, use a toothpick or cotton swab to apply a high protein bait such as peanut butter or hazelnut spread in the cup. Place your trap where rodents are known to travel and turn it on!
Victor® Electronic Mouse Trap Product Details
Do you want to know more helpful details about the Victor® Electronic Mouse Trap? Take a closer look at the in-depth specifications for this product.
Complete Product Details »
Victor® Electronic Mouse Trap
Model #
M250STRI
Pack Sizes Available
1 Trap, 2 Traps, or 3 Traps
Kills per Setting
1
Kills per Set of Batteries
100
Batteries Required
4 AA batteries per trap (not included)
Kill Method
Humane, high-voltage shock
Alert Method
LED light
Materials
Plastic, metal
Customer Reviews
50%
of customers
recommend this product
I love these machines.
Oct 20, 2022
I love these machines. I've been using them for about 5 years and have no complaints. They're the "no bother mouse trap." I put in some peanut butter, turn it on and then wait. When a mouse is caught, the light comes on, open the side and empty it out into a bag and then into the garbage. Easy Peasy. Thanks so much for these.