Zareba® 10 Mile Solar Low Impedance Fence Charger - 1-Pack
Earn 9860 rewards points on your purchase! Learn More
10-mile range
6-volt, 12-amp battery, 0.15-joule output
Reliable solar power operates up to two weeks without sunlight
Fast installation on T-posts, round wood posts, Y-posts, buildings and flat surfaces with unique, integrated mount
At-a-glance indicator light flashes when energy is on the fence
Best Used For





Zareba® 10 Mile Solar Powered Electric Fence Charger
Harvest the sun's energy for your fencing needs with the Zareba® 10 Mile Solar Electric Fence Charger. This energizer delivers the containment power you need without worrying about dead batteries or electrical outlet connections. Use this 0.15 joule output solar energizer to keep short-haired animals properly contained inside their fencing. This fence charger is for use in moderate vegetation conditions. Battery is included. Once this battery is fully charged by its solar panel, your energizer can operate up to 2 weeks with no sun.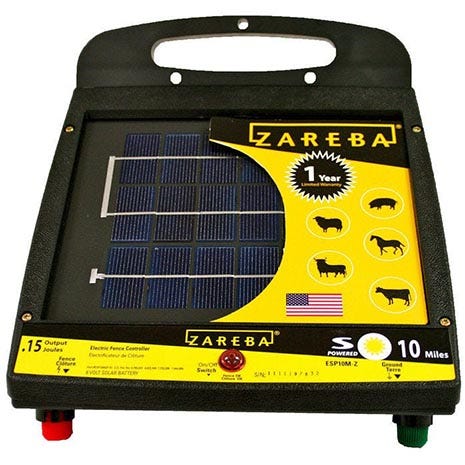 Charger Distance Ratings
The amount of fence line that your Zareba® charger can operate depends on several factors, including the type of fence line you're choosing. Steel wire, for example, carries power further along the fence line than poly fencing. While the 15 Mile Solar Charger can cut through some mild weeds, it is a good idea to keep the fence line clear as much as possible. Vegetation, weeds, and fallen tree branches may limit the distance electricity can be carried along a fence line. Ensure your fence is working to the best of its ability by regularly walking the fence line to check for disturbances
Zareba® 10 Mile Solar Electric Fence Charger Distance Ratings
No Weeds
Light Weeds
Heavy Weeds
Steel Wire
10 miles
5 miles
-
Polywire
5 miles
2.5 miles
-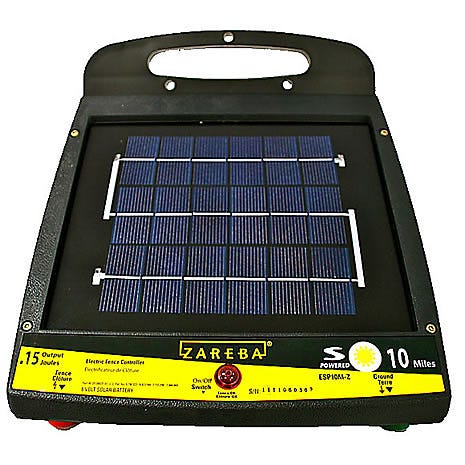 Solar-Powered Electric Fencing
Solar energy powers your electric fence charger. To prepare your charger for use, switch the on/off button to the "on" position and allow it to receive 48 hours of sunlight. From there, your charger is ready for use. Place it anywhere along your fence line – its durable case should protect it from harsh weather.
System Indicator Light
The Zareba® 10 Mile Solar Electric Fence Charger features a "Fence OK" indicator light. When your system is powered on, charging and properly activated, this light will flash.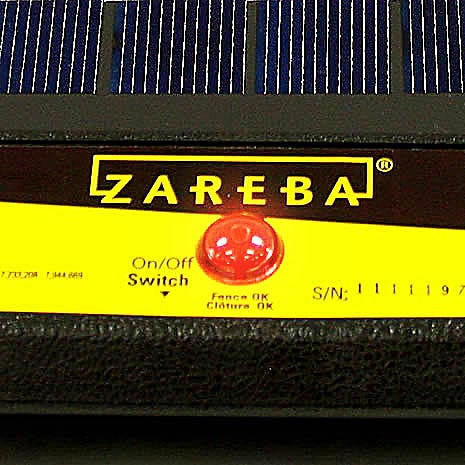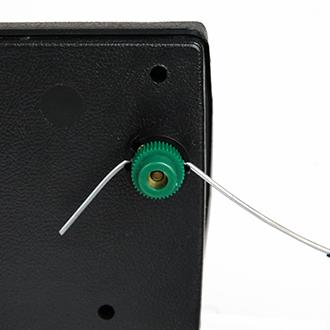 Easy-Grip Knobs
Connecting your fence is simple with the easy-grip knobs on your 10 mile solar Zareba® charger. Attach the fence's ground wire to the post with the green knob and the live hot wire to the red knob. Remember to turn your charger off before making any connecting wire adjustments and then turn it back on so it continues to gather solar energy. Knobs are located under the charger to reduce their exposure to harsh weather.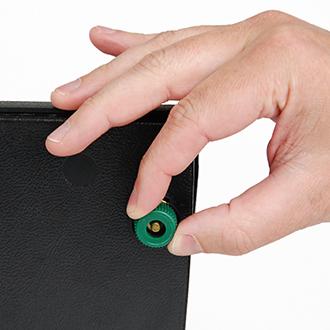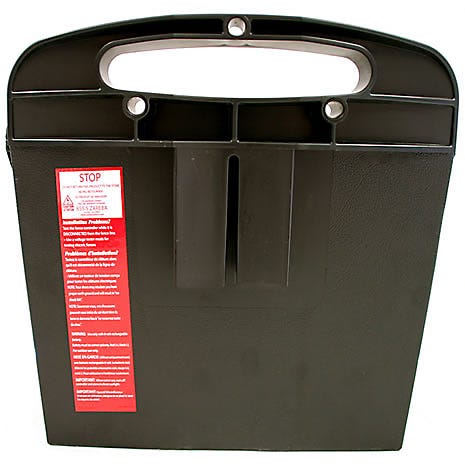 Mounting Is Easy
Your solar charger can be mounted easily, even in remote locations. A built-in mounting bracket lets you set the charger on top of t-posts, y-posts and round-wood posts. You can also quickly mount your charger by hanging it from the holes in the charger handle. By offering multiple mounting holes, you can easily attach it to a wall, hook it on a post or install it inside a protective cabinet.
Solar Charger Installation Guide
To properly install your Zareba® electric fence charger, charge it first by exposing it to the sun for 72 hours. After that, mount it and attach connections as directed. Your charger includes several features to make installation easy, including: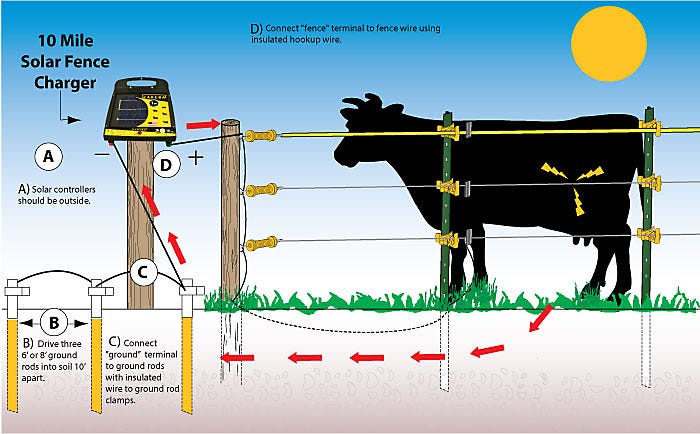 Your charger includes a number of features to make installation easy, including:
No outlets necessary – Place anywhere on your property.
Easy-grip terminal knobs, color-coded for easy wiring.
Install on t-posts or y-posts with built-in bracket.
Optionally, install through hanging holes built-in the heavy-duty case.
Power indicator light to monitor charger status
Note: that every fence system needs a charger along with posts, insulators, and fence wire or poly fencing to be fully functional.
Zareba® 10 Mile Solar Electric Fence Charger Product Details
Interested in learning more about the solar 10 Miler from Zareba®? Take a closer look at the in-depth specifications for this product.
Zareba® 10 Mile Solar Electric Fence Charger
Model No.
ESP10M-Z
Output Energy
0.15 joules (0.33 stored joules)
Power Source
Solar
Volts
9.5 KV +/-20% open circuit voltage
Fence Line Types
High tensile steel, aluminum wire, polywire, polyrope, polytape
Distance Rating

Steel Wire: 10 miles (no weeds), 5 miles (light weeds)
Polywire: 5 miles (no weeds), 2.5 miles (light weeds)
Tools & Helpful Accessories for Your Charger
Your electric fence charger isn't the only piece of your fence system. To have a fully functioning fence, you need a charger, posts, insulators, and wire or poly line. You'll also need the right tools and accessories to get your fence into operation. Check out these items.

The type of insulator you need depends on your fence post and fence line type. Check out our huge selection.

Even on short fence lines, regular testing is a must. Check out these easy-to-use fence testers.

With poly fencing, you have flexibility with your fencing. Poly fencing is great for rotational grazing.

"I now own three of these chargers and have been using two of them since April. So far they produce good, consistent power ... The horses and cows are very respectful."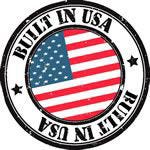 Proudly Built in the USA
This Zareba® fence charger is assembled and packaged at our facility in Tennessee. Zareba® is honored to employ the American workers who construct, test and package our products.
Zareba® 10 Mile Solar Powered Low Impedance Energizer
Model No.
ESP10M-Z
Output Energy
0.15 joules (0.33 stored joules)
Power Source
Solar
Volts
9.5 KV +/-20% open circuit voltage
Fence Line Types
High tensile steel, aluminum wire, polywire, polyrope, polytape
Distance Rating

Steel Wire: 10 miles (no weeds), 5 miles (light weeds)
Polywire: 5 miles (no weeds), 2.5 miles (light weeds)