Zareba® 30 Mile Solar Low Impedance Charger - 1-Pack
Earn 17440 rewards points on your purchase! Learn More
Solar-powered fence charger for an electric-fencing system
30-mile range; can run day and night for up to 2 weeks with no sun
Fence OK indicator light; color-coordinated terminals; 2 6-volt batteries
Uses low-impedance technology to maintain maximum energy levels on the fence
Measures approximately 17-1/2 by 12-1/5 by 10-2/3 inches; 2-year warranty
Zareba® 30 Mile Solar Low Impedance Charger
Use the Zareba® 30 Mile Solar Low Impedance Charger to power fencing in remote locations. As one of the most powerful "Built in the USA" solar fence chargers available, you can keep your fence running day and night for 2 weeks with no sun. Use this energizer to control livestock and wildlife, including cattle, horses, goats, pigs, sheep, wolves, deer and other animals.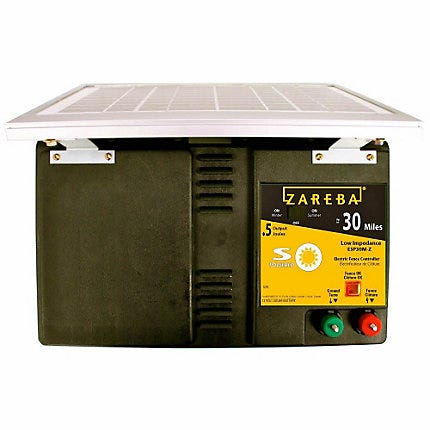 Best Used For





Charger Distance Ratings
The amount of fence line that your Zareba® charger can operate depends on several factors, including the type of fence line you're choosing. While the 30-mile charger can operate in high weeds as needed, vegetation, weeds, and fallen tree branches may limit the distance electricity can be carried along a fence line. Ensure your fence is working to the best of its ability by regularly walking the fence line to check for disturbances.
Zareba® 30 Mile Solar Electric Fence Charger Distance Ratings
No Weeds
Light Weeds
Heavy Weeds
Steel Wire
30 miles
15 miles
7 miles
Polywire
15 miles
7 miles
3.5 miles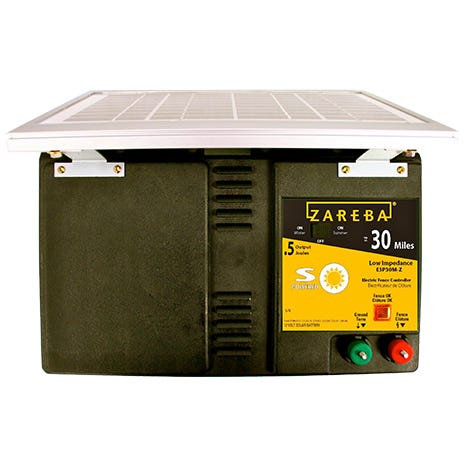 Solar Power Built to Last
To prepare your charger for use, switch the on/off button to the "off" position and allow it to receive 3 days of sunlight. From there, the charger is ready for use! The solar panel is designed to store solar energy and it will last up to 2 weeks without sunlight. Enjoy the most powerful solar-powered charger made in the USA.
Easy-Grip Knobs
Connecting your fence is simple with the easy-grip knobs on your 30-mile solar Zareba® charger. Attach the fence's ground wire to the post with the green knob and the live hot wire to the red knob. Remember to turn your charger off before making any connecting wire adjustments and then turn it back on so it continues to gather solar energy. Knobs are designed to be under the charger to reduce exposure to the elements. The durable cabinet protects the circuitry from weather extremes.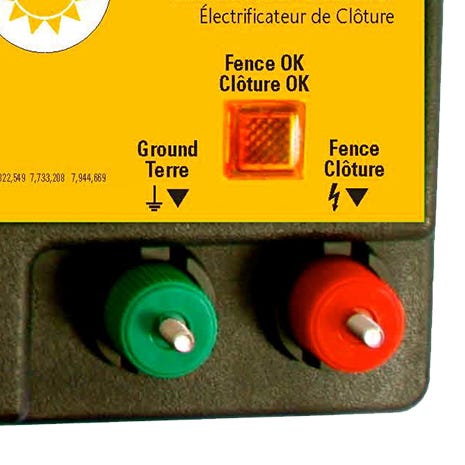 Solar Charger Installation Guide
Install your Zareba® solar energizer where you need it. To properly install your Zareba® electric fence charger, charge it first by exposing it to the sun for 72 hours. After that, mount it and attach connections as directed.
Your charger includes a number of features to make installation easy, including:
No outlets necessary – Place anywhere on your property.
Easy-grip terminal knobs, color-coded for easy wiring.
Fence OK light to monitor charger status.
Note: that every fence system needs a charger along with posts, insulators, and fence wire or poly fencing to be fully functional
More About This Solar Charger
Do you want to know more about this fence charger? Take a closer look at the in-depth specifications of the products in this offer.
Zareba® 30 Mile Solar Electric FenceCharger
Model #
ESP30M-Z
Output Energy
0.5 Joules
Power Source
Solar panel (5 watts) into included 12-volt battery
Output Voltage
7.8KV +/- 20% open circuit voltage
Fence Line Types
High tensile wire, polywire, polyrope and polytape
Accessories for Zareba® Installation
Beyond your new fence charger, it's likely you will need more to build a proper livestock containment system. To have a fully functioning fence, you need a charger, posts, insulators, and wire or poly line. You'll also need the right tools and accessories to get your fence into operation. Check out these items.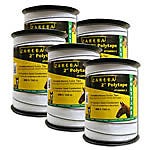 High Visibility Zareba® poly line for your livestock fencing.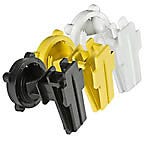 Zareba® insulators are available to fit all your fence post and fence line needs.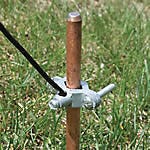 Assemble fencing where you need it with these options for fence posts.
Zareba® 30 Mile Solar Powered Low Impedance Energizer
Model #
ESP30M-Z
Output Energy
0.5 Joules
Power Source
Solar panel (5 watts) into included 12-volt battery
Output Voltage
7.8KV +/- 20% open circuit voltage
Fence Line Types
High tensile wire, polywire, polyrope and polytape