Zareba® Duralator Wood Post Self-Drilling Insulator
As low as
CA$7.58
Regular Price
CA$4.69
Earn 80 rewards points on your purchase! Learn More
Large, durable, screw-in insulator for use with electric fencing
Can be used with steel wire, aluminum wire, polyrope and polywire (Not recommended for polytape)
Easily installs with a power tool in just 10 seconds
White with porcelain look; as strong as steel, more durable than porcelain
Measures 1-4/5 by 1-4/5 by 5 inches; weighs 3-2/5 ounces
Pack Sizes: 1 Insulator or 2 Insulators
Zareba® Duralator Wood Post Self-Drilling Insulator
Do you need a way to attach electric wire to a wood post while still maintaining the current and avoiding energy loss? The Duralator Wood Post Self-Drilling Insulator can help you accomplish all of this with ease. The Duralator is a self-drilling, screw-in electric fence insulator that can be used with many different wire types, including high tensile wire.
The Duralator is manufactured from sturdy plastic that can outlast porcelain insulators. You'll also appreciate the attractive white color that can enhance the aesthetics of your property by adding a professional touch. You can install the Duralator in only 10 seconds with power tools.
Key Duralator Features and Benefits
Helps to prevent short circuiting
Includes unbreakable polycarbonate plastic construction that's as tough as steel
Promotes uninterrupted current flow while eliminating energy loss
Is compatible with multiple types of electric wires
Is an ideal choice for longer farm fence lines
Why Choose Insulators?
Reliable electric fence insulators such as the Duralator will maximize the performance of your farm fence. By preventing shorting and energy loss, our fence insulators will provide continuous current flow while also giving you the peace of mind knowing you don't have to worry about perimeter breaches. Electric fence insulators are also designed to withstand the rigors posed by the most challenging environmental conditions. You'll experience superior performance throughout the year, regardless of what Mother Nature sends your way.
Benefits of Using Plastic Insulators
In addition to polycarbonate plastic insulators such as the Duralator, Zareba® manufactures insulators and farm fence supplies made from nylon and polyethylene. These materials are renowned for their ability to secure electrified wire in place while minimizing energy loss. Plastic insulators are equally compatible with all types of wire, making them a flexible and versatile wire attachment alternative. All Zareba® plastic insulators are made in the USA, and they are backed by more than 25 years of electric fence expertise. Protect your perimeter with the help of the Duralator and electric fence supplies!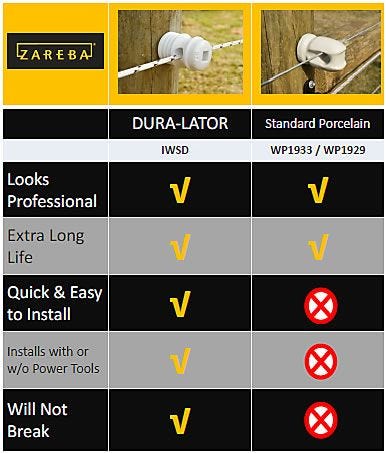 Zareba® is the largest manufacturer of electric fence systems offering durable, reliable electric fence products for all of your animal fencing needs.