Zareba® Heavy-Duty Sure Shock 1/2 Inch Polytape - 1-Pack
Earn 1620 rewards points on your purchase! Learn More
Features 5 highly conductive aluminum wires with 20X shocking power
Woven with PVC-coated fiberglass for 2X strength
Ideal for equine fencing – yellow ½-inch polytape is more visible than traditional electric fence wire
Lock-stitched edges for greater durability
Weather-resistant UV protection for added life in the field
656 feet of electric fencing per reel
Tensile strength: 380 lb
5 year limited warranty
Best Used For





Zareba® 1/2 inch Heavy-Duty Sure Shock™ Polytape
Featuring a 380 lb breaking strength, heavy-duty Sure Shock™ electric fence tape from Zareba® is ideal for containing your horses, cattle and pigs inside interior paddocks. This 1/2-inch electric fencing features 5 highly conductive aluminum strands that deliver 20x the shocking power to any animal that challenges it. Each reel carries 656 feet of the 1/2-inch fiberglass fencing, which is manufactured with a PVC coating and lock-stitched edges. Zareba® backs this bright-yellow electric fence tape with a 5 year limited warranty.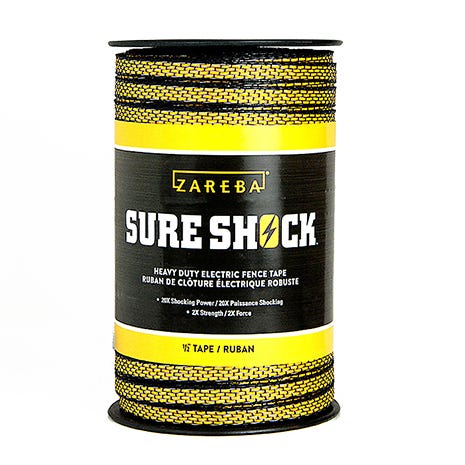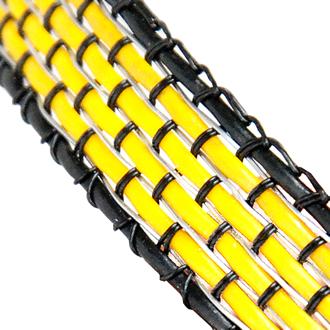 20X Shocking Power
Every length of 1/2-inch Sure Shock™ fencing is laced with 5 highly conductive aluminum strands. These conductors deliver a shock that's 20x more intense than stainless steel, the most common electric fence conductor.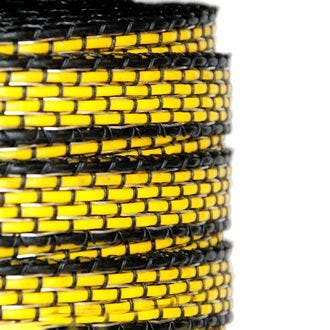 Lock-Stitched Edges
Sure Shock™ electric fence tape is lock-stitched along its edges. This and other manufacturing methods increases its tensile strength and long-term durability. As a result, 1/2-inch Sure Shock ™ electric tape has a 380 lb breaking limit.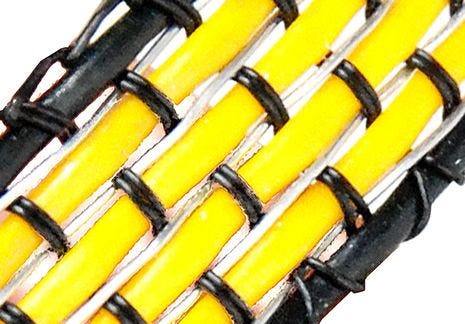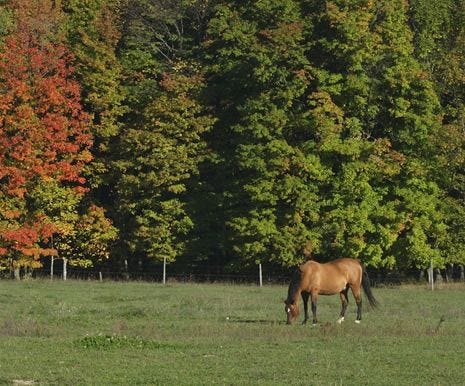 Great for Horses
Sight is vital for horses that are contained by electric fencing, and Sure Shock™ tape is made bright white so it's highly visible. This construction style allows horses to immediately recognize the limits of their pasture.
Zareba ® 1/2 Inch Sure Shock™ Heavy-Duty Polytape Product Details
Interested in learning more about this electric fence tape from Zareba®? Take a closer look at the in-depth specifications for this product.
Zareba ® 1/2 Inch Sure Shock™ Heavy-Duty Polytape
Model #
HDT656YH-Z
Length
656 ft
Width
1/2 inch
Conductor Count
5 aluminum strands
Tensile Strength
380 lb
Tools & Helpful Accessories for Your Fence
Your electric fence line is just one piece of your fence system. You'll need several components and accessories to get your fence into full operation. Check out these other products from Zareba®.

The best fence posts for electric fence tape are temporary or semi-permanent posts.
Electric fence testers can help you find problems on your fence line.

An energizer is the device that delivers energy to a fence line.
Video Tips: installing Your Charger
Learn how to safely install a Zareba® fence charger with the assistance of this video. Be sure to consult your Zareba® instruction manual prior to setting up your fence.
ZAREBA® 1/2 INCH SURE SHOCK™ HEAVT-DUTY POLYTAPE
Model #
HDT656YH-Z
Length
656 ft
Width
1/2 inch
Conductor count
5 aluminum strands
Tensile strength
380 lb
Usage notes

Features 5 highly conductive aluminum wires with 20X shocking power
Woven with PVC-coated fiberglass for 2X strength
Ideal for equine fencing – yellow ½-inch polytape is more visible than traditional electric fence wire
Lock-stitched edges for greater durability
Weather-resistant UV protection for added life in the field
656 feet of 1/2 inch electric fencing per reel
Tensile strength: 380 lb
5 year limited warranty