Our Brands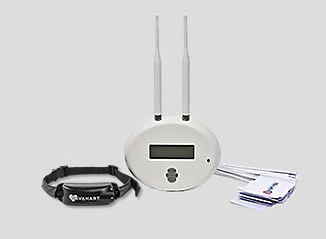 HAVAHART® WIRELESS PRODUCTS
Havahart® Wireless brings unrivaled technical sophistication, which stretches the boundaries of the dog fencing industry using Patented Interactive Technology.
In 2010, after more than a decade of research and development, as well as numerous patents, the engineering team at Havahart® Wireless successfully developed the latest generation in wireless dog fence technology and launched their first product, Radial Shape Wireless Dog Fence. The circular shape containment area, provides the largest containment area on the market and does not require the consumer to bury wires.
The Wireless Dog Fences employ Patented Interactive Technology used to create a two-way communication between the base(s) and the dog's collar, optimizing the dog's freedom with the powerful capabilities of this system. Staying connected with your dog has never been easier. The brand's tireless dedication to product improvements, based on consumer feedback, allows it to develop products that provide dogs with space to roam and their owners with peace of mind.
Havahart® Wireless offers a diverse range of products and provides education and training for consumers to choose the right product for their property, dog(s) and budget.