Perky-Pet® Oriole Jelly Wild Bird Feeder
Perky-Pet® Oriole Jelly Wild Bird Feeder
1
5
5
1
Earn 460 rewards points on your purchase! Learn More
Orioles love grape jelly – attract them with a jelly feeder!
Jelly stays fresh and dry inside the inverted jelly jar
Dispense jelly into the tray with the unique jelly stirrer inside the bottle
Bottle holds 32 oz of jelly or can be interchanged with most jelly jars
Best Used For


Keeping Your Sweet Offerings Fresh Has Never Been Easier than with the Oriole Jelly Feeder
Did you know that like hummingbirds, orioles have a sweet tooth? They do! What better way to attract them than by offering their favorite sweet treat—jelly! Other jelly feeders on the market expose the jelly to the elements, causing it to mold and spoil quickly. The Perky-Pet® Oriole Jelly Feeder has an inverted jelly jar, ensuring that your jelly is kept fresh and covered. The 32 oz jar can also be interchanged with most standard jelly jars. The built-in stirrer allows the perfect amount of jelly to be dispensed into the tray. In addition, this feeder boasts a vibrant orange color to draw more orioles!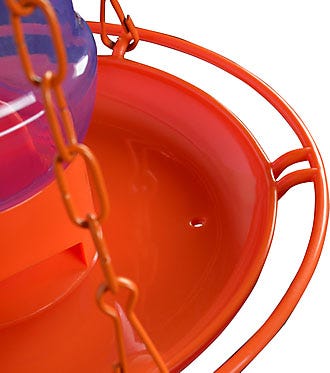 Circular Feeding Tray and Perches
Orioles love to perch while they feed. This jelly feeder features a large circular feeding tray with a wraparound perch so your orioles have plenty of room to feast! Orioles are known to be attracted to the color orange—the tray's vibrant hue is sure to catch the eye of passing orioles and draw them to your yard.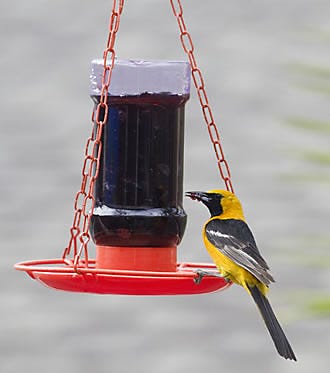 Jelly Remains Fresh Inside the Inverted Jar
Jelly that is exposed to the elements quickly spoils and molds, which is bad for your birds. To keep your offerings fresh and protected from the elements, this feeder holds all of the jelly inside the inverted weatherproof jar so it lasts longer. In addition, the included bottle can be swapped with most 32 oz jelly jars, so there's no need to scoop jelly when refilling. Remember to clean your feeder every few days to ensure that your orioles are receiving the freshest jelly supply.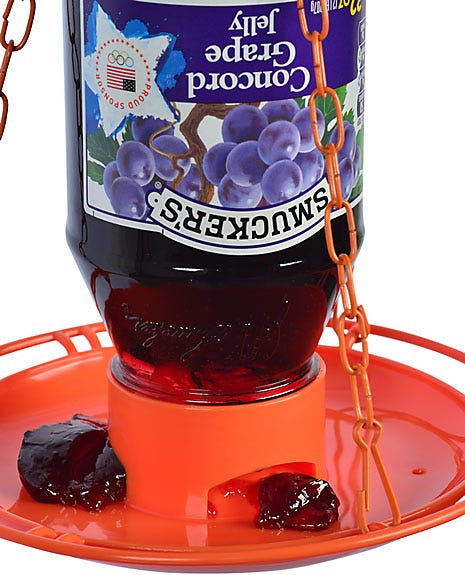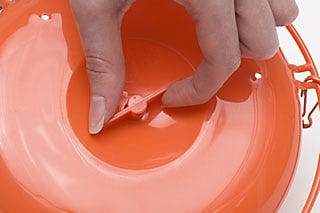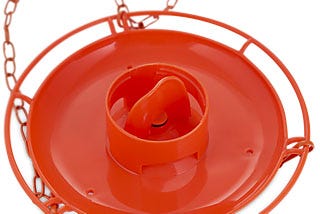 Built-in Jelly Stirrer Allows for Even Dispensing
Jelly can be clumpy and sticky. Thanks to the built-in stirrer, this is no longer a problem. This simple device allows the perfect amount of jelly to be distributed into the tray every time. Simply turn the knob on the bottom of the tray to dispense more jelly.
Includes a Hanging Chain for Easy Placement
With the Perky-Pet® Oriole Jelly Feeder, you can have ultimate flexibility in placement thanks to the built-in hanging chain and hook. Hang it anywhere around your yard, patio or garden. In addition, the chain's sturdy metal design provides the perfect balance to the tray so it won't tip under an oriole's weight.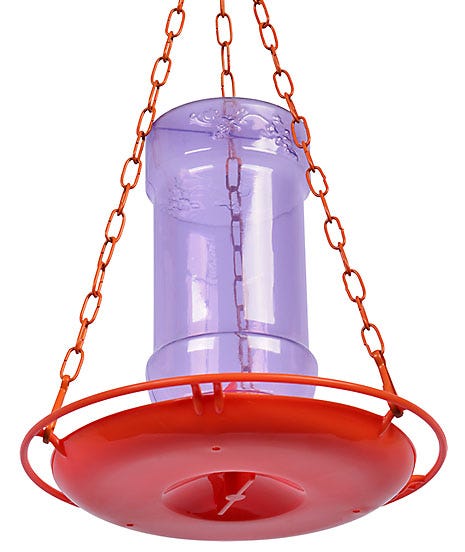 "I've bought many oriole feeders and by far this is the best one. No mess filling up cups, you just put the jar of jelly on and twist the bottom. So easy to use. I have recommended this feeder to all my friends." (Review from Anonymous)
Perky-Pet® Oriole Jelly Feeder Product Details
Do you want to know more helpful details about the Perky-Pet® Oriole Jelly Feeder? Take a closer look at the in-depth specifications for this product.
Perky-Pet® Oriole Jelly Feeder
Model #
253
Height
7.5 Inches
Diameter
7.8 inches
Capacity
32 oz
Port Number
3
Materials
Plastic, metal chain
Perky-Pet® Oriole Jelly Feeder
Watch the Oriole Jelly Feeder in action and see for yourself how much backyard birds love it!
Perky-Pet® Oriole Jelly Wild Bird Feeder
Model Number
253
Weight
.416 lb
Dimensions
14.5 in H x 7.8 in W x 7.8 in D
Capacity
32 oz of jelly