Our Brands
PERKY PET® BIRDFEEDER PRODUCTS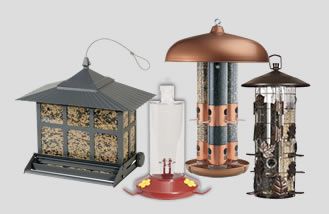 OUR MISSION
Perky-Pet® strives to be the most trusted brand in wild bird feeding by providing bird lovers with the comprehensive resources and high quality, cost-effective bird feeding accessories they need.
ABOUT PERKY-PET®
Perky-Pet® traces its beginnings as a distributor of various pet supplies in Denver, Colorado. In 1958, Perky-Pet® began searching for a way to feed the hummingbirds that people loved to watch outside their homes. The initial design was inspired by medical IV bottles, which were easy to adapt. After some experimentation with this design, the first commercial hummingbird feeder was introduced to the world.
The quick success of this first feeder inspired many more innovations in bird feeding, including seed feeders for wild birds and other styles of hummingbird feeders. Our current line of bird feeders consists of several brands, including Perky-Pet® and K-Feeders.
In 2006, a Canadian, family-owned company called Yule-Hyde Associates Co. was taken over by Woodstream Corp. and merged with the newly-acquired Perky-Pet® product portfolio. Yule-Hyde was founded over 40 years by a brother and sister duo who manufactured many of their own feeders from their garage before becoming the largest distributor and manufacturer of wild bird feeders in Canada. Some of those original feeders are still sold by Woodstream today.
To this day, Perky-Pet® strives to find stylish and effective solutions to the demands of bird hobbyists and enthusiasts alike by providing a wide selection of high-quality bird feeding products and accessories, as well as in-depth resources. It is with that same commitment to the birding community that we expand our presence to retailers and distributors throughout Canada and adapt our products to the changing needs of bird lovers.
TOP PRODUCTS
FAQS
Hummingbird Feeders
Q: Where is the best place to hang my hummingbird feeder?
A: When placing your new hummingbird feeder, there are a few factors you should consider. Avoid placing your feeder in a location that is constantly exposed to sun and wind. Too much sun may cause nectar to spoil more quickly. A location with a little shade a few times a day is best. Try placing your hummingbird feeder near trees or flowering plants. Not only will this offer some shade, but it will also attract more hummingbirds.
Q: What should I do if my Top Fill Hummingbird Feeder is leaking?
A: When filling your feeder, there are a few steps you should take to prevent leakage:
Make sure to securely tighten all the parts on the feeder base.
Push the nectar reservoir into the base to close ports and prevent leakage.
Unscrew the cap to fill with nectar. After filling, screw cap back on securely to form an airtight seal. If there is a gap between the cap and the feeder, there may be an issue.
We recommend keeping the feeder in the closed position until you get it to the location you plan to hang it.
To open the nectar reservoir, hold the base with one hand and pull up on the reservoir with the other.
Q: How do I clean my Perky-Pet® hummingbird feeder?
A: When feeding the birds, it is very important to keep things clean. You wouldn't like eating dirty, spoiled food, and neither do hummingbirds. Follow these simple steps to clean your feeder:
Empty your feeder and dispose of any leftover nectar.
Take apart your hummingbird feeder.
Create a mild solution of soap and hot water and allow feeder to soak.
Using a cleaning mop, scrub away any nectar residue or mold buildup.
Rinse your hummingbird feeder with cold water.
Allow feeder to air dry before reassembling and refilling.
Wild Bird Feeders
Q: The holes in the thistle feeder are very small. Will the birds be able to feed?
A: Believe it or not, they will be able to feed. The Nyjer/Thistle feeder is specially designed to only attract birds that will feed from thistle.
Q: How do I clean my wild bird feeder?
A: Like us, birds prefer eating from a clean food station. Before refilling your feeder with fresh seed, we recommend following these simple steps:
Remove and dispose of all old or wet seed.
Gather a bowl of water.
Scrub the feeder and allow it to air dry before refilling with fresh seed.
Rake and remove accumulated hulls and droppings from underneath the feeding stations.
Be sure to wash your hands thoroughly after handling and cleaning feeders.
Q: Why does the seed in my bird feeder get moldy?
A: Heavy rain, driving sleet or snow can cause mold by plugging the feeding ports and allowing water to dampen the seed. It is always recommended to clean, dry and refill your feeders after heavy weather.