Havahart® Large 2-Door Animal Trap
Earn 2800 rewards points on your purchase! Learn More
Galvanized steel resists rust and corrosion
Small mesh prevents escape & robbed bait
2 spring-loaded doors for duel end entrance
Solid doors and handle-guard protect user
Smoothed internal edges prevent injury to animals
Best Used For








Havahart® Large 2-Door Trap
Humanely and safely corral wild critters with this Havahart® Large 2-Door trap. It is designed by experts in the field to be effective, durable, and reliable. Its sensitive tripping mechanism specially targets large animals while avoiding false triggers. Spring-loaded doors trap animals effectively and prevent unwanted escapes.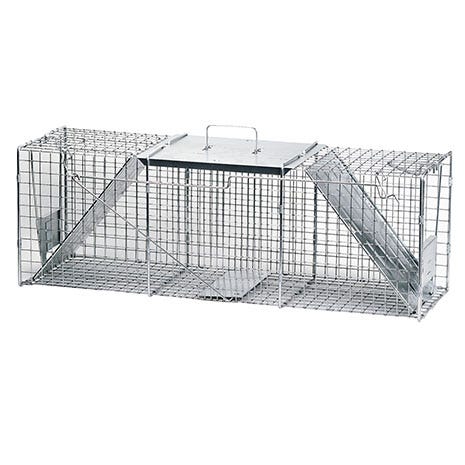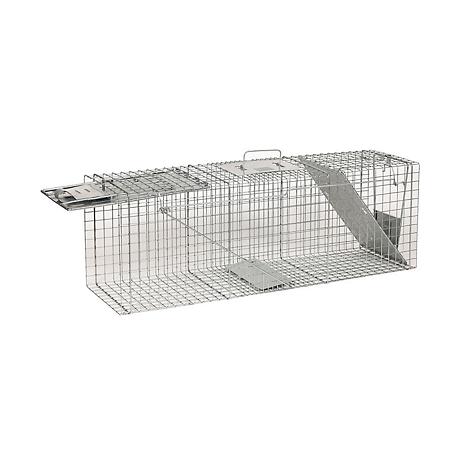 Easy to Operate
This large 2-door animal trap is designed with homeowners in mind. The trap is simple to operate and allows trappers of all experience levels to successfully capture, transport, and release sizable animals such as groundhogs and raccoons.
Designed with Safety In Mind
This Havahart® animal trap has several features that help keep it safe for you and the animal you're transporting. For you, this trap includes a handle guard and solid metal doors that prevent you from making contact with the animal. It's also equipped with a convenient carrying handle that lets you hold the trap away from your body while you're carrying it.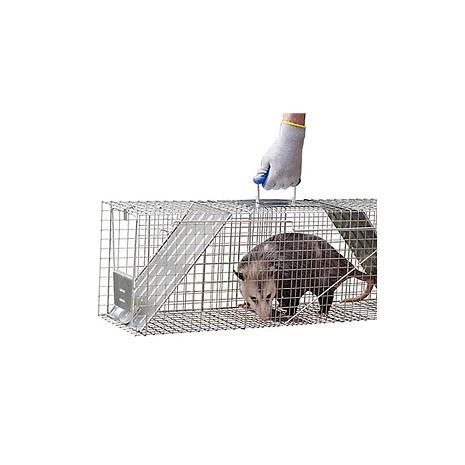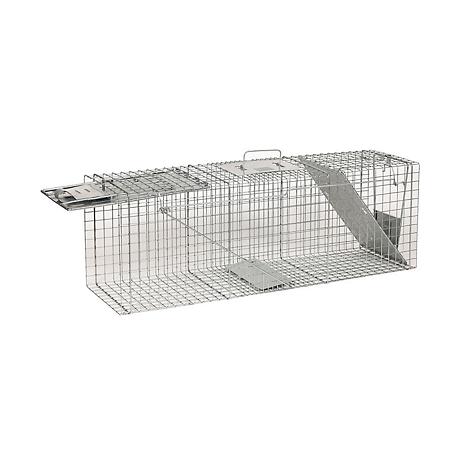 Effective, Versatile Two-Door Animal Trap
Two spring-loaded doors at either end of this Havahart® animal trap increase your odds of a catch. This design tends to be less intimidating to an animal since it provides a clear path to the other side.
Two door traps like these are best used against walls or along animal travel paths to help increase the possibility of capturing them from either direction. Depending on your needs and surroundings, this animal trap can also be set with only one door open, making it a versatile choice for homeowners.
Strength and Durability
Havahart® builds its traps from strong, premium materials that can withstand outdoor weather conditions and unpredictable animals. It's proudly constructed in the USA from durable, one-piece wire mesh that's galvanized for maximum resistance to corrosion and rust.
Solid doors and steel reinforcements contribute to its durability, ensuring a long life and the opportunity to use it multiple times should the need arise.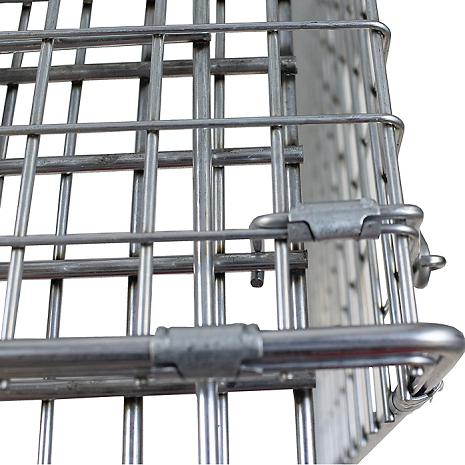 Havahart® Large 2-Door Trap Product Details
Do you want to know more helpful details about the Havahart® Large 2-Door Trap? Take a closer look at the in-depth specifications for this product.
Havahart® Large 2-Door Trap
Model #
1045
Dimensions
36" x 10" x 12"
Weight
12.75 lb
Materials

Galvanized steel
One-piece 12-guage wire mesh

Number of Doors
2
Door Type
Spring-loaded
Best Used For

Armadillos
Beavers
Bobcats
Cats
Small dogs
Small foxes
Groundhogs
Nutria
Opossums
Raccoons
Check out Havahart® Large Size Trap options - Compare and find the best trap for your problem!
Large 1-Door Trap
Large 2-Door Trap
Large 1-Door Collapsible Trap
Model #
1079
1045
1085
Trap Length
32 in
36 in
32 in
# of Doors
1
2
1
Set as 1- or 2-Door Trap
✔
Easy Set 1-Step Set & Release
✔
Enlarged Handle Guard
✔
Galvanized Steel
✔
✔
✔
Manufacturer's Warranty
1 Year
1 Year
1 Year
Havahart® Large 2-Door Trap
Model #
1045
Dimensions
36" x 10" x 12"
Weight
12.75 lb
Materials

Galvanized steel
One-piece 12-gauge wire mesh

Number of Doors
2
Door Type
Spring-loaded
Best Used For

Armadillos
Beavers
Bobcats
Cats
Small dogs
Small foxes
Groundhogs
Nutria
Opossums
Raccoons