Havahart® Medium 1-Door Animal Trap
Earn 1900 rewards points on your purchase! Learn More
Best used for rabbits, skunks, and squirrels
Spring-loaded door quickly reacts to lock animal in securely and prevents escapes
Smooth edges inside the trap help prevent injury to the animal
Solid metal door and handle guard protect you from contact with the animal
Constructed with durable, rust-resistant galvanized steel
24" x 7" x 7"
Best Used For



Designed for You by Trapping Professionals
The Havahart® Medium 1-Door Live Animal Trap is designed by trapping experts to be the most effective, reliable, and durable trap of its kind. It is carefully constructed with a fine-tuned tripping mechanism that specifically targets rabbit-sized critters, eliminating false triggers. The trap's spring-loaded door quickly reacts lock the animal in securely and prevent escapes.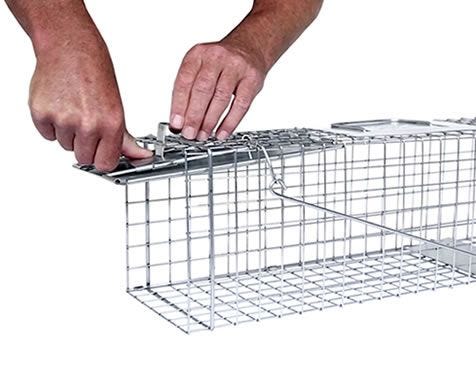 Simple to Operate
You don't have to be a pro to use this Havahart® trap. Its design allows trappers of all experience levels to capture, transport, and release small animals with ease. Check out our How To Set video to see how simple the trap is to operate.
See more videos: How To Trap » | How To Bait »
Safe for You and the Animal
For You: A solid metal door and handle guard protect you from contact with the trapped animal. The trap is also equipped with a carrying handle that allows you to hold it away from your body while an animal is inside.
For the Animal: A strong door lock keeps animals safely inside, while smooth, rolled internal edges prevent injuries to animals as they are being transported.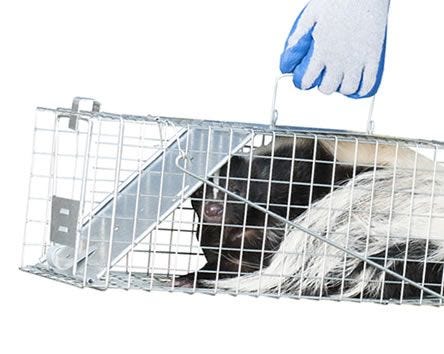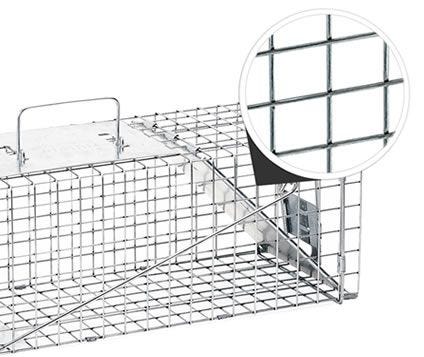 Havahart® Traps are Built to Last
Havahart® builds the strongest, most durable traps with premium materials, intended to endure harsh weather and unpredictable animal behavior. Traps are constructed of industrial-strength, one-piece wire mesh, which is galvanized for maximum resistance to rust and corrosion. A solid door and steel reinforcements add to the durability of the trap, ensuring an even longer trap life.
Havahart® Medium 1-Door Trap Product Details
Model #
1078
Dimensions
24" x 7" x 7"
Weight
5.72 lb
Materials

Galvanized steel
One-piece 12-gauge wire mesh

Number of Doors
1
Door Type
Spring-loaded
Best Used For