Havahart® X-Small 2-Door Trap
As low as
CA$76.39
Regular Price
CA$43.39
Havahart® X-Small 2-Door Trap
1
5
5
1
Earn 860 rewards points on your purchase! Learn More
Ideal for catching: mice, shrews, and similar-size nuisance animals. Great for use as a vole trap too!
Dimensions: 10 in x 3 in x 3 in
Two gravity action doors
Smoothed internal edges protect and prevent injuries to animals
Trigger rod located outside the trap to prevent animal damage
Proven efficacy from extensive field testing - higher catch rate & fewer escapes
Made to last - resists rust and corrosion
Instructions and tips on baits and trap setting are included
Comes fully assembled and ready to use
1, 2, or 3-Pack
Best Used For



Havahart® X-Small 2-Door Trap - 1, 2, or 3-Pack
Corral small nuisance animals safely and humanely with this Havahart® X-Small 2-door trap. This 10 x 3 x 3-inch animal trap is best for mice, voles, and shrews and is made of sturdy, rust-resistant galvanized steel for strength and repeated use.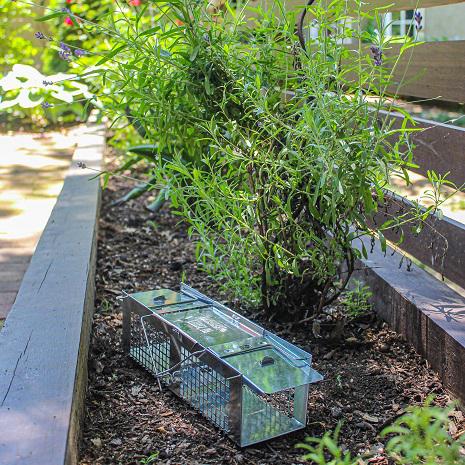 Created by Trapping Professionals
This X-Small 2-door animal trap has been tested in the field and designed by animal trapping experts. It's built to target and trap small animals like mice, shrews, and voles easily, as the intelligent construction ensures small animals can't outsmart or avoid it. A sensitive trip plate can successfully capture the smallest animals, and the mesh openings are small, ensuring bait isn't stolen.
Easy Operation
Find a place for the trap in an area the animal seems to frequent, such as areas of your yard or garden they are digging up.
Camouflage the trap slightly with surrounding debris, such as dirt, grass, leaves, or twigs.
Place a bit of nuts or seeds around the outside of the trap to entice these small animals and encourage them to walk inside.
Next, dig a small hole underneath the trap for placing bait. You can also place bait under the trigger. Wherever it's placed, it ensures the animal has to work harder to access the food, making it more likely they'll trip the spring mechanism.
Set the trap with the doors open and wait to catch your critter.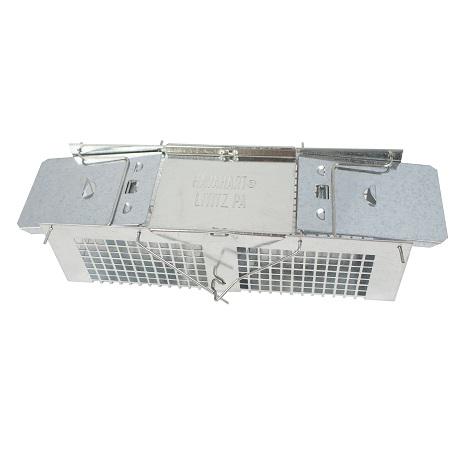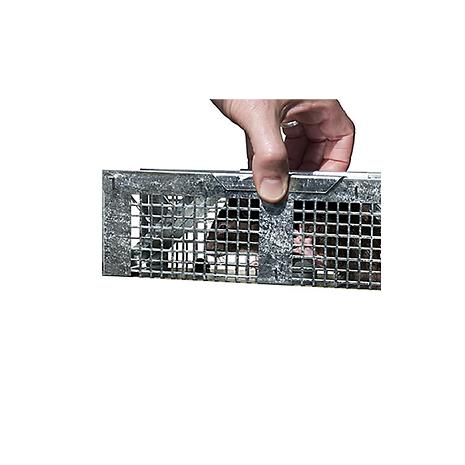 Safe Trapping Solution for You and the Animal
The solid doors and hand guards on this Havahart® X-Small 2-Door Trap help protect you from making contact with the tiny varmint inside. For the animal, strong doors keep them safe inside the cage and the smooth, rolled internal edges prevent them from injuring themselves if they become anxious and attempt to escape.
2-Door Construction is Effective and Versatile
A 2-door animal trap lets you create a clear path through the trap from one side to the other and provides a clear line of sight for the animal, increasing the odds of a successful capture. Place it against a wall or along a critter's path to ensure you can trap them from either direction.
Multi-use animal traps from Havahart® are designed with premium galvanized steel that's corrosion and rust-resistant, ensuring they withstand weather conditions and any potential struggling an animal might attempt.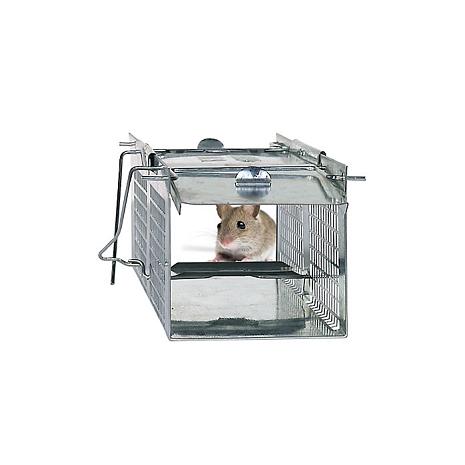 Havahart® X-Small 2-Door Trap Product Details
Do you want to know more helpful details about the Havahart® X-Small 2-Door Trap? Take a closer look at the in-depth specifications for this product.
Havahart® X-Small 2-Door Trap
Model #
C1020
Dimensions
10" x 3" x 3"
Weight
0.96 lb
Materials

Galvanized steel
One-piece 12-guage wire mesh

Number of Doors
2
Door Type
Gravity-action doors
Best Used For
Available Pack Sizes
1, 2, or 3-Pack
Check out Havahart® Small Size Trap options - Compare and find the best trap for your problem!
X-Small 1-Door Trap
X-Small 2-Door Trap
Small 1-Door Trap
Small 2-Door Trap
Model #
0745
1020
1083
1025
Trap Length
17 in
10 in
17 in
18 in
Trap Opening (w x h)
6 x 6 in
3 x 3 in
7 x 7 in
5 x 5 in
# of Doors
1
2
1
1
Set as 1- or 2-Door Trap
✔
✔
Easy Set® 1-Step Set & Release
✔
Enlarged Handle Guard
✔
Galvanized Steel
✔
✔
✔
✔
Manufacturer's Warranty
1 Year
1 Year
1 Year
1 Year
Havahart® X-Small 2-Door Trap
Model #
C1020
Dimensions
10" x 3" x 3"
Weight
0.96 lb
Materials

Galvanized steel
One-piece wire mesh

Number of Doors
2
Door Type
Gravity-action doors
Best Used For
Available Pack Sizes
1, 2, or 3-Pack