Perky-Pet® 16 oz Red Pinch-Waist Plastic Hummingbird Feeder - 16 oz Nectar Capacity
Earn 360 rewards points on your purchase! Learn More
Wide mouth opening for easy filling and cleaning
4 feeding ports with built in bee guards & perches
Built in ant moat in lid keeps ants away
Holds 16 oz of nectar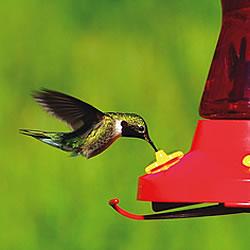 Perky-Pet® Pinch-Waist Plastic Hummingbird Feeder
The Perky-Pet® Pinch Waist Plastic Hummingbird Feeder has everything you need to attract hummingbirds to your yard.
16 Ounce Capacity & 4 Feeding Stations - Holding up to 16 ounces of nectar, this hummingbird feeder features a red plastic bottle with a pinched waist and a wide mouth for easy filling and cleaning. The feeder's design also includes four feeding stations, each with a resting perch and a built-in bright-yellow, flower-shaped bee guard to protect the nectar supply. The feeder also comes with a built-in ant moat on the top of the feeder (simply fill the moat with water to keep the ants away).
Easy to Clean - Keep the feeder clean and filled with fresh nectar to ensure return visits from satisfied hummingbirds. In addition to its wide mouth opening, this hummingbird feeder's base unscrews from the reservoir for convenient access and thorough cleaning. Perky-Pet® recommends cleaning the hummingbird feeder at least twice a week, more often in very warm climates or seasons.

Hummingbirds love:
Bright red feeding ports
Perch to sit and dine
Bee guard to keep nectar all for the hummingbirds
Consistently clean feeder filled with nectar
You'll love:
This feeder will add a stylish look to your yard
Ease of cleaning
Ease of filling
Stylish look, this feeder will add to your yard
Perky-Pet® Pinch-Waist Plastic Hummingbird Feeder - Specifications
Model Number
410P
Feeding Ports
4
Base Comes Apart
For easy cleaning
Nectar Capacity
16 oz