Perky-Pet® Classic Flexport Finch Feeder
Earn 300 rewards points on your purchase! Learn More
Dual perch positions allow right-side-up & upside-down feeding
6 Flexport® feeding stations omit seed clogging
Flexible rubber port cover protects seed from weather
Clear tube for easy seed level monitoring
Holds up to 1.5 lb of Nyjer®/thistle seed
Best Used For



Perky-Pet® Finch Feeder With Flexports®
Attracting goldfinches, purple finches, redpolls, and siskins to your yard with the Perky-Pet® Finch Feeder. This feeder includes our patented Flexports®, which offer benefits for birds and you. The flexible rubber port cover is uniquely designed to prevent seed clogging and is the perfect size for small finch seed. The design also allows birds to feed in a more natural position. With 1.5 lb of Nyjer® on offer, your backyard birds will be in good supply. Plus, the bright yellow accents on this tube feeder are sure to catch the eye of thistle-eating birds as they pass by.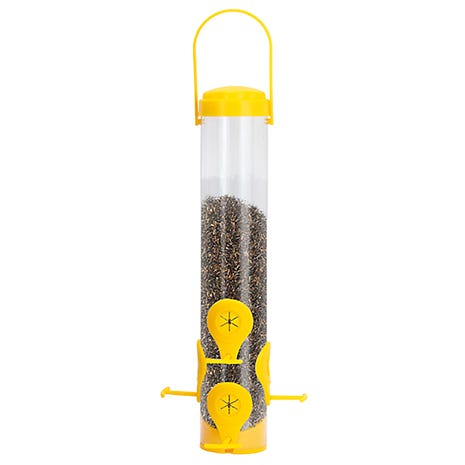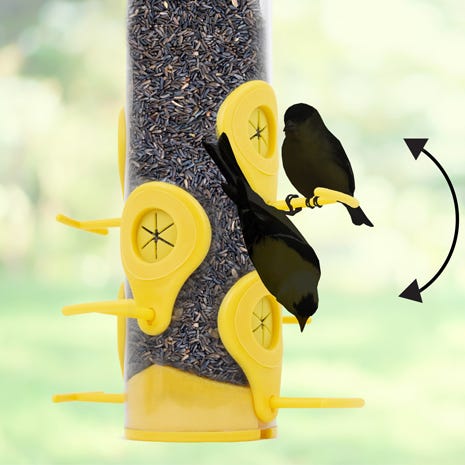 Double Feeding Positions
Acrobatic goldfinches have no problem feeding while perched upside-down. This feeder caters to that unique ability by offer dual feeding positions. They can feed both right-side-up and upside-down from the comfortable T-shaped perches. And with six feeding stations, this feeder is easily able to accommodate multiple birds simultaneously.
More Comfortable For Birds
Standard finch ports are incredibly small and can be difficult for birds to grab seed from. This feeder's unique Flexports® offer more feeding angles than standard finch ports because they're flexible. The design allows birds to feed at an optimal position outside of the port, creating a more natural feeding position and offering better visibility so they feel safer and stick around longer. Birds won't be able to resist visiting over and over!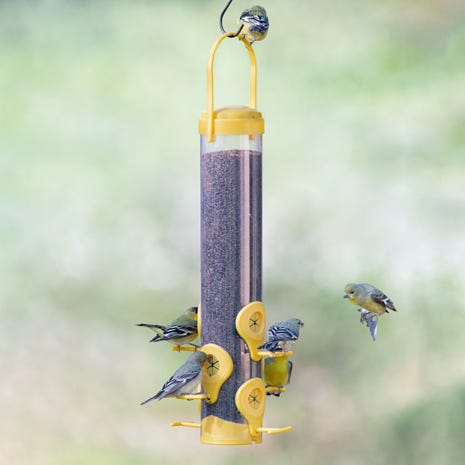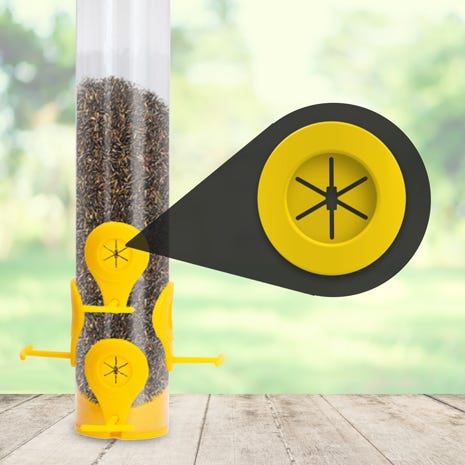 No Seed Clogging
Each of the six feeding stations is equipped with our new Perky-Pet® Flexports®. The gaps in the flexible cover are the perfect size for small finch feed. Not only does this design make it easier for birds to grab seed, but it also prevents clogging, which is a common problem with standard finch ports.
Weather-Resistant Ports
Rain, snow, and other adverse weather conditions are the primary ways that bird seed falls prey to mold and mildew. That's why we've designed the Perky-Pet® Finch Feeder with it's unique Flexports®. The flexible rubber port cover offers better protection from weather, so your seed stays fresh and dry longer.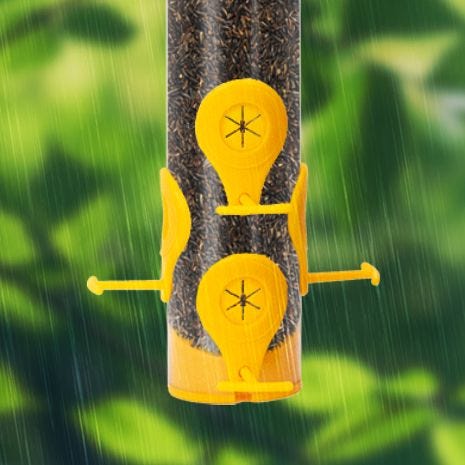 Perky-Pet® Finch Feeder With Flexports® Product Details
Do you want to know more helpful details about the Perky-Pet® Finch Feeder with Flexports®? Take a closer look at the in-depth specifications for this product.
Perky-Pet® Finch Feeder With Flexports®
Model #
481F
Height
15 inches
Diameter
6 inches
Ports
6
Capacity
1.5lb
Seed Type
Nyjer®/ Thistle
Materials
Plastic
Perky-Pet® Classic Flexport Finch Feeder
Model Number
481F
Weight
.37 lb
Dimensions
15 in H × 3 in W × 6 in D
Capacity
1.5 lb of Nyjer® / thistle seed