Perky-Pet® Clear Plastic Hummingbird Feeder
Earn 200 rewards points on your purchase! Learn More
Classic pinch waist design
Monitor nectar levels with clear, plastic reservoir
3 flower-shaped feeding ports
Holds 8 oz of nectar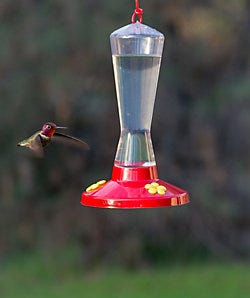 Perky-Pet® Clear Plastic Hummingbird Feeder
This classic birdfeeder with its pinch waist design has been a fashionable favorite of hummingbird enthusiasts.
The Perky-Pet® Clear Plastic Hummingbird Feeder features 3 feeding ports and holds 8 ounces of nectar. The clear, plastic reservoir of this birdfeeder makes it easy to monitor nectar levels and unscrews easily from the feeder base for quick cleaning and filling.
For best results, use Perky-Pet® Instant High Energy Nectar. This specially blended nectar is easy to use, requires no boiling and stays fresh longer.
This birdfeeder may be cleaned with the Perky-Pet® Cleaning Mop. Remember to clean your birdfeeder at least twice a week, more often in very warm climates or seasons.

Perky-Pet® Clear Plastic Hummingbird Feeder
Model Number
211
Weight
.210 lb
Dimensions
8 in H x 4.8 in W x 4.8 in D
Nectar Capacity
8 oz
Feeding Ports
3