Perky-Pet® Copper Beaded Hummingbird Swing - 1-Pack
Earn 260 rewards points on your purchase! Learn More
Hummingbirds will perch here before and after using feeders
Frame is made of real copper and accented with rose-tinted beads
Plastic-coated perch for easy grip
Hang from a matching Perky-Pet® Copper Decorative Beaded Hanging Hook
Perfectly frames birds for photography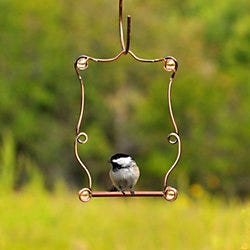 Perky-Pet® Beaded Copper Finish Hummingbird Swing
The Perky-Pet® Beaded Copper Finish Hummingbird Swing is an elegant addition to your array of hummingbird accessories. Simply hang near your feeders or close to nectar-producing flowers and soon you'll see the little dynamos making use of it.
Hummingbirds will use the perch to wait for an opening at your feeder and flowers or to take a break after they've had their fill of nectar. It's also good to position one of these perches near water sources too, since birds of different species will often avoid congregating in bird baths at the same time.
The perch, which measures about 5 inches wide and close to 7.25 inches tall isn't just for hummingbirds either. Any bird will be happy to use it for a resting spot since it provides an unobstructed view in all directions.
For photographers, the perch also provides an opportunity for picture-taking! Birds are likely to remain on the Beaded Copper Hummingbird Perch for a minute or two, and that means they will be sure to strike just the right pose!

Hummingbirds Prefer:
Perches and feeding stations out in the open to watch for danger
Clean feeders filled with fresh nectar
Nearby sources of water to drink and bathe in
100% sucrose solution nectar, which digests more like live flower nectar
Perky-Pet® Beaded Copper Finish Hummingbird Swing
Model Number
90
Dimensions
5 x 7.25 inches
Weight
.130 lb
Finish
Copper finish frame accented with rose-tint beads