Perky-Pet® Daisy Vase Vintage Glass Hummingbird Feeder
Earn 660 rewards points on your purchase! Learn More
Glass bottle with red luster finish
Easy to clean, wide-mouth bottle
Base snaps apart for cleaning
Red daisy design on four feeder ports
18 fl oz nectar capacity
Best Used For





Perky-Pet® Daisy Vase Vintage Hummingbird Feeder - 18 oz
Add a classic, other-worldly feel to your outdoor space with the Perky-Pet® Daisy Vase Vintage Hummingbird Feeder. Its unique shape and glass construction give it a vintage look with heirloom charm, and the metal hanger enhances the chic theme. This feeder bottle is an eye-catching vessel for feeding delicate hummingbirds as well as brightening up any lawn or porch. It also makes an ideal gift for bird lovers!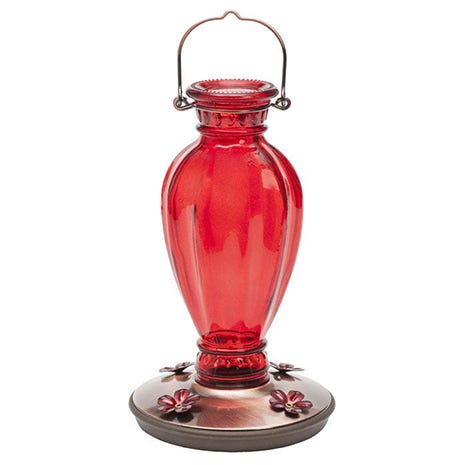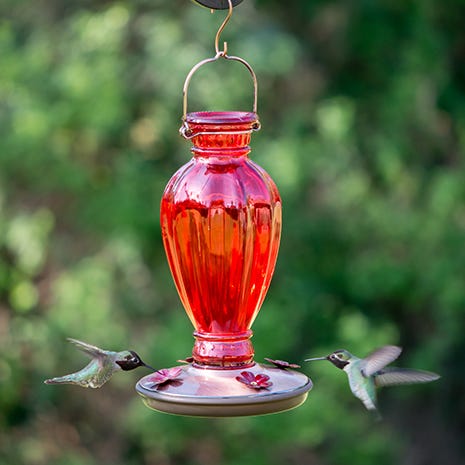 Statement Piece With Vintage Charm
This Perky-Pet® Daisy Vase Vintage Hummingbird Feeder features a stunning vintage-style glass bottle design that fits right in with retro tastes and makes it a décor piece as well as a bird feeder. This feeder also has a beautiful red luster finish that naturally attracts more hummingbirds.
Four Feeding Ports
This feeder boasts four feeding stations so you can enjoy watching several hummingbirds flit and feed at the same time, and the flower-shaped feeding ports add a cute decorative touch to attract hummingbirds and make your feathered friends more likely to stick around for a while. This feeder can hold up to 18 ounces of nectar at a time to keep your hummers happy and well fed.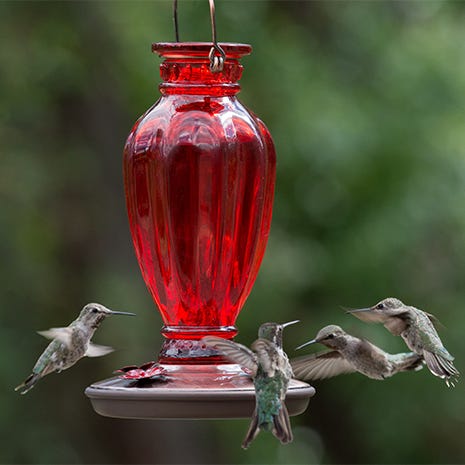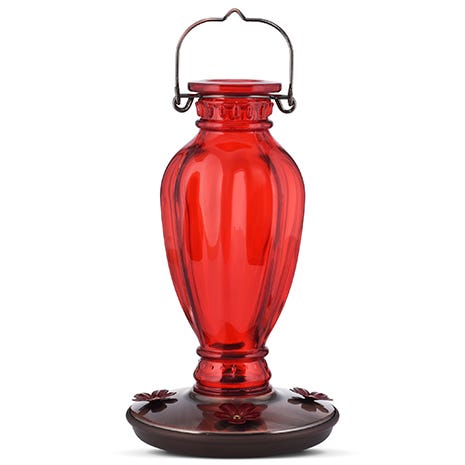 Durable Construction
The thick, red glass jar of the Perky-Pet® Red Antique Glass Bottle Hummingbird Feeder is durable enough to withstand tough weather without breaking. Meanwhile the metal base cover and ports ensure this feeder will be a focal point in your backyard for a long time to come.
Easy to Fill
A clean hummingbird feeder is much more likely to attract visitors. To make your job easier, this feeder features a pop-apart base so you can access all the nooks and crannies. The wide-mouth glass bottle lets you just pour the nectar in without having to worry about spills. Remember to clean your feeder at least twice per week with a mild soap and water solution to prevent mildew buildup.
Perky-Pet® Daisy Vase Vintage Hummingbird Feeder Product Details
Do you want to know more helpful details about the Perky-Pet® Daisy Vase Vintage Hummingbird Feeder? Take a closer look at the in-depth specifications for this product.
Perky-Pet® Daisy Vase Vintage Hummingbird Feeder
Model #
8133-2
Height
9.1 inches
Diameter
5.5 inches
Capacity
18 oz
Ports
4
Materials
Glass, metal, plastic
Perky-Pet® Daisy Vase Vintage Glass Hummingbird Feeder
Model Number
8133-2
Weight
1.7 lb
Dimensions
11 in H × 5.5 in W × 5.5 in D
Capacity
18 oz of nectar