Perky-Pet® Dew Drop Plastic Hummingbird Feeder
Earn 340 rewards points on your purchase! Learn More
Inviting droplet shaped nectar reservoir
Easily monitor nectar levels with clear shatterproof plastic
3 flower shaped feeding ports
Holds 32 oz of nectar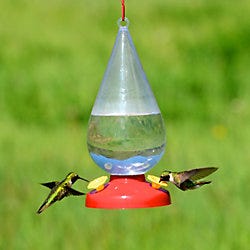 Perky-Pet® Dew Drop Hummingbird Feeder
The dew drop shape of this eye-catching feeder will remind you of summer mornings when the grass is wet from fresh, cleansing dew.
The Perky-Pet® Dew Drop Plastic Hummingbird Feeder features three feeding ports and holds 32 ounces of nectar. The feeder base is bright red to attract hummingbirds. The clear, acrylic reservoir makes it easy to monitor nectar levels and unscrews easily from the feeder base for quick cleaning and filling. Hanging is easy with the integrated bird feeder hanger built into the top of the bottle.
For best results, use the Perky-Pet® Instant High Energy Nectar. This specially blended nectar is easy to use, requires no boiling and stays fresh longer! The feeder may be cleaned with the Perky Pet® Cleaning Mop. Remember to clean your feeder at least twice a week, more often in very warm climates or seasons.
Perky-Pet® Drop Plastic Hummingbird Feeder
Model Number
273
Weight
.300 lb
Dimensions
10.7 in H x 4.6 in W x 4.6 in D
Ports
3
Nectar Capacity
32 oz