Perky-Pet® Mason Jar Hummingbird Feeder
As low as
CA$33.79
Regular Price
CA$33.79
Earn 660 rewards points on your purchase! Learn More
Attractive antique glass mason jar with embossed bird details
Circular perch and 5 flower-shaped feeding ports attract hummingbirds
Metal base and perch to ensure long-lasting durability
Wide-mouth opening for easy filling and cleaning
Holds up to 32 oz of nectar
Available in blue or red
Best Used For





Perky-Pet® Mason Jar Glass Hummingbird Feeder
Provide a gathering place for hummingbirds with the Perky-Pet® Mason Jar Glass Hummingbird Feeder. This fashionable feeder is designed with antique-style glass and embossed with hummingbirds to add a charming rustic look to your yard. The metal base and perch provide long-lasting durability, and the wide-mouth opening makes it easy to fill and clean. The feeder holds up to 32 oz of nectar and features a wraparound perch, so birds have a comfortable space to hang out and refuel.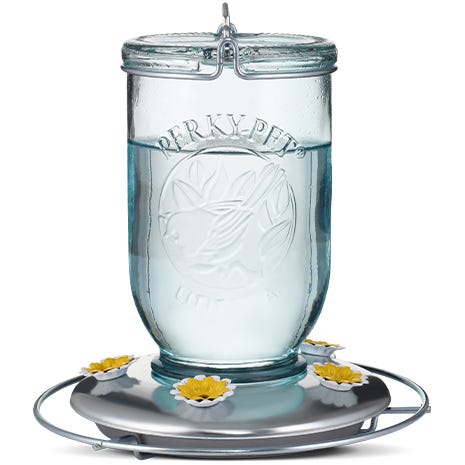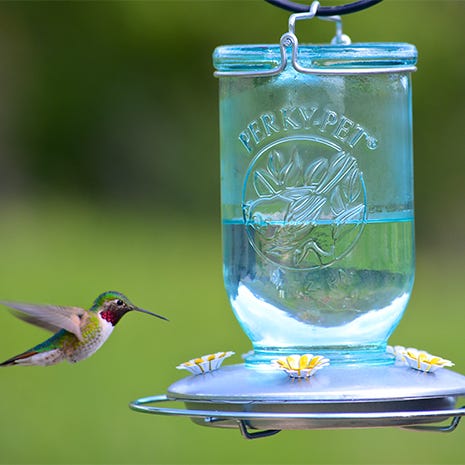 Vintage-Style Embossed Glass
While the original use of mason jars might have been for canning, today they're used for everything country-chic from drinking glasses and flower vases and, yes, even bird feeders. This feeder features a beautiful glass mason jar to help attract more hummingbirds to your yard, and the embossed bird design adds a little something extra. One thing is for sure – this feeder will look great in any outdoor setting.
Plenty of Space to Dine
This Perky-Pet® Mason Jar Glass Hummingbird Feeder has five flower-shaped feeding ports that are decorated with a realistic white and yellow finish to help bring birds to your yard. The circular perch offers plenty of room to take a rest when the wings get tired, and the feeder holds a full 32 ounces of nectar, so you don't have to worry about it running low during peak feeding times.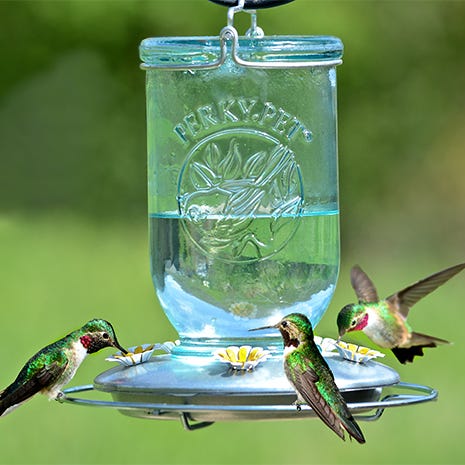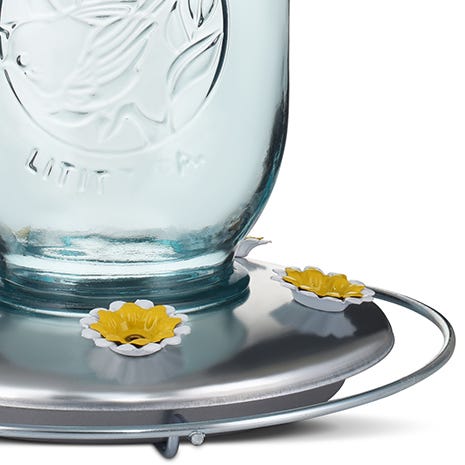 Durable Construction
Rather than plastic, this feeder is made with lovely embossed blue glass that won't discolor in the sun. The metal base and flower-shaped ports add to the farmhouse flair, while also ensuring durability throughout rain and other elements. The durable materials make this feeder as timeless as its charming design.
Easy to Fill and Clean
To ensure easy, mess-free filling, this feeder features a wide-mouth opening. The jar simply screws on and off the base, so cleaning is quick and easy with a brush and warm soapy water. Maintain a clean feeder full of fresh nectar to keep birds coming back and promote the health of your feathered visitors.
"LOVE LOVE LOVE these feeders. Easy to fill, easy to clean. I now have 3 of them... and lots and lots of hummingbirds!! I have told my friends and neighbors about them and they are going to order them too."
Perky-Pet® Mason Jar Glass Hummingbird Feeder Product Details
Do you want to know more helpful details about the Mason Jar Glass Hummingbird Feeder? Take a closer look at the in-depth specifications for this product.
Perky-Pet® Mason Jar Glass Hummingbird Feeder
Model #
785
Height
7.7 inches
Diameter
7.5 inches
Capacity
32 oz
Portals
5
Materials
Metal, glass
Perky-Pet® Mason Jar Glass Hummingbird Feeder
Model Number
78-C
Height
7.7 inches
Diameter
7.5 inches
Capacity
32 oz of nectar
Ports
5
Materials
Metal, glass
Available Colors
Blue or red