Perky-Pet® Milk Pail Wild Bird Feeder
Earn 960 rewards points on your purchase! Learn More
Quaint antique milk pail design
Seed tray limits waste & promotes 360-degree feeding
Holds up to 5 lb of mixed and sunflower seed
Durable, all-metal construction and hanging loop
Drain holes to keep seed fresh
Best Used For




Perky-Pet® Milk Pail Bird Feeder
Bring some old-fashioned charm to your feeding stations with the Perky-Pet® Milk Pail Bird Feeder. The classic milk canister silhouette and earthy coloring makes this feeder the perfect rustic touch for any backyard setting. This feeder doesn't just look great – it offers a large capacity, too! The pail is able to hold an astounding 5 lb of mixed seed or sunflower seed to ensure your hungry backyard birds are always well fed.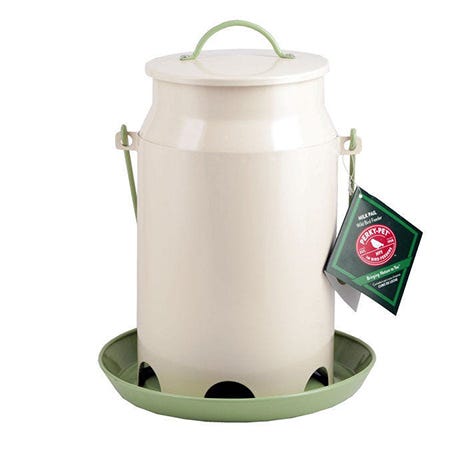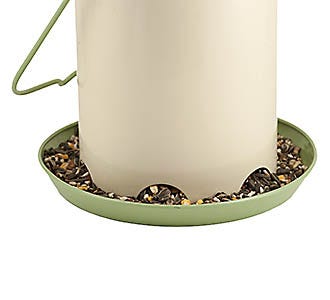 Spacious Seed Tray
Birds won't be able to resist visiting the Perky-Pet® Milk Pail Feeder thanks to its spacious, built-in seed tray. The circular design promotes 360-degree feeding so multiple birds are able to dine at the same time. In addition, the tray helps to limit seed waste.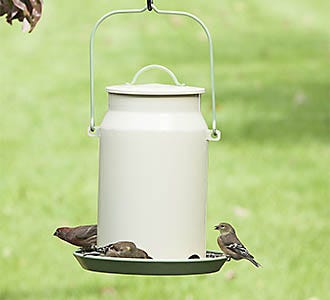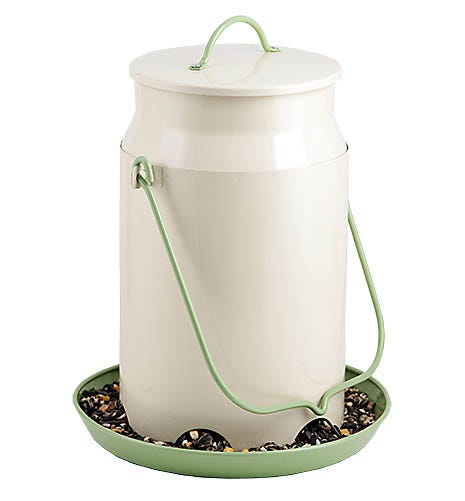 All-Metal Construction
The Perky-Pet® Milk Pail Bird Feeder brings superior durability to your bird-feeding routine – it's all metal. The feeder's powder-coated finish is resistant to rust, while the sturdy metal construction will help prevent damage by squirrels. You can be sure this feeder will be a focal point in your backyard for many years to come.
Easy to Fill & Clean
For your convenience, the milk pail lid twists off easily to allow for effortless filling and cleaning. Thanks to the feeder's wide-mouth opening and large reservoir, you'll have no problem reaching all the nooks and crannies as you clean.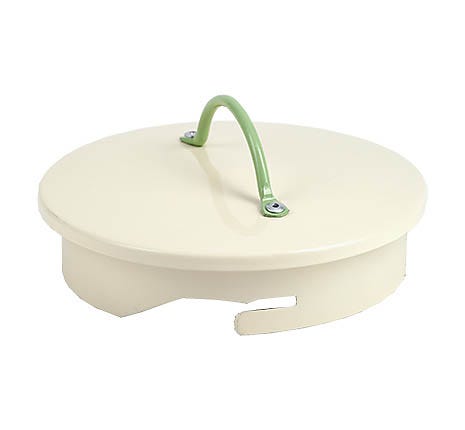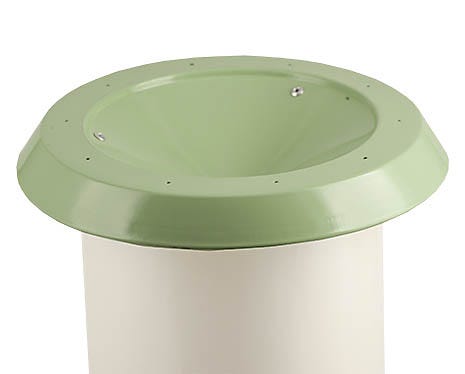 Specially Designed Base
The Perky-Pet® Milk Pail Feeder features a unique domed interior, which naturally draws seed down to the ports. In addition, built-in drainage holes prevent water from pooling in the reservoir, instead allowing it to flow freely out of the base so seed stays fresh longer. Not only will the birds love it, but it also means less seed waste for you!
Milk Pail Feeder Product Details
Do you want to know more helpful details about the Milk Pail Feeder? Take a closer look at the in-depth specifications for this product.
Perky-Pet® Milk Pail Bird Feeder
Model #
MCF001
Height
16.5 inches (including handle)
Length
9.75 inches
Capacity
5 lb
Materials
Metal
Perky-Pet® Milk Pail Bird Feeder
Model Number
MCF001
Weight
2.98 lb
Dimensions
16.75 in H × 9.75 in W × 9.75 in D
Capacity
5 lb seed capacity
Seed Tray
For 360-degree feeding