Perky-Pet® Red Hummingbird Instant Nectar Concentrate - 2 lb
Earn 300 rewards points on your purchase! Learn More
Simply mix powder with water – no boiling required!
Made of 100% sucrose – an essential energy source for hummingbirds
Vibrant red color attracts hummingbirds to your feeder
Powder concentrate makes up to 192 oz of hummingbird nectar
Comes in a 2 lb bag
Includes 1 Pack
Best Used For





Perky-Pet® Original Instant Hummingbird Nectar
Hummingbirds flap their wings an average of 70 times each second. Because of their high-energy lifestyle, hummingbirds need to eat constantly. Perky-Pet® Original Instant Hummingbird Nectar is just what you need to keep all your hungry hummers happy and well fed. It's convenient for you and tasty for your hummingbirds. Plus, the 2-lb bag makes up to 192 ounces of hummingbird nectar, so you'll be in good supply through many visits.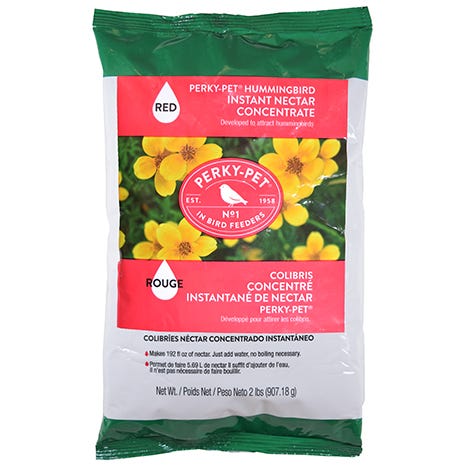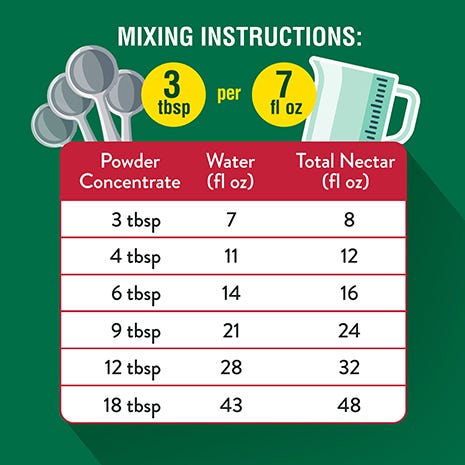 Easy to Use
This concentrate makes feeding hummingbirds simple, just add water to the powder. Simply mix 3 tablespoons of concentrate powder to 7 ounces of water until you create the desired amount of nectar. There's no need to boil it! Store any excess pre-mixed nectar in the refrigerator for later use. Be sure to clean and refill your hummingbird feeder on a regular basis to ensure healthy, happy hummingbirds and repeat visits.
Red Color Attracts Hummingbirds
Original Instant Hummingbird Nectar features a bold red color that mimics the vibrantly colored flowers that hummingbirds visit in nature. They won't be able to resist stopping for a drink!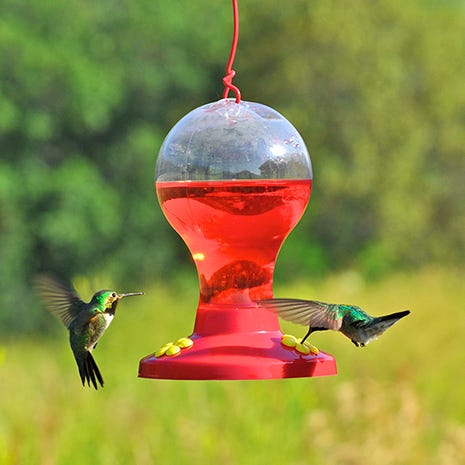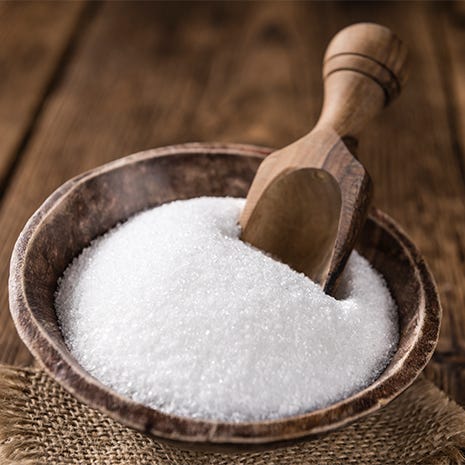 Made of 100% Sucrose
Perky-Pet® Original Instant Hummingbird Nectar is made of 100% sucrose so your hummingbirds get just the essential energy they need to thrive. Hummingbird nectars mixed with sucrose more closely mimic natural flower nectar than artificial fructose and dextrose mixtures. Hummingbirds more easily digest sucrose, so the energy is delivered faster!
Perky-Pet® Original Instant Hummingbird Nectar Product Details
Do you want to know more helpful details about Original Instant Hummingbird Nectar? Take a closer look at the in-depth specifications for this product.
Perky-Pet® Original Instant Hummingbird Nectar
Model #
244SFB
Size
2 lb bag
Nectar Type
Powder Concentrate
Color
Red
Contains
100% sucrose
Usage Notes
Mix with water for desired nectar amount, no refrigeration required
Perky-Pet® Original Instant Hummingbird Nectar
Model #
244SFB
Size
2 lb bag
Nectar Type
Powder Concentrate
Color
Red
Contains
100% sucrose
Usage Notes
Mix with water for desired nectar amount, no refrigeration required