Perky-Pet® Pinch-Waist Glass Hummingbird Feeder - 8 oz Nectar Capacity
As low as
CA$21.89
Regular Price
CA$21.89
Perky-Pet® Pinch-Waist Glass Hummingbird Feeder - 8 oz Nectar Capacity
2
3
5
1
Earn 420 rewards points on your purchase! Learn More
Wide-mouth bottle for easy filling and cleaning
4 flower-shaped feeding ports with comfortable perches
Built-in bee guards & ant moat keeps insects out
Glass bottle to monitor nectar levels
Clean feeder at least every 2 weeks with a mild soap and water solution
Holds up to 8 oz of nectar
Best Used For





Perky-Pet® Pinch-Waist Feeder is Our Most Iconic Feeder
Hummingbirds are a fan favorite among birders. With our Perky-Pet® Pinch-Waist Glass Hummingbird Feeder, you can easily attract these iridescent beauties to your yard. It's the classic design that you know and love with a few great updates. The new and improved wide-mouth bottle and simple disassembly makes cleaning easier than ever before. Meanwhile, the attention-catching color and 8 oz nectar capacity are irresistible to hummers. Find the best seat in your house now, because hummingbirds are sure to be on their way!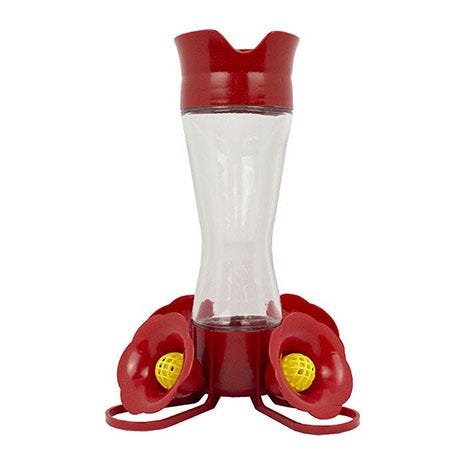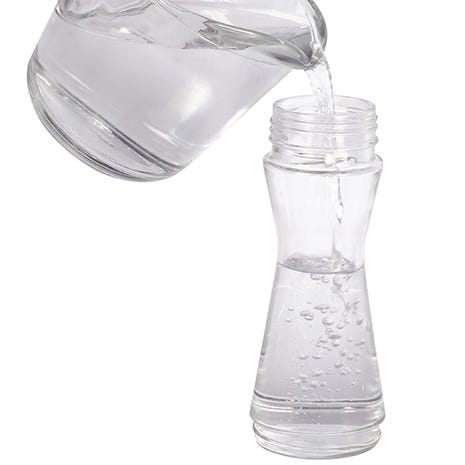 Clear, Wide-Mouth Bottle for Easy Filling
Filling your feeder doesn't have to be messy and frustrating. That's why we've designed the Pinch-Waist Hummingbird Feeder with a convenient wide-mouth bottle. It makes filling easier, resulting in fewer spills as you pour nectar. Plus, the crystal-clear glass allows you to monitor nectar levels at a glance.
Accommodates Multiple Birds
Complete with four flower-shaped ports and comfortable perches, the Perky-Pet® Pinch-Waist Glass Hummingbird Feeder will easily accommodate multiple hummingbirds at the same time. With the bright red color, it makes an absolutely irresistible combination to attract hummers.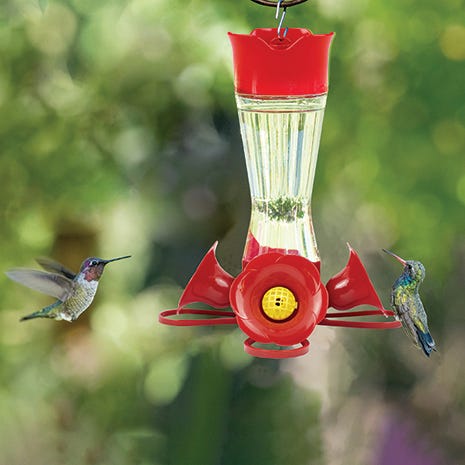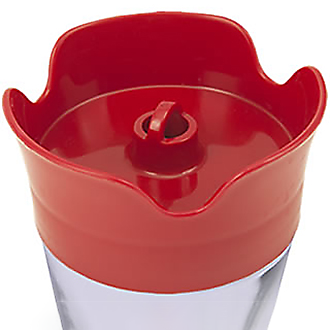 Keep Out Insects
Insects are often a source of frustration at hummingbird feeders. Fortunately, our built-in bee guards and ant moat provide an effective line of defense against these unwanted pests. The bee guards keep bees at bay, while hummingbirds can still easily access the nectar. To keep ants away, fill the top of the lid with water to create a barrier that prevents them from crawling down to the ports.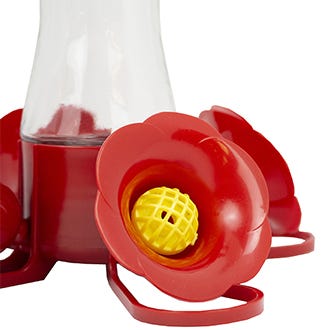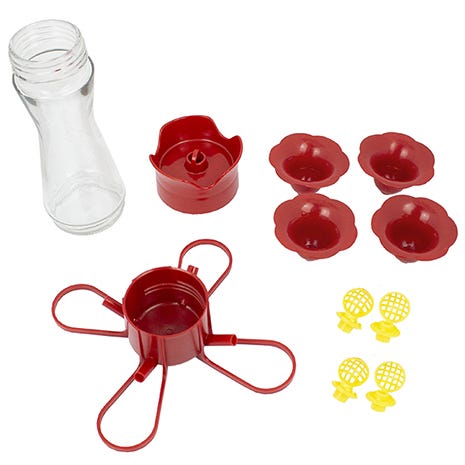 Comes Apart for Thorough Cleaning
Hummingbirds prefer to visit fresh, clean feeding stations. To make that easier, this feeder disassembles completely for effortless cleaning. Remove the ant moat, base and bottle with ease – even the built-in bee guards come apart! In addition, the wide-mouth design allows you to access hard-to-reach spots of the bottle. Remember to clean your feeder at least once per week with a mild soap and water solution to prevent mildew buildup.
How to Clean the Pinch-Waist Hummingbird Feeder
Watch this video and see for yourself just how easy it is to keep the Perky-Pet® Pinch-Waist Glass Hummingbird Feeder looking sparkling clean. Your hummingbirds will thank you for your efforts!
"I LOVE THIS FEEDER! I replaced the old style of this feeder for this updated style and I'm so glad I did! The wider opening allows for cleaning with a regular bottlebrush (the old style had a narrow neck and was difficult to clean) and the bee guards that open for cleaning are great. I like the size of this feeder because the birds eat the nectar so quickly it makes sure I am cleaning them every few days, which prevents the mold that is harmful to the hummers." (Review from Anonymous)
Perky-Pet® Pinch-Waist Glass Hummingbird Feeder Product Details
Do you want to know more helpful details about the Pinch-Waist Glass Hummingbird Feeder? Take a closer look at the in-depth specifications for this product.
Perky-Pet® Pinch-Waist Glass Hummingbird Feeder
Model #
203CPBN
Height
8.38 inches
Diameter
7.25 inches
Capacity
8 oz
Ports
4
Materials
Glass, plastic
Perky-Pet® Pinch-Waist Glass Hummingbird Feeder
Model Number
C203CP
Colors Available
Clear, red
Weight
.7 lb
Dimensions
8.38 in H × 7.25 in W × 7.25 in D
Capacity
8 oz of nectar
Customer Reviews
50%
of customers
recommend this product