Perky-Pet® Pinch-Waist Hummingbird Feeder
Earn 280 rewards points on your purchase! Learn More
Easily monitor nectar levels with clear shatter resistant plastic
3 flower shaped feeding ports
Holds 16 oz of nectar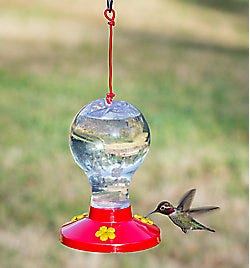 Perky-Pet® Globe Hummingbird Feeder
One of our plastic bird feeders for hummingbirds, this bright, cheery feeder has a clear, plastic bottle and will attract the tiny, delightful birds for hours of birdwatching enjoyment.
The Perky-Pet® Globe Hummingbird Feeder features three feeding ports and holds 16 ounces of nectar for hummingbirds.
Remember to clean all of your feeders at least twice a week, more often in very warm climates or seasons. These clear plastic bird feeders may be cleaned with the Perky-Pet® Cleaning Mop.
Perky-Pet® Clear Plastic Hummingbird Feeder
Model Number
216-6
Ports
3
Monitor Nectar Level
With clear, shatter resistant plastic reservoir
Capacity
16 oz of nectar