Perky-Pet® Pinch-Waist Red Glass Hummingbird Feeder - 8 oz Nectar Capacity
As low as
CA$21.89
Regular Price
CA$21.89
Perky-Pet® Pinch-Waist Red Glass Hummingbird Feeder - 8 oz Nectar Capacity
2
3
5
1
Earn 420 rewards points on your purchase! Learn More
Wide-mouth bottle for easy filling and cleaning
4 flower-shaped feeding ports with comfortable perches
Built-in bee guards & ant moat keeps insects out
Glass bottle to monitor nectar levels
Clean feeder at least every 2 weeks with a mild soap and water solution
Holds up to 8 oz of nectar
Best Used For




A Colorful Twist on Our Most Iconic Feeder
Bring bold color and convenient design to your backyard bird-feeding routine with the Perky-Pet® Pinch-Waist Red Glass Hummingbird Feeder. Offering the classic silhouette you know and love, this 8 oz feeder now features a bright red bottle, cap, and base to capture the attention of hummers from near and far. The wide-mouth bottle, simple disassembly, and insect defenses all combine to make this our most convenient feeder for birders of any experience level. Find the best seat in your house now, because hummingbirds are sure to be on their way!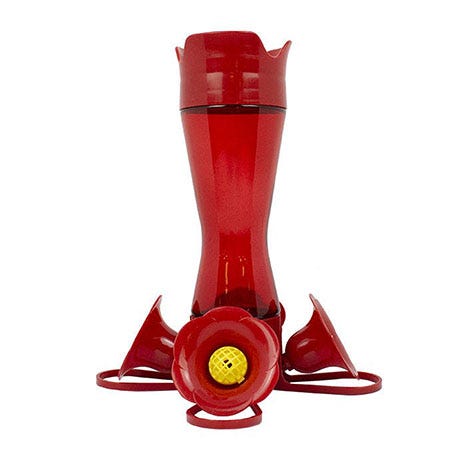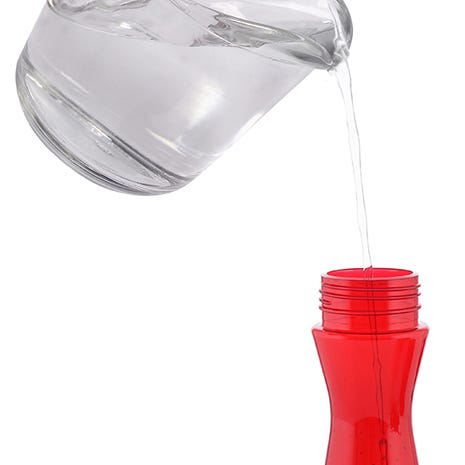 Translucent Red, Wide-Mouth Bottle for Easy Filling
Filling your feeder doesn't have to be messy and frustrating. That's why we've designed the Perky-Pet® Pinch-Waist Red Glass Hummingbird Feeder with a convenient wide-mouth bottle. It makes filling easier, resulting in fewer spills as you pour nectar. Plus, the bottle is made of translucent red glass so you can effortlessly monitor nectar levels.
Keeps Insects Out
Provide an effective line of defense against unwanted insects with our built-in bee guards and ant moat. These features combine to protect your nectar, so it's reserved just for your hungry hummers. The bee guards keep bees at bay, while hummingbirds can still easily access the nectar. To keep ants away, fill the top of the lid with water to create a barrier that prevents them from crawling down to the ports.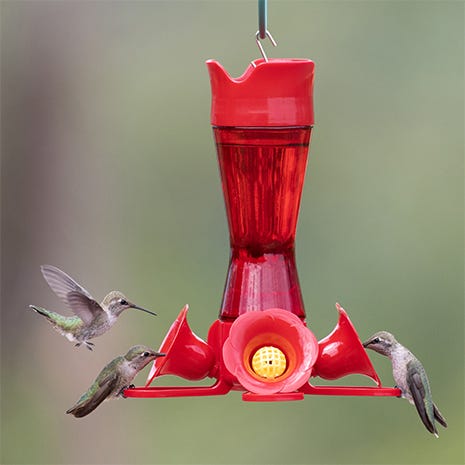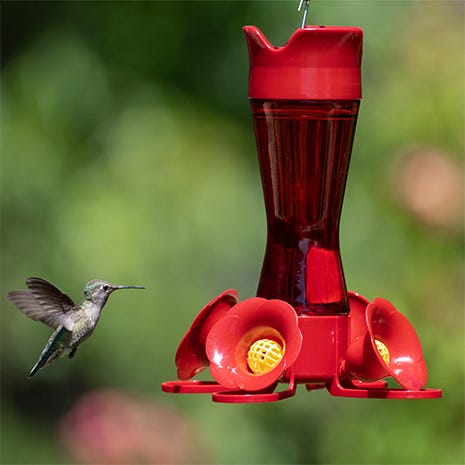 Accommodates Multiple Birds
The Perky-Pet® Pinch-Waist Red Glass Hummingbird Feeder boasts four ports with comfortable perches. The vibrant red color of the base, moat, and bottle paired with the attractive flower-shaped ports are perfect for attracting hummers, while the number of ports ensures there's enough room for multiple birds to dine simultaneously.
Comes Apart For Thorough Cleaning
Hummingbirds prefer to visit fresh, clean feeding stations. To make that easier, this feeder disassembles completely for effortless cleaning. Remove the ant moat, base and bottle with ease – even the built-in bee guards come apart! In addition, the wide-mouth design allows you to access hard-to-reach spots of the bottle. Remember to clean your feeder at least once per week with a mild soap and water solution to prevent mildew buildup.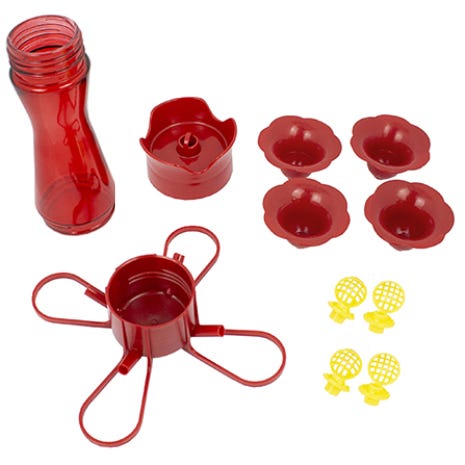 "Will definitely buy this item again! So far, this is one of the BEST hummingbird feeders on the market. [I've been feeding backyard birds] since 1985, and still going strong. Now my 11 grandkids [are] involved. We have fun identifying birds that visit our feeders. I've had mine since 2017, and so far NO: leaks, bees."
Perky-Pet® Pinch-Waist Red Glass Hummingbird Feeder Product Details
Do you want to know more helpful details about the Pinch-Waist Red Glass Hummingbird Feeder? Take a closer look at the in-depth specifications for this product.
Perky-Pet® Pinch-Waist Red Glass Hummingbird Feeder
Model #
203CPBR
Height
8.38 inches
Diameter
7.25 inches
Capacity
8 oz
Ports
4
Materials
Glass, plastic
Perky-Pet® Pinch-Waist Glass Hummingbird Feeder
Model Number
C203CP
Colors Available
Clear, red
Weight
.7 lb
Dimensions
8.38 in H × 7.25 in W × 7.25 in D
Capacity
8 oz of nectar
Customer Reviews
50%
of customers
recommend this product