Perky-Pet® Sapphire Starburst Vintage Glass Bird Feeder
Earn 660 rewards points on your purchase! Learn More
Blue vintage glass bottle
Embossed with starburst accents
Wide mouth opening for easy filling and cleaning
Unique circular perch design
.56 lb seed capacity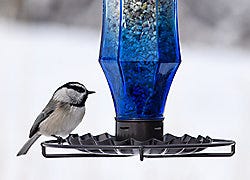 Perky-Pet® Sapphire Starburst Vintage Wild Bird Feeder
Add classic style to your backyard bird feeder collection with the Perky-Pet® Sapphire Starburst Vintage Wild Bird Feeder. Featuring a bold blue antique glass bottle embellished with starburst accents, this feeder is sure to entice birds to stop for a tasty treat.
Unique Circular Perch – The unique circular wrap-around perch surrounds the all-metal base, giving birds plenty of space to dine in comfort. Drain holes are added to the seed tray, helping to keep seed fresh and dry. Use the attached metal hanger to place your bird feeder in a location that is convenient for hours of bird watching pleasure!
Convenient Wide Mouth Opening – We know that it can sometimes be cumbersome to clean and fill bird feeders. That's why we included a wide mouth opening for easy filling and cleaning! With the larger opening, you can easily reach all cracks and crevices, ensuring your birds always have a clean feeder. We recommend cleaning your bird feeders every two weeks with a mild soap and water solution.

Wild Birds love:
All-metal base
Comfortable circular perch
Continuously full and clean feeder
You'll love:
Ease of filling Ease of cleaning
This feeder is a rustic, vintage addition to your backyard décor
Enjoyment of watching wild birds feeding
Perky-Pet® Sapphire Starburst Vintage Glass Bird Feeder
Model Number
8138-2
Color
Blue vintage glass bottle
Wide Mouth Opening
For easy filling and cleaning
Capacity
.56 lb seed