Perky-Pet® Squirrel-Be-Gone® III Wild Bird Feeder
As low as
CA$184.89
Regular Price
CA$125.29
Perky-Pet® Squirrel-Be-Gone® III Wild Bird Feeder
1
3
5
1
Earn 2500 rewards points on your purchase! Learn More
Weight-activated technology closes ports under squirrels' weight
Three individual seed compartments allow more seed options
Powder-coated metal frame resists rust and adds durability
Nine feeding stations with U-shaped perches
Holds up to 8 lb of black oil sunflower seed, peanuts, and mixed seed
Available Pack Sizes: 1 Feeder or 2 Feeders
Best Used For


Perky-Pet® Squirrel-Be-Gone® III Bird Feeder
Attract a variety of wild birds to your backyard with the Perky-Pet® Squirrel-Be-Gone® III Bird Feeder. Make your home the delight of your feathered friends with enough perches for the whole flock. The metal frame features carved leaves and is coated in a rustic deep brown finish to withstand the elements while retaining a dull shine. To offer defense against squirrels, this feeder offers a weight-activated Seed Shield™ so squirrels can't gain access to the seed supply. In addition to its squirrel-resistant features, the Squirrel-Be-Gone® III is also a favorite of birds. This feeder will make a charming addition in any backyard setting.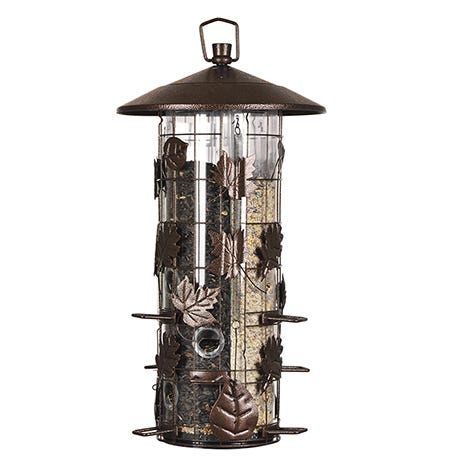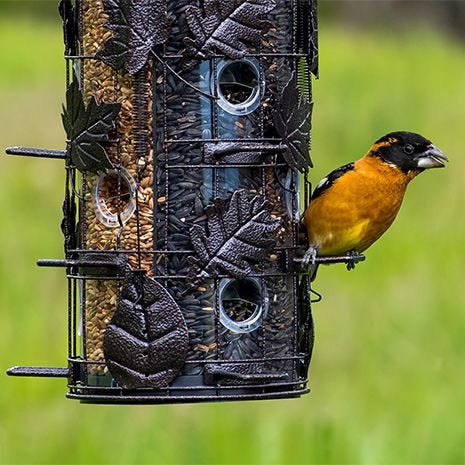 Squirrel-Proof Seed Shield™
To offer defense against squirrels, this feeder boasts multiple great features. First, is the feeder's weight-activated Seed Shield™, which is calibrated to support the weight of birds but not squirrels. When squirrels try to gain access to the perches, the ornamental leaves close off the ports under their weight. Birds can sit on every perch without activating it. In addition, the twist-lock cap prevents squirrels from lifting the lid, while the metal frame discourages chewing around the ports.
To ensure a 100% squirrel proof feeder, placement is key! Hang the feeder with at least 18 inches of clearance on all sides so squirrels can't easily reach the ports without activating the perch.
Attract More Birds
With less competition from squirrels, birds won't be able to resist the Perky-Pet® Squirrel-Be-Gone® III Bird Feeder! It features nine feeding ports with U-shaped perches so multiple birds can dine at the same time and you can enjoy a better view. In addition, this 8 lb capacity feeder has multiple chambers, allowing you to place different seed types in each portion to attract a greater variety of birds.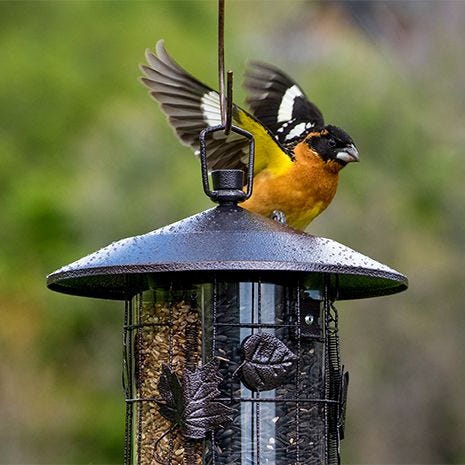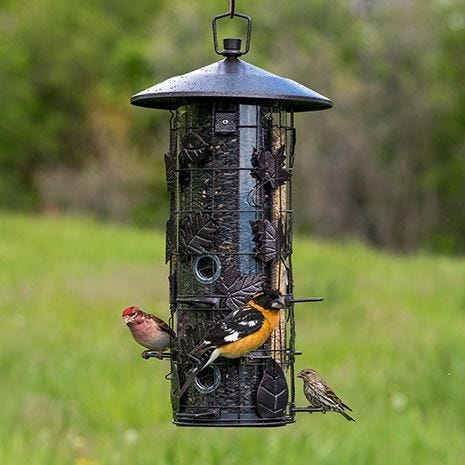 Attractive, Rustic Design
Birds and bird lovers alike can't deny the charm of this delightful feeder. The bronze-colored cage is adorned with an attractive leafy design that will look at home in any yard. The metal leaves double as port covers on the weight-activated cage. In addition, the metal is finished with a powder coating to enhance the rustic look, while also ensuring rust resistance.
Easy to Use and Clean
The Squirrel-Be-Gone® III comes fully assembled and ready to hang in your garden or on a tree. To fill, just twist off the top lid and pour in your preferred seed type. The feeder has a large wire loop for flexible placement in your outdoor space. Cleaning the feeder is a snap. Simply empty out the old seed, scrub with warm soapy water, rinse, and allow to air dry.
Perky-Pet® Squirrel-Be-Gone® III Bird Feeder Product Details
Do you want to know more helpful details about the Squirrel-Be-Gone® III Bird Feeder? Take a closer look at the in-depth specifications for this product.
Perky-Pet® Squirrel-Be-Gone® III Bird Feeder
Model #
337
Height
20.65 inches
Diameter
9.95 inches
Ports
9
Capacity
8 lb
Seed Type
Black-oil sunflower seed, mixed seed, peanuts, and more
Materials
Metal, plastic
Perky-Pet® Squirrel-Be-Gone® III Wild Bird Feeder
Model Number
C337
Weight
3.16 lb
Available Sizes
1 feeder, 2 feeders
Dimensions
20.65 in H x 9.95 in W x 9.75 in D
Feeding Stations
9
Capacity
8 lb of seed
Customer Reviews
0%
of customers
recommend this product
J'ai acheté ce modèle mais ...
Aug 11, 2022
J'ai acheté ce modèle mais je déplore que l'eau ne puisse pas s'égoutter du fond de la mangeoire car j'ai des graines qui sont restées coincées à la base et elles ont germé……..j'ai même du foin qui a commencé à pousser. Mon conjoint a fait des trous à la base pour faciliter l'écoulement de l'eau qui pouvait s'infiltrer. Merci de prendre cet avis en considération.