Perky-Pet® Squirrel Stumper Wild Bird Feeder
Earn 840 rewards points on your purchase! Learn More
Wire barrier keeps squirrels at a distance from the feeding ports
Twist lock lid prevents squirrels from accessing the seed
8 feeding ports allow multiple birds to dine at once
Heavy-duty, powder-coated metal frame stands up to rust and squirrel damage
Clean feeder at least every 2 weeks with a mild soap and water solution
Holds up to 3 lb of seed
Best Used For


Perky-Pet® Squirrel Stumper® Bird Feeder
Do you love birds, but find yourself plagued by squirrels? The Perky-Pet® Squirrel Stumper® Bird Feeder combines squirrel-resistant features with rustic design to create a feeding station that is truly unparalleled. First, there's the twist-lock lid, which locks in place so squirrels can't easily open the feeder and steal seed. This feeder also boasts a metal wire cage that creates a barrier around the ports making it harder for squirrels to gain access. In addition to its squirrel-resistant features, the Squirrel Stumper® is also a favorite of birds. The whopping eight feeding ports spaced evenly around the feeder provide plenty of room for multiple birds to dine at the same time.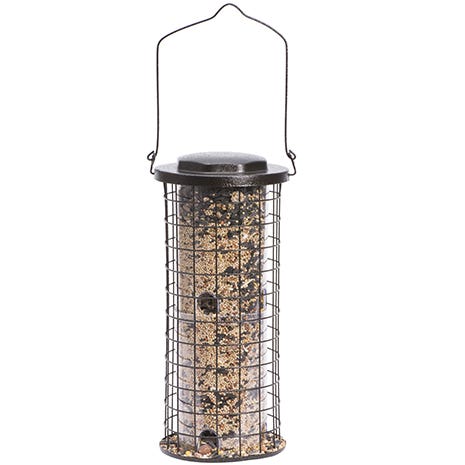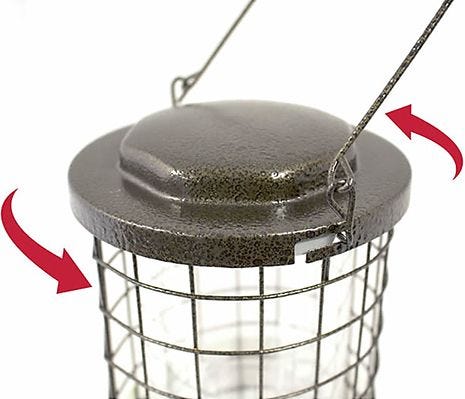 Resists Squirrels
To offer defense against squirrels, this feeder boasts a few great features. First, is the feeder's metal wire cage design. The cage creates a barrier around the ports which makes it harder for squirrels to access the seed, while giving birds an easily-gripped perching point to dine. The cage is made of metal to prevent squirrel chewing and damage. The lid twists firmly in place to prevent squirrels from accessing the seed through the top.
Eight Feeding Ports
With less competition from squirrels, birds won't be able to resist the Perky-Pet® Squirrel Stumper® Bird Feeder! It features eight feeding ports evenly spaced around the reservoir so multiple birds can dine at the same time and you can enjoy a better view. Plus, birds will be able to perch from a variety of angles around the ports thanks to the cage design.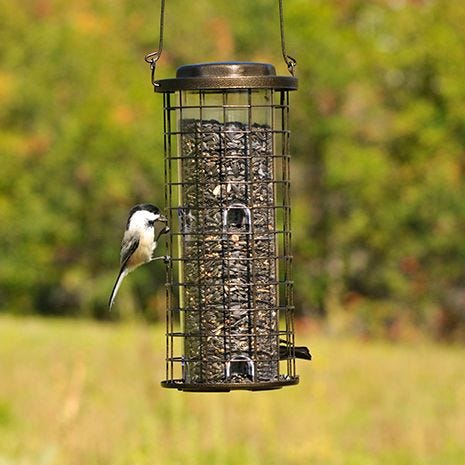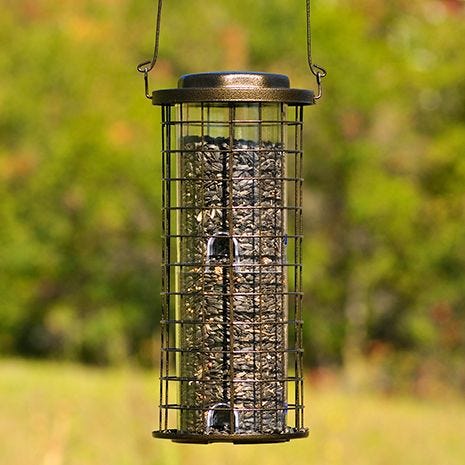 Attractive Design
Birds and bird lovers alike can't deny the charm of this delightful feeder. The cage is an attractive bronze color, giving it a rustic touch that will look at home in any yard. In addition, the metal is finished with a powder coating to ensure rust resistance for long lasting durability.
Never Run Out of Seed
When you have hungry visitors in your backyard, you can't risk running out of seed! For your convenience, the Perky-Pet® Squirrel Stumper® Bird Feeder features a clear plastic seed reservoir capable of holding up to 3 lb of black-oil sunflower seed, mixed seed, safflower seed, and more. The clear design makes it easy to monitor seed levels at a glance, so you never run out during peak feeding times.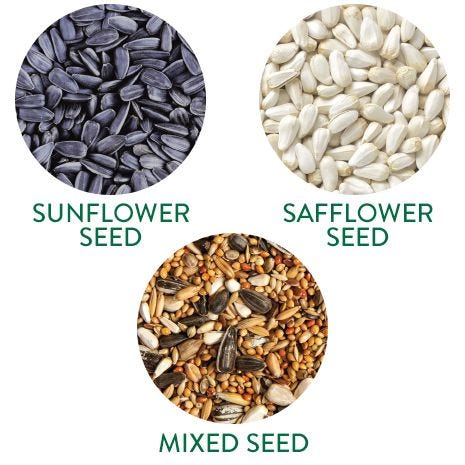 Perky-Pet® Squirrel Stumper® Bird Feeder Product Details
Do you want to know more helpful details about the Squirrel Stumper® Bird Feeder? Take a closer look at the in-depth specifications for this product.
Perky-Pet® Squirrel Stumper® Bird Feeder
Model #
114
Height
12.9 inches
Diameter
6.2 inches
Capacity
3 lb
Seed Type
Black-oil sunflower seed, mixed seed, safflower seed, and more
Materials
Metal, plastic
Perky-Pet® Squirrel Stumper® Bird Feeder
Model Number
114
Weight
1.26 lb
Dimensions
12.9 in H x 6.2 in D
Capacity
3 lb
Feeding Ports
8