Perky-Pet® Straight-Sided Sunflower Tube Wild Bird Feeder
Earn 860 rewards points on your purchase! Learn More
Powder-coated all-metal mesh construction for superior durability
Twist-off top allows for effortless refilling
Built-in baffle and seed tray
Evenseed™ technology dispenses seed evenly to all 3 tiers
Holds up to 1.5 lb of black oil sunflower seed
Best Used For


Perky-Pet® Straight-Sided Sunflower Tube Feeder
Make your yard the neighborhood hot spot for your favorite feathered friends when you add this Perky-Pet® Straight-Sided Sunflower Tube Feeder to your outdoor space. It has a durable construction and large capacity for use year after year, and the sunflower tube design can accommodate many birds at once so no one has to wait in line. Whether you're a dedicated bird watcher or just want to enjoy the beautiful colors birds can bring to your yard, this bird feeder is perfect for hanging outside a window or from a tree limb.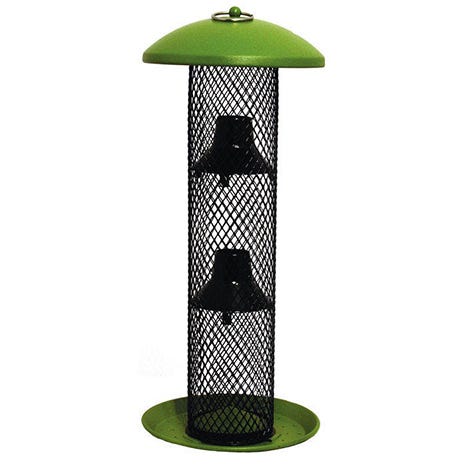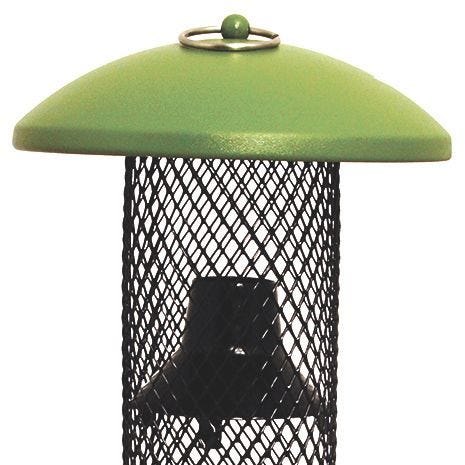 All-Metal Construction
The Perky-Pet® Straight-Sided Sunflower Tube Feeder stands for durability. It has no wood and no plastic – it's all metal! The wire mesh design features a powder-coated finish to resist rust, while the metal construction will help thwart squirrel damage. This sturdy, long-lasting feeder is sure to stand up to lots of use day after day.
Great For Clinging and Perching
Birds won't be able to resist flocking to the Perky-Pet® Straight-Sided Sunflower Tube Feeder. The diamond-shaped mesh surface and circular perch create an all-over dining area to accommodate several birds at once without competition. The mesh makes the perfect landing place for clinging birds, while 360-degree seed tray encourages perching.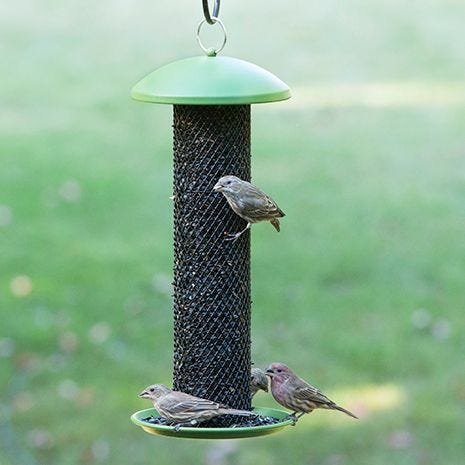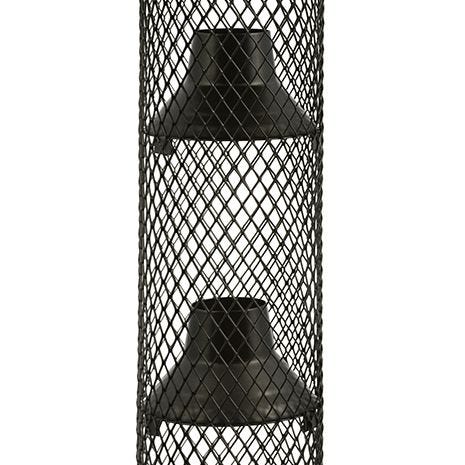 Longer Feeding Times
This feeder can hold up to 1.5 pounds of seed at a time, so you can have more time between fills, and you don't have to worry about birds finding an empty feeder. Black-oil sunflower seed is ideal for this feeder, and it has Evenseed™ technology, so the food is dispensed evenly through the three-tier system.
Easy to Fill and Clean
For your convenience, this feeder has a low-maintenance and simple design. To help with cleaning and filling, this bird feeder has a twist-off lid and base that make refilling simple and efficient. The attached baffle and drain holes help deflect and clear out water to keep your seed dry on rainy or snowy days. In addition, this feeder has a wide-mouth opening to allow for mess-free filling. Simply open the lid and pour in the seed!
Perky-Pet® Straight-Sided Sunflower Tube Feeder Product Details
Do you want to know more helpful details about the Straight-Sided Sunflower Tube Feeder? Take a closer look at the in-depth specifications for this product.
Perky-Pet® Straight-Sided Sunflower Tube Feeder
Model #
GSS00347
Height
16.5 inches
Diameter
7.4 inches
Capacity
1.5 lb
Seed Type
Black-oil sunflower seed
Materials
Metal
Perky-Pet® Straight-Sided Sunflower Bird Feeder - 1.5 lb Capacity
Model Number
GSS00347
Evenseed™ Technology
Dispenses seed evenly throughout all three tiers
Features
Attached baffle and built-in drain holes keep seed dry
Capacity
1.5 lb seed