Perky-Pet® Transparent Squirrel Baffler - 1-Pack
Earn 860 rewards points on your purchase! Learn More
16" diameter dome prevents squirrels from reaching feeder
Can be hung on top of feeder or pole mounted below
Can hold up to 12 lb
Transparent design ensures birds have a clear view and feel safe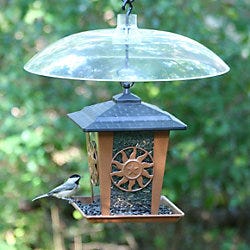 Perky-Pet® Transparent Squirrel Baffler
Squirrels have a way of ransacking a bird feeder, dumping all the feed onto the ground and making a mess of things. If you find peace in watching wild birds at the bird feeder--but not so much those pesky squirrels, this Perky-Pet® Transparent Squirrel Baffler can help.
With its large 16-inch diameter and gently curved dome-shaped profile, there's no getting around it: birds can enjoy eating at the feeder, and squirrels will be blocked from bothering them.
You can save money on seed, reduce tons of time refilling and cleaning up your bird feeders, and enjoy a less stressful bird viewing experience with this baffler in place and protecting your feeder from the squirrels. It promotes a more efficient way to feed wild birds and can be used with any bird feeder for an extra advantage against the squirrels who raid your feeders.
Hang or Pole Mount
This transparent 16-inch squirrel baffler can be hung or pole mounted. When hanging the baffler, it blocks squirrels from above. The included hooks have the strength to hold up to 12 pounds. The top hook attaches the baffler to a tree limb or other hanging location, while the bird feeder hangs from the second hook located directly underneath the baffler.
Many times, squirrels will descend the wire to the baffler and then simply give up. A more persistent squirrel may put its weight on the baffler in an effort to access the bird feeder below, but after climbing onto the baffler, it will quickly tilt and wobble, sending the squirrel down to the ground (startled maybe, but uninjured). The hanging baffler has the added benefit of partially protecting bird seed from rain and tree debris, keeping it dry and fresh.
When placed on bird feeder poles, this baffler prevents squirrels from gaining access to the bird feeder from below. Squirrels may try to climb up to the feeder, but they won't be able to get around the baffler without landing on the ground. To pole mount this baffler, simply lower it over the top of the pole and screw it into place. About a foot below the feeder is the best option. All supplies needed for either hanging or pole mounting is included: a 16-inch-diameter transparent shield and all hardware (2 hooks, 1 baffle hub, and 3 screws).
Perky-Pet® Transparent Squirrel Baffler
Model Number
340
Weight
1.4 lb
Dimensions
5.5 in H x 16 in W x 16 in D
Includes
hardware included (2 hooks, 1 baffle hub, and 3 screws)
Holds
Up to 12 lb