Special Price
CA$58.69
Regular Price
CA$69.53
Earn 1160 rewards points on your purchase! Learn More
Liquid Ant Baits kill the ants you see and the ones you don't
DOT™ uses light and glue cards to trap house flies, moths, gnats, mosquitoes, and other indoor insects
Metal Pedal Mouse Trap quickly and effectively eliminates mice
Apple-shaped trap discreetly eliminates fruit fly infestations
Pantry Moth Traps attract and trap grain moths, flour moths, meal moths, and seed moths
Kit contains 1 DynaTrap® Dot Indoor Flying Insect Trap, 4 Victor® Metal Pedal Mouse Traps, 2 TERRO® Fruit Fly Traps, 2 TERRO® Pantry Moth Traps, and 12 TERRO® Liquid Ant Baits
Pest Elimination Kit
The Pest Elimination Kit provides everything you need to battle mice and insect pests that invade your food and indoor spaces. This all-in-one kit includes 1 DynaTrap® Dot Indoor Flying Insect Trap, 4 Victor® Metal Pedal Mouse Traps, 2 TERRO® Fruit Fly Traps, 2 TERRO® Pantry Moth Traps, and 12 TERRO® Liquid Ant Baits.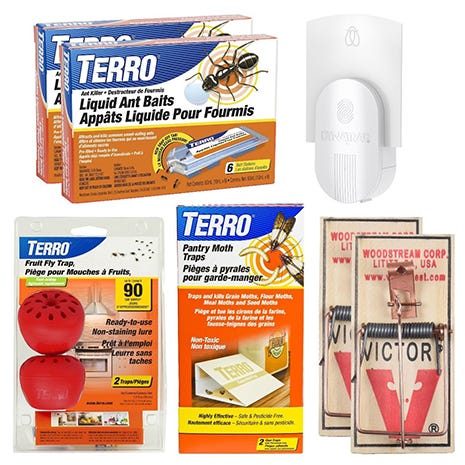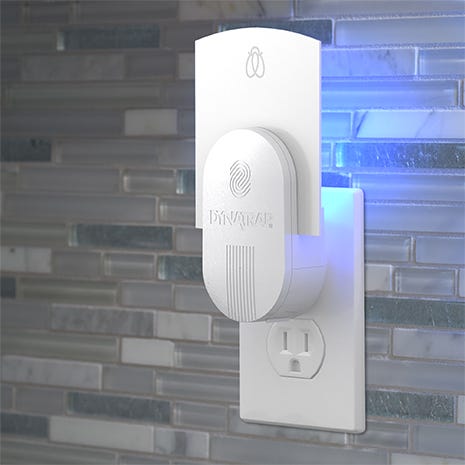 DynaTrap® DOT™
The DynaTrap® DOT™ is a small solution to a big indoor problem: insects! Once drawn to the trap by two LED and two UV-LED lights, insects will be captured on the back of the StickyTech™ Glue Card. The trap features a rotating plug to fit any outlet, and an optimal design that allows for the trapped insects to be concealed from sight. Place the compact trap at any indoor outlet where insects are a problem. Capture fruit flies, house flies, moths, mosquitoes and more!
Victor® Metal Pedal Mouse Traps
The Victor® Metal Pedal Mouse Trap is the original wooden snap trap. It's also the world's No. 1 selling mouse trap for one simple reason – it works. The trap makes rodent control easy with its simple, straightforward design and instant results. Once a mouse triggers the pedal, the trap immediately springs closed to eliminate the pest. After a catch, simply throw away the entire trap for quick cleanup or dispose of the mouse and reuse the trap.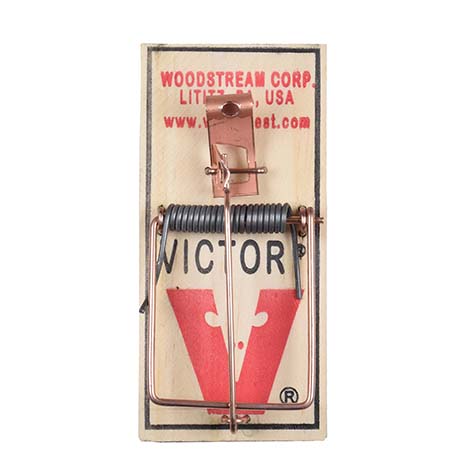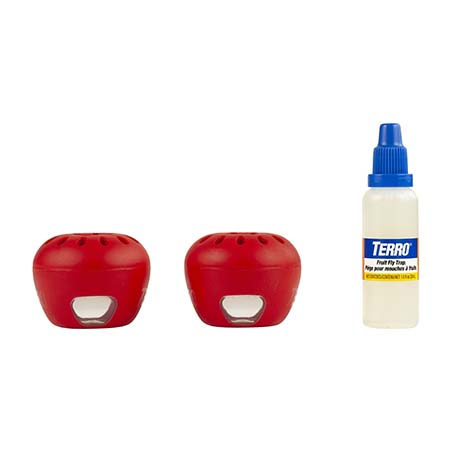 TERRO® Fruit Fly Trap
Have you spotted fruit flies swarming around your kitchen or garbage can? With the TERRO® Fruit Fly Trap you can get the best of these annoying household pests in no time! This fast-acting trap uses a non-staining, food-based liquid bait to lure adult fruit flies inside. Flies that enter the trap through one of the many funnel-shaped holes are unable to escape and continue breeding. In a matter of days, you should begin to notice a dramatic decrease in the number of fruit flies around your home. The trap also features an attractive apple-shaped design that will look at home in any kitchen.
TERRO® Pantry Moth Traps
Protect your pantry with TERRO® Pantry Moth Traps. These traps attract common pantry moths using a powerful pheromone lure. Pesticide-free and easy-to-use, grain moths, flour moths, meal moths and seed moths are captured by the sticky surface on the TERRO® Pantry Moth Trap where they get stuck and die. Each package includes two glue traps. The insect traps can be folded to prevent children and pets from coming into contact with the sticky surface, or they may be used unfolded to lie flat.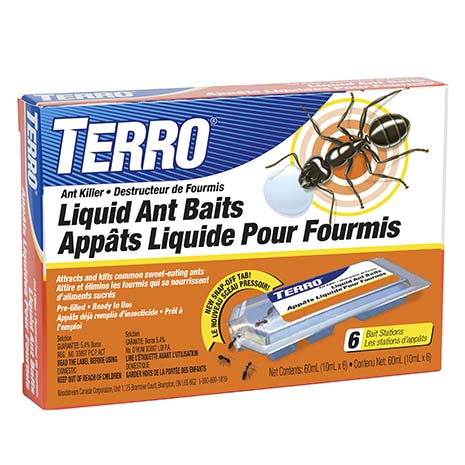 TERRO® Liquid Ant Baits
To kill common household ants, place TERRO® Liquid Ant Baits in areas where they attract foraging ants. A slow kill process allows these ants to take the bait back to the nest. As the bait circulates through the colony, it kills the ants you see and the ones you don't. The new and improved snap-off tab makes the stations easy to use. Plus, the closed bait stations prevent the bait from drying out to provide the ants with a continuous supply of liquid, day and night.
Pest Elimination Kit
Do you want to know more helpful details about the Pest Elimination Kit? Take a closer look at the in-depth specifications for this product.
Complete Product Details »
Pest Elimination Kit
Model #
MBPESTELIMCAN
Includes

DynaTrap® DOT™ Indoor Flying Insect Trap
Victor® Metal Pedal Mouse Trap – 2 Packs, 4 Traps
TERRO® Fruit Fly Traps – 2 Traps
TERRO® Pantry Moth Traps – 2 Traps
TERRO® Liquid Ant Baits – 12 Bait Stations

Eliminates

DynaTrap® DOT™ Indoor Flying Insect Trap

Fruit flies, house flies, moths, and many more indoor flying insects

Victor® Metal Pedal Mouse Trap

Mice

TERRO® Fruit Fly Traps

Fruit Flies

TERRO® Pantry Moth Traps

Grain moths, flour moths, meal moths, seed moths

TERRO® Liquid Ant Baits

Ants: including acrobat ants, allegheny ants, argentine ants, big headed ants, cornfield ants, crazy ants, ghost ants, little black ants, odorous house ants, pavement ants, pyramid ants, thief ants, white footed ants, and other sweet eating ants (except fire ants, pharaoh ants, carpenter ants, and harvester ants)
Pest Elimination Kit
Model #
MBPESTELIMCAN
Includes

DynaTrap® DOT™ Indoor Flying Insect Trap
Victor® Metal Pedal Mouse Trap – 2 Packs, 4 Traps
TERRO® Fruit Fly Traps – 2 Traps
TERRO® Pantry Moth Traps – 2 Traps
TERRO® Liquid Ant Baits – 12 Bait Stations

Eliminates

DynaTrap® DOT™ Indoor Flying Insect Trap

Fruit flies, house flies, moths, and many more indoor flying insects

Victor® Metal Pedal Mouse Trap

Mice

TERRO® Fruit Fly Traps

Fruit Flies

TERRO® Pantry Moth Traps

Grain moths, flour moths, meal moths, seed moths

TERRO® Liquid Ant Baits

Ants: including acrobat ants, allegheny ants, argentine ants, big headed ants, cornfield ants, crazy ants, ghost ants, little black ants, odorous house ants, pavement ants, pyramid ants, thief ants, white footed ants, and other sweet eating ants (except fire ants, pharaoh ants, carpenter ants, and harvester ants)

DOT Flying Insect Trap (DT3005W) Specifications

Safely captures insects without odors or pesticides
Rotating plug easily fits any outlet
StickyTech™ Glue Cards are easy to change
Traps flying insects 24/7 to quickly reduce annoying indoor pests
Lights last 20,000 hours/400 sq ft

Metal Pedal Mouse Trap (M150TRI) Specifications

The original wooden mouse trap – over 1 billion sold
Quickly and effectively traps mice
Designed for indoor and outdoor use
Manufactured with Forest Stewardship Council® (FSC®) certified wood
Made in the USA

Fruit Fly Trap (T2502CAN) Specifications

Fast-acting trap eliminates fruit fly infestations
Ready-to-use, non-staining lure attracts adult fruit flies
Built-in window allows for easy monitoring of lure levels
Attractive, apple-shaped trap blends in with décor
Most effective when placed near common breeding sites
90-day lure supply - each trap lasts for up to 45 days

Liquid Ant Baits (T300CAN) Specifications

Attracts and kills all common household ants
Kills the ants you see and the ones you don't
Works fast – reduces populations in days
Ready to use – place the bait, attract ants, eliminate the colony
Place stations near areas where you've seen ant activity

Pantry Moth Traps (T2900CAN) Specifications

Attract & trap grain moths, flour moths, meal moths, and seed moths
Pheromone lure attracts the moths to the trap and lasts up to 3 months
Ready-to-use & non-toxic
Folded design prevents children and pets from coming into contact with sticky surface
Ideal for monitoring and preventing pantry moth infestations