Our Brands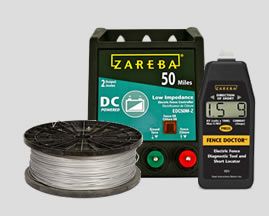 ZAREBA® ELECTRIC FENCING PRODUCTS
ZarebaSystems is the largest and most comprehensive electric fence systems manufacturer in North America. ZarebaSystems' expertise in electric fencing goes back to the 1940s.
Formerly American FarmWorks, the company built its reputation on high-quality American-made fence controllers and superior customer support and service. In 2001, the American FarmWorks division changed its name to Zareba, which means "enclosure." The name change reflects the company's growth into new domestic and international markets.
Zareba expanded its product offering with the 2001 acquisition of North Central Plastics and its Red Snap'r brand products.
As of April 2010, Woodstream Corporation completed its merger with Zareba Systems, Inc. and, as a result, "Zareba Systems" has become a wholly-owned subsidiary of the company. In addition, American Farmworks®, Red Snap'r® and Blitzer® will now join the Woodstream portfolio of brands which include Fi-Shock®, Victor®, Havahart®, Safer® Brand, Perky-Pet® and Mosquito Magnet® among others.
Zareba and Fi-Shock product offerings are highly complementary and represent an impressive portfolio of products, brands and intellectual property in the farm animal containment category.