Shipping Information
If you need more details, please feel free to contact us at 1-800-800-1819
FREE Standard Ground Shipping on ALL Orders over $69!
Ships from Brampton, ON for Fast Delivery and No Duty Fees!
Orders placed before 2:00 PM EST ship same day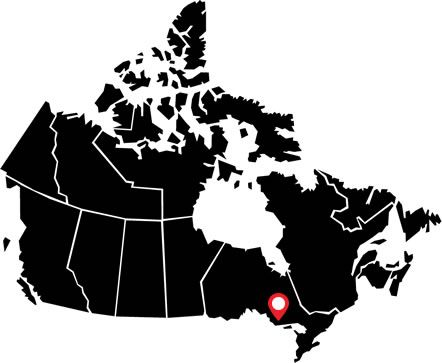 Promo Terms & Conditions:
Order over $69 in eligible items, and shipping is FREE!
In order to receive free shipping on your order you must:
Proceed to checkout with at least $69 of eligible items in your Shopping Cart. (Most products are eligible for this shipping promotion. Eligible items are clearly identified as "YES! Free Shipping!".
Ship your items to a single Canada address
Select Standard Ground Shipping as your shipping method
Place your order, and enjoy FREE Shipping!
If your cart contains a mix of eligible and non-eligible items, the cart will calculate total shipping expenses based on the total weight of your order, and then deduct the amount corresponding to the eligible item(s) under "shipping discount" in your cart.
This promotion is valid on standard ground shipping only. It is not valid on express shipping.
Shipping Policy
WoodstreamBrands.ca ships to Canada. Standard ground shipping is not available for shipments to the Canadian Provinces of Yukon, Northwest Territories and Nunavut.
WoodstreamBrands.ca does not accept orders for items on backorder. However, you may sign-up for product availability notifications, and we will send you an e-mail when the item you are interested in becomes available.
WoodstreamBrands.ca does not ship to post office boxes or APO addresses.
Shipping Methods
Orders received before 2:00 PM EST during regular business days ship the same day.
WoodstreamBrands.ca does not ship during weekends or holidays. If you place your order before 2:00 PM EST, Monday - Friday, it will ship that same day. If you place your order after 2:00 PM EST on a Friday, Saturday or holiday, your order will ship the next business day.
WoodstreamBrands.ca offers the following shipping methods:
Standard Ground
Next Day Air Express
2nd Day Air Express
3rd Day Express
Estimated order delivery dates for each method are provided in the Shopping Cart. We do our best to estimate the date in which you will receive your order, but by no means do we guarantee delivery on the estimated date. Your order may arrive at an earlier or later date, based on different factors such as (but not limited to): product availability in our warehouse, extreme weather conditions and other factors outside our control.
Orders sent via "Next Day Air Express" and "2nd Day Air Express" are delivered to you on the next business day or 2nd business day from the day they are shipped. If you place your order after 2:00PM EST, it will ship the next business day, thus adding 1 day to your estimated delivery time.
You will receive an email confirmation with tracking information as soon as your order leaves our warehouse.
Shipping Rates
Shipping and handling charges are calculated real-time at the moment of checkout and are based on:
The delivery method you choose
The combined weight of items in your order
Your location
Any current shipping promotions
Hazardous Materials & Province Restrictions
Items that are deemed Hazardous Materials may not be shipped via Air - they can only ship via Standard Ground. Therefore, Hazardous Materials will not be shipped to the Canadian provinces of Yukon, Northwest Territories and Nunavut.
If your order contains a Hazardous Material item, only the Standard Ground method will be available.
Regulated items such as repellents or insecticides may be restricted for sale in some provinces. You will be notified in the Shopping Cart if an item cannot be shipped to you due to the province's regulations.
Ordering Information
Privacy & Security