Havahart® X-Small 1-Door Trap
As low as
CA$89.99
Regular Price
CA$63.99
Earn 1260 rewards points on your purchase! Learn More
Best used for chipmunks, rats, squirrels, voles, and weasels
Gravity-action door makes setting and releasing the trap simple
Sturdy handle guard prevents contact with the trapped animal
Smooth, rolled internal edges prevent injury to animal while inside trap
Constructed with galvanized steel mesh for maximum durability and resistance to rust or corrosion
Available as a 1-pack, 2-pack, or 3-pack
Best Used For





Havahart® X-Small 1-Door Trap
Capture small rodents humanely with this Havahart® X-Small 1-Door Trap. Crafted to efficiently trap chipmunks, voles, weasels, squirrels, and rats, this 16-in galvanized steel cage lets you catch and transport small critters for live relocation. The sturdy build and single-door design minimize direct contact with the animal inside and simplifies setup.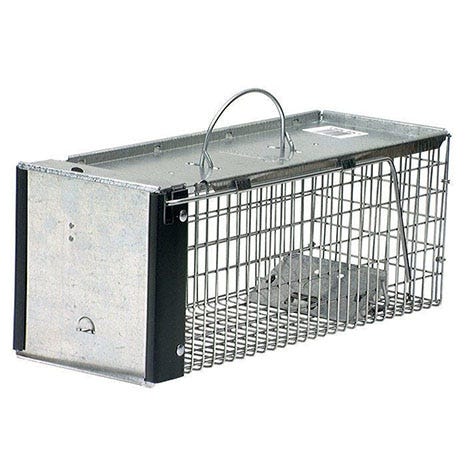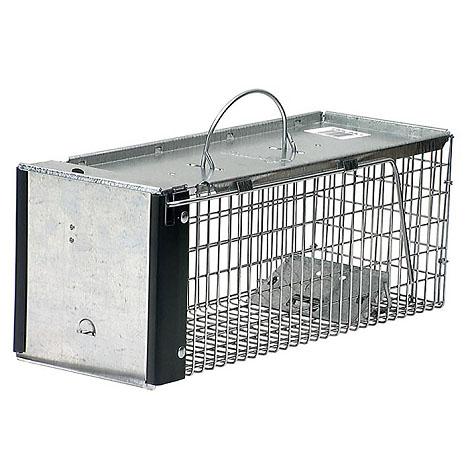 Designed by Trapping Professionals
The X-Small 1-Door live animal trap is built by experts in the field to ensure a quick, safe trapping experience each time. Its durable steel construction ensures it's suitable for flying squirrels, weasels, chipmunks or virtually any small rodent. The sensitive trip plate ensures even the lightest animals are able to trigger its operation and the mesh openings are small, ensuring curious creatures can't steal the bait from the outside.
Easy to Operate
You don't have to be an animal control specialist to operate this X-Small 1-Door trap. Its design is easy to use, and it features a guillotine-style door that you can lift from the top to avoid making contact with the animal when you release it.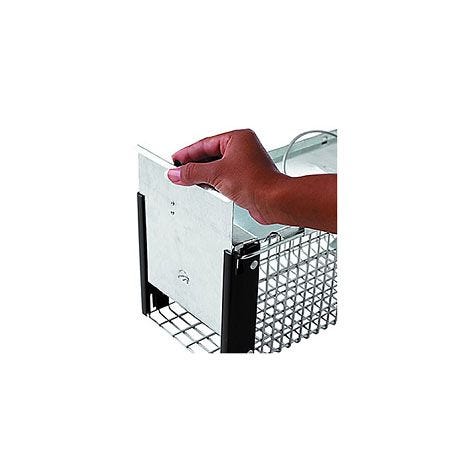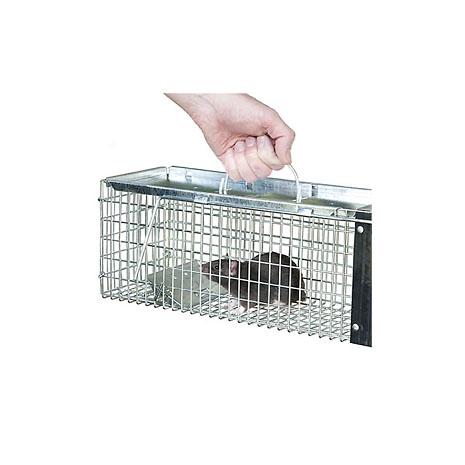 Safe for Animals and Humans
A strong door lock keeps the trapped animal safely inside, and smooth, rolled internal edges reduce the risk of injury. To keep you safe, a solid door combined with a protective handle guard prevents you from making contact with the animal.
Durable Construction
The industrial-strength 12-gauge galvanized steel mesh of this 1-door trap resists rust and corrosion for reliable performance in outdoor conditions. The solid door and top add durability, ensuring a longer trap life.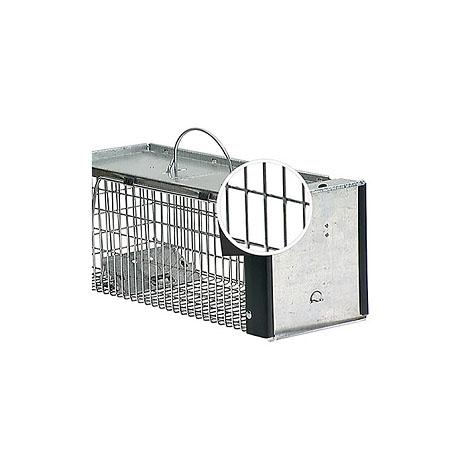 Havahart® X-Small 1-Door Trap Product Details
Do you want to know more helpful details about the Havahart® X-Small 1-Door Trap? Take a closer look at the in-depth specifications for this product.
Havahart® X-Small 1-Door Trap Product Details
Model #
0745
Dimensions
16" x 6" x 6"
Weight
3.25 lb
Materials

Galvanized steel
One-piece 12-guage wire mesh

Number of Doors
1
Door Type
Gravity-action guillotine door
Best Used For

Chipmunks
Rats
Squirrels
Voles
Weasels
Check out Havahart® Small Size Trap options - Compare and find the best trap for your problem!
X-Small 1-Door Trap
X-Small 2-Door Trap
Small 1-Door Trap
Small 2-Door Trap
Model #
0745
1020
1083
1025
Trap Length
17 in
10 in
17 in
18 in
Trap Opening (w x h)
6 x 6 in
3 x 3 in
7 x 7 in
5 x 5 in
# of Doors
1
2
1
1
Set as 1- or 2-Door Trap
✔
✔
Easy Set® 1-Step Set & Release
✔
Enlarged Handle Guard
✔
Galvanized Steel
✔
✔
✔
✔
Manufacturer's Warranty
1 Year
1 Year
1 Year
1 Year
Havahart® X-Small 1-Door Trap
Model #
C0745
Pack Size Available
1, 2, 3 pack
Dimensions
16" x 6" x 6"
Weight
3.25 lb
Materials

Galvanized steel
One-piece 12-guage wire mesh

Number of Doors
1
Door Type
Gravity-action guillotine door
Best Used For

Chipmunks
Rats
Squirrels
Voles
Weasels