Perky-Pet® Metal Finch Feeder
Earn 460 rewards points on your purchase! Learn More
Holds 1 lb of seed
All-metal design that squirrels can't damage
Full circle of perforations that allow more birds to feed at one time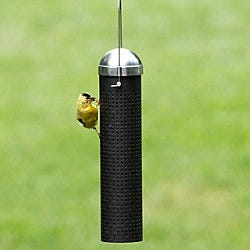 Perky-Pet® 10 Inch Metal Finch Feeder
Are you tired of your bird feeders looking chewed up by squirrels? This innovative feeder's metal design will put an end to that problem!
Our Perky-Pet® 10 Inch Metal Finch Feeder has an all metal design that squirrels can't damage. The full circle of perforations on the feeder allows more birds to feed at one time. This sturdy, innovative feeder holds 1 lb of seed.
Remember to clean your metal finch feeder once every two weeks with a mild soap and water solution.
Perky-Pet® 10 Inch Metal Finch Feeder
Model Number
FF10
Material
All metal
Features
Full circle of perforations that allow more birds to feed at one time
Capacity
1 lb seed